Here are my favorite poems about sleep categorized:
Poems about sleep and dreams
Poems about sleepless nights
Famous poems about sleep
Poems about sleeping beauty
Short poems about sleep
So if you want the best poems about sleep, then you're in the right place.
Let's get started!
Dreamy Poems About Sleep
Get swept away into a mesmerizing journey through a handpicked selection of sleep-themed poems that will transport you to the ethereal realm of dreams.
Discover enchanting verses that effortlessly sway you into slumber and dive into captivating compositions that unravel the mysteries of the night.
Experience the magic and tranquility of sleep as you explore this extraordinary anthology, where each line weaves a spellbinding tapestry, inviting you to surrender to the soothing embrace of slumber and awaken your imagination in the realm of dreams.
Let's dive into it!
My #1 Favorite Poem About Sleep
"Lullaby" by Walter De La Mare
Sleep, sleep, lovely white soul!
The singing mouse sings plaintively,
The sweet night-bird in the chesnut-tree –
They sing together, bird and mouse,
In starlight, in darkness, lonely, sweet,
The wild notes and the faint notes meet –
Sleep, sleep, lovely white soul!
Sleep, sleep, lovely white soul!
Amid the lilies floats the moth,
The mole along his galleries goeth
In the dark earth; the summer moon
Looks like a shepherd through the pane
Seeking his feeble lamb again –
Sleep, sleep, lovely white soul!
Sleep, sleep, lovely white soul!
Time comes to keep night-watch with thee
Nodding with roses; and the sea
Saith 'Peace! Peace!' amid his foam
White as thy night-clothes; 'O be still!'
The wind cries up the whisp'ring hill –
Sleep, sleep, lovely white soul!
Poems About Sleep And Dreams
"Love Sleep" by Elsa Gidlow
Watch my Love in sleep:
Is she not beautiful
As a young flower at night
Weary and glad with dew?
Pale curved body
That I have kissed too much,
Warm with slumber's flush;
Breasts like mounded snow,
Too small for children's mouths;
Lips a red spring bud
My love will bring to bloom.
How restlessly she moves!
She, no more than a child,
Stirs like a woman troubled
With guilt of secret sins.
Twin furtive tears
Glide from the shadows,
Her eyes' shadowed blue.
Her dreaming must be sad.
What grief to watching love
That it is impotent,
For all its reckless strength,
When the sleep gates close.
"Dream" by James Whitcomb Riley
Because her eyes were far too deep
And holy for a laugh to leap
Across the brink where sorrow tried
To drown within the amber tide;
Because the looks, whose ripples kissed
The trembling lids through tender mist,
Were dazzled with a radiant gleam –
Because of this I called her "Dream."
Because the roses growing wild
About her features when she smiled
Were ever dewed with tears that fell
With tenderness ineffable;
Because her lips might spill a kiss
That, dripping in a world like this,
Would tincture death's myrrh-bitter stream
To sweetness – so I called her "Dream."
Because I could not understand
The magic touches of a hand
That seemed, beneath her strange control,
To smooth the plumage of the soul
And calm it, till, with folded wings,
It half forgot its flutterings,
And, nestled in her palm, did seem
To trill a song that called her "Dream."
Because I saw her, in a sleep
As dark and desolate and deep
And fleeting as the taunting night
That flings a vision of delight
To some lorn martyr as he lies
In slumber ere the day he dies –
Because she vanished like a gleam
Of glory, do I call her "Dream."
"Sleep" by Sir Philip Sidney
Come, Sleep, O Sleep, the certain knot of peace,
The baiting-place of wit, the balm of woe,
The poor man's wealth, the prisoner's release,
The indifferent judge between the high and low,
With shield of proof shield me from out the prease
Of those fierce darts Despair at me doth throw;
O, make me in those civil wars to cease:
I will good tribute pay, if thou do so.
Take thou of me smooth pillows, sweetest bed,
A chamber deaf to noise, and blind to light,
A rosy garland, and a weary head:
And if these things, as being thine in right,
Move not thy heavy grace, thou shalt in me
Livelier than elsewhere Stella's image see.
"The Dream" by Edna St. Vincent Millay
Love, if I weep it will not matter,
And if you laugh I shall not care;
Foolish am I to think about it,
But it is good to feel you there.
Love, in my sleep I dreamed of waking,–
White and awful the moonlight reached
Over the floor, and somewhere, somewhere,
There was a shutter loose,–it screeched!
Swung in the wind,–and no wind blowing!–
I was afraid, and turned to you,
Put out my hand to you for comfort,–
And you were gone! Cold, cold as dew,
Under my hand the moonlight lay!
Love, if you laugh I shall not care,
But if I weep it will not matter,–
Ah, it is good to feel you there!
"Sleep Is Supposed To Be," by Emily Elizabeth Dickinson
Sleep is supposed to be,
By souls of sanity,
The shutting of the eye.
Sleep is the station grand
Down which on either hand
The hosts of witness stand!
Morn is supposed to be,
By people of degree,
The breaking of the day.
Morning has not occurred!
That shall aurora be
East of eternity;
One with the banner gay,
One in the red array, —
That is the break of day.
"Dreams" by Paul Laurence Dunbar
Dream on, for dreams are sweet:
Do not awaken!
Dream on, and at thy feet
Pomegranates shall be shaken.
Who likeneth the youth
of life to morning?
'Tis like the night in truth,
Rose-coloured dreams adorning.
The wind is soft above,
The shadows umber.
(There is a dream called Love.)
Take thou the fullest slumber!
In Lethe's soothing stream,
Thy thirst thou slakest.
Sleep, sleep; 'tis sweet to dream.
Oh, weep then thou awakest!
"About My Dreams" by Hilda Conkling
Now the flowers are all folded
And the dark is going by.
The evening is arising…
It is time to rest.
When I am sleeping
I find my pillow full of dreams.
They are all new dreams:
No one told them to me
Before I came through the cloud.
They remember the sky, my little dreams,
They have wings, they are quick, they are sweet.
Help me tell my dreams
To the other children,
So that their bread may taste whiter,
So that the milk they drink
May make them think of meadows
In the sky of stars.
Help me give bread to the other children
So that their dreams may come back:
So they will remember what they knew
Before they came through the cloud.
Let me hold their little hands in the dark,
The lonely children,
The babies that have no mothers any more.
Dear God, let me hold up my silver cup
For them to drink,
And tell them the sweetness
Of my dreams.
"Dream and the Song" by James D. Corrothers
So oft our hearts, belovèd lute,
In blossomy haunts of song are mute;
So long we pore, 'mid murmurings dull,
O'er loveliness unutterable.
So vain is all our passion strong!
The dream is lovelier than the song.
The rose thought, touched by words, doth turn
Wan ashes. Still, from memory's urn,
The lingering blossoms tenderly
Refute our wilding minstrelsy.
Alas! We work but beauty's wrong!
The dream is lovelier than the song.
Yearned Shelley o'er the golden flame?
Left Keats for beauty's lure, a name
But "writ in water"? Woe is me!
To grieve o'er flowerful faëry.
My Phasian doves are flown so long—
The dream is lovelier than the song!
Ah, though we build a bower of dawn,
The golden-wingèd bird is gone,
And morn may gild, through shimmering leaves,
Only the swallow-twittering eaves.
What art may house or gold prolong
A dream far lovelier than a song?
The lilting witchery, the unrest
Of wingèd dreams, is in our breast;
But ever dear Fulfilment's eyes
Gaze otherward. The long-sought prize,
My lute, must to the gods belong.
The dream is lovelier than the song
"Dreams" by Amy Lowell
I do not care to talk to you although
Your speech evokes a thousand sympathies,
And all my being's silent harmonies
Wake trembling into music. When you go
It is as if some sudden, dreadful blow
Had severed all the strings with savage ease.
No, do not talk; but let us rather seize
This intimate gift of silence which we know.
Others may guess your thoughts from what you say,
As storms are guessed from clouds where darkness broods.
To me the very essence of the day
Reveals its inner purpose and its moods;
As poplars feel the rain and then straightway
Reverse their leaves and shimmer through the woods.
"Wake Up, Sweet Melody" by Thomas Moore
Wake up, sweet melody!
Now is the hour
When young and loving hearts
Feel most thy power,
One note of music, by moonlight's soft ray–
Oh, 'tis worth thousands heard coldly by day.
Then wake up, sweet melody!
Now is the hour
When young and loving hearts
Feel most thy power.
Ask the fond nightingale,
When his sweet flower
Loves most to hear his song,
In her green bower?
Oh, he will tell thee, thro' summer-nights long,
Fondest she lends her whole soul to his song.
Then wake up, sweet melody!
Now is the hour
When young and loving hearts
Feel most thy power.
"Song" by Nathaniel Parker Willis
"Sleep, like a lover, woo thee,
Isabel!
And golden dreams come to thee,
Like a spell
By some sweet angel drawn!
Noiseless hands shall seal thy slumber,
Setting stars its moments number,
So, sleep thou on!
The night above thee broodeth,
Hushed and deep;
But no dark thought intrudeth
On the sleep
Which folds thy senses now.
Gentle spirits float around thee,
Gentle rest hath softly bound thee,
For pure art thou!
And now thy spirit fleeth
On rare wings,
And fancy's vision seeth
Holy things
In its high atmosphere.
Music strange thy sense unsealeth,
And a voice to thee revealeth
What angels hear.
Thou'lt wake when morning breaketh,
Pure and calm;
As one who mourns, awaketh
When the balm
Of peace hath on him fell.
Purer thoughts shall stir within thee,
Softer cords to virtue win thee –
Farewell! Farewell!"
"A Dream – Sonnet" by Christina Georgina Rossetti
Once in a dream (for once I dreamed of you)
We stood together in an open field;
Above our heads two swift-winged pigeons wheeled,
Sporting at ease and courting full in view.
When loftier still a broadening darkness flew,
Down-swooping, and a ravenous hawk revealed;
Too weak to fight, too fond to fly, they yield;
So farewell life and love and pleasures new.
Then as their plumes fell fluttering to the ground,
Their snow-white plumage flecked with crimson drops,
I wept, and thought I turned towards you to weep:
But you were gone; while rustling hedgerow tops
Bent in a wind which bore to me a sound
Of far-off piteous bleat of lambs and sheep.
"Dream Land" by Christina Georgina Rossetti
Where sunless rivers weep
Their waves into the deep,
She sleeps a charmd sleep:
Awake her not.
Led by a single star,
She came from very far
To seek where shadows are
Her pleasant lot.
She left the rosy morn,
She left the fields of corn,
For twilight cold and lorn
And water springs.
Through sleep, as through a veil,
She sees the sky look pale,
And hears the nightingale
That sadly sings.
Rest, rest, a perfect rest
Shed over brow and breast;
Her face is toward the west,
The purple land.
She cannot see the grain
Ripening on hill and plain;
She cannot feel the rain
Upon her hand.
Rest, rest, for evermore
Upon a mossy shore;
Rest, rest at the heart's core
Till time shall cease:
Sleep that no pain shall wake;
Night that no morn shall break
Till joy shall overtake
Her perfect peace.
"I Met At Eve" by Walter De La Mare
I met at eve the Prince of Sleep,
His was a still and lovely face,
He wandered through a valley steep
Lovely in a lonely place.
His garb was grey of lavender,
About his brows a poppy-wreath
Burned like dim coals, and everywhere
The air was sweeter for his breath.
His twilight feet no sandals wore,
His eyes shone faint in their own flame,
Fair moths that gloomed his steps before
Seemed letters of his lovely name.
His house is in the mountain ways,
A phantom house of misty walls,
Whose golden flocks at evening graze,
And witch the moon with muffled calls.
Upwelling from his shadowy springs
Sweet waters shake a trembling sound,
There flit the hoot-owl's silent wings,
There hath his web the silkworm wound.
Dark in his pools clear visions lurk,
And rosy, as with morning buds,
Along his dales of broom and birk
Dreams haunt his solitary woods.
I met at eve the Prince of Sleep,
His was a still and lovely face,
He wandered through a valley steep,
Lovely in a lonely place.
"Sleep" by William Shakespeare
King Henry.—How many thousand of my poorest subjects
Are at this hour asleep!—O sleep! O gentle sleep!
Nature's soft nurse, how have I frighted thee,
That thou no more wilt weigh my eyelids down,
And steep my senses in forgetfulness?
Why rather, sleep, liest thou in smoky cribs,
Upon uneasy pallets stretching thee,
And hushed with buzzing night-flies to thy slumbers
Than in the perfumed chambers of the great,
Under the canopies of costly state,
And lulled with sounds of sweetest melody?
O thou dull god! why liest thou with the vile,
In loathsome beds, and leav'st the kingly couch
A watch-case, or a common 'larum-bell?
Wilt thou upon the high and giddy mast
Seal up the ship-boy's eyes, and rock his brains
In cradle of the rude imperious surge,
And in the visitation of the winds,
Who take the ruffian billows by the top,
Curling their monstrous heads, and hanging them
With deafening clamors in the slippery clouds,
That, with the hurly, death itself awakes?
Canst thou, O partial sleep! give thy repose
To the wet sea-boy in an hour so rude;
And in the calmest and most stillest night,
With all appliances and means to boot,
Deny it to a king? Then, happy low, lie down;
Uneasy lies the head that wears a crown.
"O Sleep, my Babe" by Sara Coleridge
O sleep, my babe, hear not the rippling wave,
Nor feel the breeze that round thee ling'ring strays
To drink thy balmy breath,
And sigh one long farewell.
Soon shall it mourn above thy wat'ry bed,
And whisper to me, on the wave-beat shore,
Deep murm'ring in reproach,
Thy sad untimely fate.
Ere those dear eyes had open'd to the light,
In vain to plead, thy coming life was sold,
O waken'd but to sleep,
Whence it can wake no more!earl
A thousand and a thousand silken leaves
The tufted beech unfolds in early spring,
All clad in tenderest green,
All of the self-same shape;
A thousand infant faces, soft and sweet,
Each year sends forth, yet every mother views
Her last not least beloved
Like its dear self alone.
Its musing mind hath ever yet foreshaped
The face to-morrow's sun shall first reveal,
No heart hath e'er conceived
What love that face will bring.
O sleep, my babe, nor heed how mourns the gale
To part with thy soft locks and fragrant breath,
As when it deeply sighs
O'er autumn's latest bloom.
"Invocation to Sleep" by John Fletcher
Come, Sleep, and with thy sweet deceiving
Lock me in delight awhile;
Let some pleasing dreams beguile
All my fancies, that from thence
I may feel an influence,
All my powers of care bereaving!
Though but a shadow, but a sliding,
Let me know some little joy!
We that suffer long annoy
Are contented with a thought,
Through an idle fancy wrought:
O, let my joys have some abiding!
"The Sleep" by Elizabeth Barrett Browning
Of all the thoughts of God that are
Borne inward unto souls afar,
Among the Psalmist's music deep,
Now tell me if that any is,
For gift or grace, surpassing this,—
"He giveth his belovèd sleep"?
What would we give to our beloved?
The hero's heart, to be unmoved,—
The poet's star-tuned harp, to sweep,—
The patriot's voice, to teach and rouse,—
The monarch's crown, to light the brows?
"He giveth his belovèd sleep."
What do we give to our beloved?
A little faith, all undisproved,—
A little dust to overweep,
And bitter memories, to make
The whole earth blasted for our sake,
"He giveth his belovèd sleep."
"Sleep soft, beloved!" we sometimes say,
But have no tune to charm away
Sad dreams that through the eyelids creep;
But never doleful dream again
Shall break the happy slumber when
"He giveth his belovèd sleep."
O earth, so full of dreary noise!
O men, with wailing in your voice!
O delvèd gold the wailers heap!
O strife, O curse, that o'er it fall!
God strikes a silence through you all,
"He giveth his belovèd sleep."
His dews drop mutely on the hill,
His cloud above it saileth still,
Though on its slope men sow and reap;
More softly than the dew is shed,
Or cloud is floated overhead,
"He giveth his belovèd sleep."
For me, my heart, that erst did go
Most like a tired child at a show,
That sees through tears the mummers leap,
Would now its wearied vision close,
Would childlike on his love repose
Who "giveth his belovèd sleep."
"To Sleep" by Maybury Fleming
Sweet wooded way in life, forgetful Sleep!
Dim, drowsy realm where restful shadows fall,
And where the world's glare enters not at all
Or in soft glimmer making rest more deep;
Where sound comes not, or else like brooks that keep
The world's noise out, as by a slumberous wall
Of gentlest murmur; where still whispers call
To smileless gladness those that waking weep;
Beneath the dense veil of thy stirless leaves,
Where no air is except the calm of space,
Vexed souls of men have grateful widowhood
Of tedious sense; there thoughts are bound in sheaves
By viewless hands as silent as the place;
And man, unsinning, finds all nature good.
"When we are all asleep" by Robert Buchanan
When he returns, and finds all sleeping here—
Some old, some young, some fair, and some not fair,
Will He stoop down and whisper in each ear
'Awaken!' or for pity's sake forbear,—
Saying, 'How shall I meet their frozen stare
Of wonder, and their eyes so woebegone?
How shall I comfort them in their despair,
If they cry out "too late! let us sleep on"?'
Perchance He will not wake us up, but when
He sees us look so happy in our rest,
Will murmur, 'Poor dead women and dead men!
Dire was their doom, and weary was their quest.
Wherefore awake them unto life again?
Let them sleep on untroubled—it is best.'
"Sleep" by Thomas Sackville, Earl of Dorset
By him lay heavy Sleep, the cousin of Death,
Flat on the ground, and still as any stone,
A very corpse, save yielding forth a breath:
Small keep took he, whom Fortune frownèd on,
Or whom she lifted up into the throne
Of high renown: but as a living death,
So, dead live, of life he drew the breath.
The body's rest, the quiet of the heart,
The travail's ease, the still night's fear was he,
And of our life on earth the better part:
Reaver of sight, and yet in whom we see
Things oft that tide, and oft that never be:
Without respect, esteeming equally
King Crœsus' pomp, and Irus' poverty.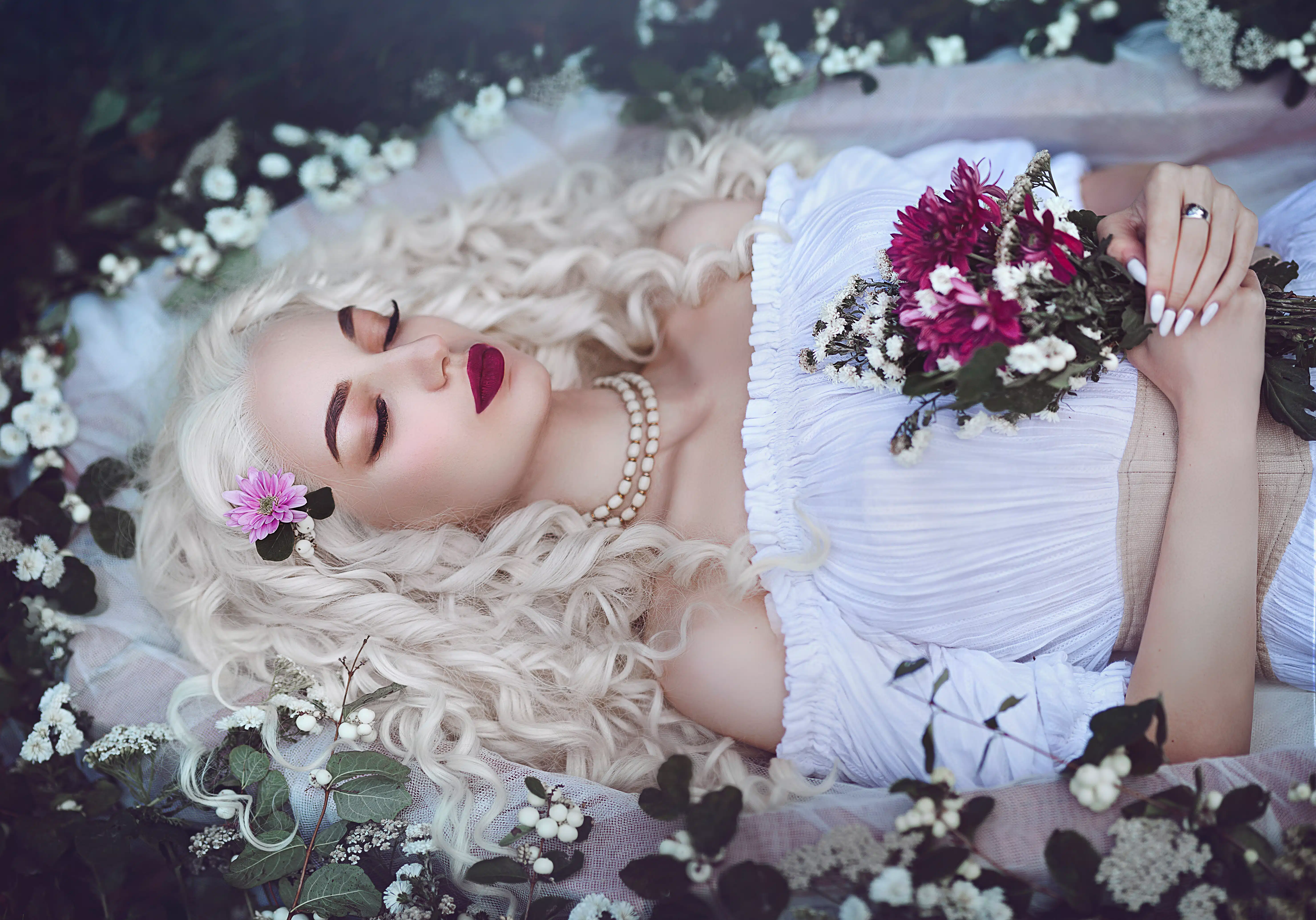 "We Lay us Down to Sleep" by Louise Chandler Moulton
We lay us down to sleep,
And leave to God the rest.
Whether to wake and weep
Or wake no more be best.
Why vex our souls with care?
The grave is cool and low,—
Have we found life so fair
That we should dread to go?
We've kissed love's sweet, red lips,
And left them sweet and red:
The rose the wild bee sips
Blooms on when he is dead.
Some faithful friends we've found,
But they who love us best,
When we are under ground,
Will laugh on with the rest.
No task have we begun
But other hands can take:
No work beneath the sun
For which we need to wake.
Then hold us fast, sweet Death,
If so it seemeth best
To Him who gave us breath
That we should go to rest.
We lay us down to sleep,
Our weary eyes we close:
Whether to wake and weep
Or wake no more, He knows.
"Asleep" by William Winter
He knelt beside her pillow, in the dead watch of the night,
And he heard her gentle breathing, but her face was still and white,
And on her poor, wan cheek a tear told how the heart can weep,
And he said, 'My love was weary—God bless her! she 's asleep.'
He knelt beside her gravestone in the shuddering autumn night,
And he heard the dry grass rustle, and his face was thin and white,
And through his heart the tremor ran of grief that cannot weep,
And he said, 'My love was weary—God bless her! she 's asleep.'
"Sleep" by Thomas Bailey Aldrich
When to soft Sleep we give ourselves away,
And in a dream as in a fairy bark
Drift on and on through the enchanted dark
To purple daybreak—little thought we pay
To that sweet bitter world we know by day.
We are clean quit of it, as is a lark
So high in heaven no human eye can mark
The thin swift pinion cleaving through the gray.
Till we awake ill fate can do no ill,
The resting heart shall not take up again
The heavy load that yet must make it bleed;
For this brief space the loud world's voice is still,
No faintest echo of it brings us pain.
How will it be when we shall sleep indeed?
"Doubts" by Rupert Brooke
When she sleeps, her soul, I know,
Goes a wanderer on the air,
Wings where I may never go,
Leaves her lying, still and fair,
Waiting, empty, laid aside,
Like a dress upon a chair.…
This I know, and yet I know
Doubts that will not be denied.
For if the soul be not in place,
What has laid trouble in her face?
And, sits there nothing ware and wise
Behind the curtains of her eyes,
What is it, in the self's eclipse,
Shadows, soft and passingly,
About the corners of her lips,
The smile that is essential she?
And if the spirit be not there,
Why is fragrance in the hair?
"Asleep" by Mary Newmarch Prescott
Sound asleep: no sigh can reach
Him who dreams the heavenly dream;
No to-morrow's silver speech
Wake him with an earthly theme.
Summer rains relentlessly
Patter where his head doth lie;
There the wild fern and the brake
All their summer leisure take.
Violets blinded with the dew,
Perfume lend to the sad rue,
Till the Day break, fair and dear,
And no shadow doth appear.
"We too shall sleep" by Archibald Lampman
Not, not for thee,
Belovèd child, the burning grasp of life
Shall bruise the tender soul. The noise, and strife,
And clamour of midday thou shalt not see;
But wrapped for ever in thy quiet grave,
Too little to have known the earthly lot,
Time's clashing hosts above thine innocent head,
Wave upon wave,
Shall break, or pass as with an army's tread,
And harm thee not.
A few short years
We of the living flesh and restless brain
Shall plumb the deeps of life and know the strain,
The fleeting gleams of joy, the fruitless tears;
And then at last when all is touched and tried,
Our own immutable night shall fall, and deep
In the same silent plot, O little friend,
Side by thy side,
In peace that changeth not, nor knoweth end,
We too shall sleep.
"Sleep, thy last sleep" by Edward Arthur Dayman
Sleep thy last sleep,
Free from care and sorrow,
Rest, where none weep,
Till the eternal morrow;
Though dark waves roll
O'er the silent river,
Thy fainting soul
Jesus can deliver.
Life's dream is past,
All its sin, its sadness,
Brightly at last
Dawns a day of gladness;
Under thy sod,
Earth, receive our treasure,
To rest in God,
Waiting all His pleasure.
Though we may mourn
Those in life the dearest,
They shall return,
Christ, when Thou appearest!
Soon shall Thy voice
Comfort those now weeping,
Bidding rejoice
All in Jesus sleeping.
"Going to Sleep" by George MacDonald
Little one, you must not fret
That I take your clothes away;
Better sleep you so will get,
And at morning wake more gay—
Saith the children's mother.
You I must unclothe again,
For you need a better dress;
Too much worn are body and brain;
You need everlastingness—
Saith the heavenly father.
I went down death's lonely stair;
Laid my garments in the tomb;
Dressed again one morning fair;
Hastened up, and hied me home—
Saith the elder brother.
Then I will not be afraid
Any ill can come to me;
When 'tis time to go to bed,
I will rise and go with Thee—
Saith the little brother.
"The Child Asleep (from the French)" by Henry Wadsworth Longfellow
Sweet babe! true portrait of thy father's face,
Sleep on the bosom that thy lips have pressed!
Sleep, little one; and closely, gently place
Thy drowsy eyelid on thy mother's breast.
Upon that tender eye, my little friend,
Soft sleep shall come, that cometh not to me!
I watch to see thee, nourish thee, defend;
'T is sweet to watch for thee, alone for thee!
His arms fall down; sleep sits upon his brow;
His eye is closed; he sleeps, nor dreams of harm.
Wore not his cheek the apple's ruddy glow,
Would you not say he slept on Death's cold arm?
Awake, my boy! I tremble with affright!
Awake, and chase this fatal thought! Unclose
Thine eye but for one moment on the light!
Even at the price of thine, give me repose!
Sweet error! he but slept, I breathe again;
Come, gentle dreams, the hour of sleep beguile!
Oh, when shall he, for whom I sigh in vain,
Beside me watch to see thy waking smile?
"Celia, Sleeping or Singing" by Thomas Stanley
Roses, in breathing forth their scent,
Or stars their borrowed ornament;
Nymphs in the watery sphere that move,
Or angels in their orbs above;
The winged chariot of the light,
Or the slow silent wheels of night;
The shade which from the swifter sun
Doth in a circular motion run,
Or souls that their eternal rest do keep,
Make far more noise than Celia's breath in sleep.
But if the angel which inspires
This subtle frame with active fires,
Should mould this breath to words, and those
Into harmony dispose,
The music of this heavenly sphere
Would steal each soul out at the ear,
And into plants and stones infuse
A life that cherubin would choose,
And with new powers invert the laws of fate:
Kill those that live, and dead things animate.
"Dreamland" by Lewis Carroll
When midnight mists are creeping,
And all the land is sleeping,
Around me tread the mighty dead,
And slowly pass away.
Lo, warriors, saints, and sages,
From out the vanished ages,
With solemn pace and reverend face
Appear and pass away.
The blaze of noonday splendour,
The twilight soft and tender,
May charm the eye: yet they shall die,
Shall die and pass away.
But here, in Dreamland's centre,
No spoiler's hand may enter,
These visions fair, this radiance rare,
Shall never pass away.
I see the shadows falling,
The forms of old recalling;
Around me tread the mighty dead,
And slowly pass away.
"In the Land of Dreams" by Mary Hannay Foott
A bridle-path in the tangled mallee,
With blossoms unnamed and unknown bespread,
And two who ride through its leafy alley,
But never the sound of a horses tread.
And one by one whilst the foremost rider
Puts back the boughs which have grown apace,
And side by side where the track is wider,
Together they come to the olden place.
To the leaf-dyed pool whence the mallards flattered,
Or ever the horses had paused to drink;
Where the word was said and the vow was uttered
That brighten for ever its weedy brink.
And Memory closes her sad recital,
In Fates cold eyes there are kindly gleams,
While for one brief moment of blest requital,
The parted have met, in the Land of Dreams.
"A Daughter of Eve" by Christina Georgina Rossetti
A fool I was to sleep at noon,
And wake when night is chilly
Beneath the comfortless cold moon;
A fool to pluck my rose too soon,
A fool to snap my lily.
My garden-plot I have not kept;
Faded and all-forsaken,
I weep as I have never wept:
Oh it was summer when I slept,
It's winter now I waken.
Talk what you please of future spring
And sun-warmed sweet to-morrow: –
Stripped bare of hope and every thing,
No more to laugh, no more to sing,
I sit alone with sorrow.
"A Dream of Waking" by George MacDonald
A child was born in sin and shame,
Wronged by his very birth,
Without a home, without a name,
One over in the earth.
No wifely triumph he inspired,
Allayed no husband's fear;
Intruder bare, whom none desired,
He had a welcome drear.
Heaven's beggar, all but turned adrift
For knocking at earth's gate,
His mother, like an evil gift,
Shunned him with sickly hate.
And now the mistress on her knee
The unloved baby bore,
The while the servant sullenly
Prepared to leave her door.
Her eggs are dear to mother-dove,
Her chickens to the hen;
All young ones bring with them their love,
Of sheep, or goats, or men!
This one lone child shall not have come
In vain for love to seek:
Let mother's hardened heart be dumb,
A sister-babe will speak!
"Mother, keep baby–keep him so;
Don't let him go away."
"But, darling, if his mother go,
Poor baby cannot stay."
"He's crying, mother: don't you see
He wants to stay with you?"
"No, child; he does not care for me."
"Do keep him, mother–do."
"For his own mother he would cry;
He's hungry now, I think."
"Give him to me, and let me try
If I can make him drink."
"Susan would hurt him! Mother will
Let the poor baby stay?"
Her mother's heart grew sore, but still
Baby must go away!
The red lip trembled; the slow tears
Came darkening in her eyes;
Pressed on her heart a weight of fears
That sought not ease in cries.
'Twas torture–must not be endured!–
A too outrageous grief!
Was there an ill could not be cured?
She would find some relief!
All round her universe she pried:
No dawn began to break:
In prophet-agony she cried–
"Mother! when shall we wake?"
O insight born of torture's might!–
Such grief can only seem.
Rise o'er the hills, eternal light,
And melt the earthly dream.
"A Secret" by John Charles McNeill
A little baby went to sleep
One night in his white bed,
And the moon came by to take a peep
At the little baby head.
A wind, as wandering winds will do,
Brought to the baby there
Sweet smells from some quaint flower that grew
Out on some hill somewhere.
And wind and flower and pale moonbeam
About the baby's bed
Stirred and woke the funniest dream
In the little sleepy head.
He thought he was all sorts of things
From a lion to a cat;
Sometimes he thought he flew on wings,
Or fell and fell, so that
When morning broke he was right glad
But much surprised to see
Himself a soft, pink little lad
Just like he used to be.
I would not give this story fame
If there were room to doubt it,
But when he learned to talk, he came
And told me all about it.
"An Acrostic" by Mary Ann H. Bigelow
Ah! what is this life? It's a dream, is the reply;
Like a dream that's soon ended, so life passes by.
Pursue the thought further, still there's likeness in each,
How constant our aim is at what we can't reach.
E'en so in a dream, we've some object in view
Unceasingly aimed at, but the thing we pursue
Still eludes our fond grasp, and yet lures us on too.
How analagous this to our waking day hours,
Unwearied our efforts, we tax all our powers;
Betimes in the morning the prize we pursue,
By the pale lamp of midnight we're seeking it too;
At all times and seasons, this same fancied good
Repels our advances, yet still is pursued,
Depriving us oft, of rest needful, and food.
But there's a pearl of great price, whose worth is untold,
It can never he purchased with silver or gold;
Great peace it confers upon all to whom given,
Ever cheering their pathway, and pointing to heaven.
Look not to this world for a prize of such worth,
Or hope that to obtain from this perishing earth
Whose essence is spiritual, and heavenly its birth.
"A Shepherd's Dream" by Nicholas Breton
A silly shepherd lately sat
Among a flock of sheep;
Where musing long on this and that,
At last he fell asleep.
And in the slumber as he lay,
He gave a piteous groan;
He thought his sheep were run away,
And he was left alone.
He whoop'd, he whistled, and he call'd,
But not a sheep came near him;
Which made the shepherd sore appall'd
To see that none would hear him.
But as the swain amazed stood,
In this most solemn vein,
Came Phyllida forth of the wood,
And stood before the swain.
Whom when the shepherd did behold
He straight began to weep,
And at the heart he grew a-cold,
To think upon his sheep.
For well he knew, where came the queen,
The shepherd durst not stay:
And where that he durst not be seen,
The sheep must needs away.
To ask her if she saw his flock,
Might happen patience move,
And have an answer with a mock,
That such demanders prove.
Yet for because he saw her come
Alone out of the wood,
He thought he would not stand as dumb,
When speech might do him good;
And therefore falling on his knees,
To ask but for his sheep,
He did awake, and so did leese
The honour of his sleep.
"Years Ago" by John Hartley
Annie I dreamed a strange dream last night,
At my bedside, I dreamed, you stood clad in white;
Your dark curly hair 'round your snow-white brow, –
(Are those locks as raven and curly now?)
And those rosebud lips, which in days lang syne,
I have kissed and blest, because they were mine.
And thine eyes soft light,
Shone as mellow and bright,
As it did years ago, –
Years ago.
And I fancy I heard the soft soothing sound
Of thy voice, that sweet melody breathed all around,
Whilst enraptured I gazed, and once more the sweet smile,
Made sunshine, my sorrowing heart to beguile,
And thy milkwhite hands stroked my heated brow; –
(Oh! what would I give could I feel them now!)
But alas! Woe is me!
No more can it be,
As it was years ago, –
Years ago.
I awoke with a gnawing pain at my heart,
The vision had vanished, – but oh, the smart
Of the wound, which no time can ever heal,
Was a torment, which only lost souls can feel.
Yet in spite of the pain, the woe, the despair,
I dote, as I look on a lock of dark hair,
That I culled from the head,
Of the loveliest maid;
Many long years ago, –
Years ago.
Will fate ever bring us together again?
Will my heart never know a surcease from pain?
Are the dark locks I worshipped, now mingled with grey?
Has Time stolen brightness and beauty away?
I care not, – for years have but made thee more dear;
But my longing is vain,
Thou wilt ne'er come again.
Lost, – lost, – years ago, –
Years ago.
"Sleepyhead" by Walter De La Mare
As I lay awake in the white moonlight
I heard a faint singing in the wood,
"Out of bed,
Sleepyhead,
Put your white foot, now;
Here are we
Beneath the tree
Singing round the root now."
I looked out of window, in the white moonlight,
The leaves were like snow in the wood –
"Come away,
Child, and play
Light with the gnomies;
In a mound,
Green and round,
That's where their home is.
"Honey sweet,
Curds to eat,
Cream and frumenty,
Shells and beads,
Poppy seeds,
You shall have plenty."
But, as soon as I stooped in the dim moonlight
To put on my stocking and my shoe,
The sweet shrill singing echoed faintly away,
And the grey of the morning peeped through,
And instead of the gnomies there came a red robin
To sing of the buttercups and dew.
"The Sleeper" by Walter De La Mare
As Ann came in one summer's day,
She felt that she must creep,
So silent was the clear cool house,
It seemed a house of sleep.
And sure, when she pushed open the door,
Rapt in the stillness there,
Her mother sat, with stooping head,
Asleep upon a chair;
Fast – fast asleep; her two hands laid
Loose-folded on her knee,
So that her small unconscious face
Looked half unreal to be:
So calmly lit with sleep's pale light
Each feature was; so fair
Her forehead – every trouble was
Smooth'd out beneath her hair.
But though her mind in dream now moved,
Still seemed her gaze to rest
From out beneath her fast-sealed lids,
Above her moving breast,
On Ann, as quite, quite still she stood;
Yet slumber lay so deep
Even her hands upon her lap
Seemed saturate with sleep.
And as Ann peeped, a cloudlike dread
Stole over her, and then,
On stealthy, mouselike feet she trod,
And tiptoed out again.
"The Slave's Dream" by Henry Wadsworth Longfellow
Beside the ungathered rice he lay,
His sickle in his hand;
His breast was bare, his matted hair
Was buried in the sand.
Again, in the mist and shadow of sleep,
He saw his Native Land.
Wide through the landscape of his dreams
The lordly Niger flowed;
Beneath the palm-trees on the plain
Once more a king he strode;
And heard the tinkling caravans
Descend the mountain-road.
He saw once more his dark-eyed queen
Among her children stand;
They clasped his neck, they kissed his cheeks,
They held him by the hand!–
A tear burst from the sleeper's lids
And fell into the sand.
And then at furious speed he rode
Along the Niger's bank;
His bridle-reins were golden chains,
And, with a martial clank,
At each leap he could feel his scabbard of steel
Smiting his stallion's flank.
Before him, like a blood-red flag,
The bright flamingoes flew;
From morn till night he followed their flight,
O'er plains where the tamarind grew,
Till he saw the roofs of Caffre huts,
And the ocean rose to view.
At night he heard the lion roar,
And the hyena scream,
And the river-horse, as he crushed the reeds
Beside some hidden stream;
And it passed, like a glorious roll of drums,
Through the triumph of his dream.
The forests, with their myriad tongues,
Shouted of liberty;
And the Blast of the Desert cried aloud,
With a voice so wild and free,
That he started in his sleep and smiled
At their tempestuous glee.
He did not feel the driver's whip,
Nor the burning heat of day;
For Death had illumined the Land of Sleep,
And his lifeless body lay
A worn-out fetter, that the soul
Had broken and thrown away!
"Sleep's Treachery" by Ella Wheeler Wilcox
As the grey twilight, tiptoed down the deep
And shadowy valley, to the day's dark end,
She whom I thought my ever-faithful friend,
Fair-browed, calm-eyed and mother-bosomed Sleep,
Met me with smiles. 'Poor longing heart, I keep
Sweet joy for you,' she murmured. 'I will send
One whom you love, with your own soul to blend
In visions, as the night hours onward creep.'
I trusted her; and watched by starry beams,
I slumbered soundly, free from all alarms.
Then not my love, but one long banished came,
Led by false Sleep, down secret stairs of dreams
And clasped me, unresisting in fond arms.
Oh, treacherous sleep – to sell me to such shame!
"The Angels Of Sleep" by Bjarnstjerne Martinius Bjarnson
Asleep the child fell
When night cast its spell;
The angels came near
With laughter and cheer.
Her watch at its waking the mother was keeping:
"How sweet, my dear child, was your smile now while sleeping!"
To God mother went,
From home it was rent;
Asleep the child fell
'Neath tears' troublous spell.
But soon it heard laughter and mother-words tender;
The angels brought dreams full of childhood's rare splendor.
It grew with the years,
Till gone were the tears;
Asleep the child fell,
While thoughts cast their spell.
But faithful the angels their vigils were keeping,
The thoughts took and whispered: "Have peace now, while sleeping!"
"Asolando – Epilogue" by Robert Browning
At the midnight in the silence of the sleep-time,
When you set your fancies free,
Will they pass to where–by death, fools think, imprisoned–
Low he lies who once so loved you whom you loved so,
–Pity me?
Oh to love so, be so loved, yet so mistaken!
What had I on earth to do
With the slothful, with the mawkish, the unmanly?
Like the aimless, helpless, hopeless, did I drivel
–Being–who?
One who never turned his back but marched breast forward,
Never doubted clouds would break,
Never dreamed, tho' right were worsted, wrong would triumph,
Held we fall to rise, are baffled to fight better,
Sleep to wake.
No, at noonday in the bustle of man's work-time
Greet the unseen with a cheer!
Bid him forward, breast and back as either should be,
"Strive and thrive!" cry "Speed,–fight on, fare ever
There as here!
"Dreaming For Ever" by Thomas Moore
Dreaming for ever, vainly dreaming,
Life to the last, pursues its flight;
Day hath its visions fairly beaming,
But false as those of night.
The one illusion, the other real,
But both the same brief dreams at last;
And when we grasp the bliss ideal,
Soon as it shines, 'tis past.
Here, then, by this dim lake reposing,
Calmly I'll watch, while light and gloom
Flit o'er its face till night is closing–
Emblem of life's short doom!
But tho', by turns, thus dark and shining,
'Tis still unlike man's changeful day,
Whose light returns not, once declining,
Whose cloud, once come, will stay.
"Dream Of A Curious Man" by Charles Baudelaire
for F.N.
Do you, as I do, know a zesty grief,
And is it said of you, 'curious man!'
I dreamed of dying; in my spirit's heat
Desire and horror mixed, a strange mischance;
Anguish and ardent hope were tightly knit;
The more the fatal glass was drained of sand
The more I suffered, and I savoured it;
My heart pulled out of the familiar, and
I was a child, eager to see a play,
Hating the curtain standing in the way…
At last the chilling verity came on:
Yes, I was dead, and in the dreadful dawn
Was wrapped. And what! That's all there is to tell?
The screen was raised, and I was waiting still.
"A Reverie" by Abrahan Joseph Ryan
Did I dream of a song? or sing in a dream?
Why ask when the night only knoweth?
The night — and the angel of sleep!
But ever since then a music deep,
Like a stream thro' a shadow-land, floweth
Under each thought of my spirit that groweth
Into the blossom and bloom of speech —
Under each fancy that cometh and goeth —
Wayward, as waves when evening breeze bloweth
Out of the sunset and into the beach.
And is it a wonder I wept to-day?
For I mused and thought, but I cannot say
If I dreamed of a song, or sang in a dream.
In the silence of sleep, and the noon of night;
And now — even now — 'neath the words I write,
The flush of the dream or the flow of the song —
I cannot tell which — moves strangely along.
But why write more? I am puzzled sore:
Did I dream of a song? or sing in a dream?
Ah! hush, heart! hush! 'tis of no avail;
The words of earth are a darksome veil,
The poet weaves it with artful grace;
Lifts it off from his thoughts at times,
Lets it rustle along his rhymes,
But gathers it close, covering the face
Of ev'ry thought that must not part
From out the keeping of his heart.
"Apology" by Edward Shanks
Have I slept and failed to hear you calling?
Cry again, belov'd; for sleep is heavy,
Curtaining away the golden sunlight,
Shutting out the blue sky and the breezes,
Sealing up my ears to all you tell me.
Cry again! your voice shall pierce the clumsy
Leaden folds that sleep has wrapt about me,
Cry again! accomplish what the singing,
Hours old now on all the trees and bushes,
And the wind and sun could not accomplish.
Lo! I waste good hours of love and kisses
While the sun and you have spilt your glory
Freely on me lying unregarding.
In the happy islands, where no sunset
Stains the waters with a morbid splendour,
Where the open skies are blue for ever,
I might stay for years and years unsleeping,
Living for divinest conversation,
Music, colour, scent and sense unceasing,
Entering by eye and ear and nostril.
Ah, but flesh is flesh and I am mortal!
Cry again and do not leave me sleeping.
"Only In Dreams" by Ella Wheeler Wilcox
How strange are dreams.
Last night I dreamed about you.
All that old bitterness of loss and pain,
The desolation of my lot without you,
The keen regret, all, all came back again.
Again I faced that terrible old sorrow;
Too numb to weep, too cowardly to pray.
Again the blankness of a dread to-morrow
Filled me with sickly terror and dismay.
I woke in tears; but lo! a moment after,
When every vestige of my dream was fled,
I broke the silence of my room with laughter,
To think sleep had revived a thing so dead.
Thank God, that only in the realms of fancy
Can that old sorrow wake again to strife.
No fate is strong enough -no necromancy –
To make it stir one pulse of my calm life.
My heart is light, my lot is blest without you,
Our early sorrows are not what they seem,
Now in my slumber, if I dream about you
I wake to laugh at such an idle dream.
"Sicilian Lullaby" by Eugene Field
Hush, little one, and fold your hands;
The sun hath set, the moon is high;
The sea is singing to the sands,
And wakeful posies are beguiled
By many a fairy lullaby:
Hush, little child, my little child!
Dream, little one, and in your dreams
Float upward from this lowly place,–
Float out on mellow, misty streams
To lands where bideth Mary mild,
And let her kiss thy little face,
You little child, my little child!
Sleep, little one, and take thy rest,
With angels bending over thee,–
Sleep sweetly on that Father's breast
Whom our dear Christ hath reconciled;
But stay not there,–come back to me,
O little child, my little child!
"Testamentum Amoris" by Robert Laurence Binyon
I cannot raise my eyelids up from sleep,
But I am visited with thoughts of you;
Slumber has no refreshment half so deep
As the sweet morn, that wakes my heart anew.
I cannot put away life's trivial care,
But you straightway steal on me with delight:
My purest moments are your mirror fair;
My deepest thought finds you the truth most bright.
You are the lovely regent of my mind,
The constant sky to my unresting sea;
Yet, since 'tis you that rule me, I but find
A finer freedom in such tyranny.
Were the world's anxious kingdoms govern'd so,
Lost were their wrongs, and vanish'd half their woe!
"Baby Charley" by Sidney Lanier
He's fast asleep. See how, O Wife,
Night's finger on the lip of life
Bids whist the tongue, so prattle-rife,
Of busy Baby Charley.
One arm stretched backward round his head,
Five little toes from out the bed
Just showing, like five rosebuds red,
So slumbers Baby Charley.
Heaven-lights, I know, are beaming through
Those lucent eyelids, veined with blue,
That shut away from mortal view
Large eyes of Baby Charley.
O sweet Sleep-Angel, throned now
On the round glory of his brow,
Wave thy wing and waft my vow
Breathed over Baby Charley.
I vow that my heart, when death is nigh,
Shall never shiver with a sigh
For act of hand or tongue or eye
That wronged my Baby Charley!
Macon, Georgia, December, 1869.
"The Last Night" by Clark Ashton Smith
I dreamed a dream: I stood upon a height,
A mountain's utmost eminence of snow,
Whence I beheld the plain outstretched below
To a far sea-horizon, dim and white.
Beneath the sun's expiring, ghastly light,
The dead world lay, phantasmally aglow;
Its last fear-weighted voice, a wind, came low;
The distant sea lay hushed, as with affright.
I watched, and lo! the pale and flickering sun,
In agony and fierce despair, flamed high,
And shadow-slain, went out upon the gloom.
Then Night, that grim, gigantic struggle won,
Impended for a breath on wings of doom,
And through the air fell like a falling sky.
"Distance." by Madison Julius Cawein
I.
I dreamed last night once more I stood
Knee-deep in purple clover leas;
Your old home glimmered thro' its wood
Of dark and melancholy trees,
Where ev'ry sudden summer breeze
That wantoned o'er the solitude
The water's melody pursued,
And sleepy hummings of the bees.
II.
And ankle-deep in violet blooms
Methought I saw you standing there,
A lawny light among the glooms,
A crown of sunlight on your hair;
Wild songsters singing every where
Made lightning with their glossy plumes;
About you clung the wild perfumes
And swooned along the shining air.
III.
And then you called me, and my ears
Grew flattered with the music, led
In fancy back to sweeter years,
Far sweeter years that now are dead;
And at your summons fast I sped,
Buoyant as one a goal who nears.
Ah! lost, dead love! I woke in tears;
For as I neared you farther fled!
"The Angel" by William Blake
I dreamt a dream! What can it mean?
And that I was a maiden Queen
Guarded by an Angel mild:
Witless woe was ne'er beguiled!
And I wept both night and day,
And he wiped my tears away;
And I wept both day and night,
And hid from him my heart's delight.
So he took his wings, and fled;
Then the morn blushed rosy red.
I dried my tears, and armed my fears
With ten-thousand shields and spears.
Soon my Angel came again;
I was armed, he came in vain;
For the time of youth was fled,
And grey hairs were on my head.
"The Vine" by Robert Herrick
I dreamed this mortal part of mine
Was metamorphosed to a vine,
Which, crawling one and every way,
Enthralled my dainty Lucia.
Methought, her long small legs and thighs
I with my tendrils did surprise:
Her belly, buttocks, and her waist
By my soft nervelets were embraced
About her head I writhing hung
And with rich clusters (hid among
The leaves) her temples I behung,
So that my Lucia seemed to me
Young Bacchus ravished by his tree.
My curls about her neck did crawl,
And arms and hands they did enthrall,
So that she could not freely stir
(All parts there made one prisoner).
But when I crept with leaves to hide
Those parts which maids keep unespied,
Such fleeting pleasures there I took
That with the fancy i awoke,
And found (ah me!) this flesh of mine
More like a stock than like a vine.
"Seven Times Five. Widowhood." by Jean Ingelow
I sleep and rest, my heart makes moan
Before I am well awake;
"Let me bleed! O let me alone,
Since I must not break!"
For children wake, though fathers sleep
With a stone at foot and at head:
O sleepless God, forever keep,
Keep both living and dead!
I lift mine eyes, and what to see
But a world happy and fair!
I have not wished it to mourn with me –
Comfort is not there.
O what anear but golden brooms,
And a waste of reedy rills!
O what afar but the fine glooms
On the rare blue hills!
I shall not die, but live forlore –
How bitter it is to part!
O to meet thee, my love, once more!
O my heart, my heart!
No more to hear, no more to see!
O that an echo might wake
And waft one note of thy psalm to me
Ere my heart-strings break!
I should know it how faint soe'er,
And with angel voices blent;
O once to feel thy spirit anear,
I could be content!
Or once between the gates of gold,
While an angel entering trod,
But once – thee sitting to behold
On the hills of God!
"I Dreamt of Robin" by John Clare
I opened the casement this morn at starlight,
And, the moment I got out of bed,
The daisies were quaking about in their white
And the cowslip was nodding its head.
The grass was all shivers, the stars were all bright,
And Robin that should come at e'en–
I thought that I saw him, a ghost by moonlight,
Like a stalking horse stand on the green.
I went bed agen and did nothing but dream
Of Robin and moonlight and flowers.
He stood like a shadow transfixed by a stream,
And I couldn't forget him for hours.
I'd just dropt asleep when I dreamed Robin spoke,
And the casement it gave such a shake,
As if every pane in the window was broke;
Such a patter the gravel did make.
So I up in the morning before the cock crew
And to strike me a light I sat down.
I saw from the door all his track in the dew
And, I guess, called "Come in and sit down."
And one, sure enough, tramples up to the door,
And who but young Robin his sen?
And ere the old folks were half willing to stir
We met, kissed, and parted agen.
"The Student's Serenade" by Anne Bronte
I have slept upon my couch,
But my spirit did not rest,
For the labours of the day
Yet my weary soul opprest;
And, before my dreaming eyes
Still the learned volumes lay,
And I could not close their leaves,
And I could not turn away.
But I opened my eyes at last,
And I heard a muffled sound;
'Twas the night-breeze, come to say
That the snow was on the ground.
Then I knew that there was rest
On the mountain's bosom free;
So I left my fevered couch,
And I flew to waken thee!
I have flown to waken thee
For, if thou wilt not arise,
Then my soul can drink no peace
From these holy moonlight skies.
And, this waste of virgin snow
To my sight will not be fair,
Unless thou wilt smiling come,
Love, to wander with me there.
Then, awake! Maria, wake!
For, if thou couldst only know
How the quiet moonlight sleeps
On this wilderness of snow,
And the groves of ancient trees,
In their snowy garb arrayed,
Till they stretch into the gloom
Of the distant valley's shade;
I know thou wouldst rejoice
To inhale this bracing air;
Thou wouldst break thy sweetest sleep
To behold a scene so fair.
O'er these wintry wilds, alone,
Thou wouldst joy to wander free;
And it will not please thee less,
Though that bliss be shared with me.
"Floods" by Ella Wheeler Wilcox
In the dark night, from sweet refreshing sleep
I wake to hear outside my window-pane
The uncurbed fury of the wild spring rain,
And weird winds lashing the defiant deep,
And roar of floods that gather strength and leap
Down dizzy, wreck-strewn channels to the main.
I turn upon my pillow and again
Compose myself for slumber.
Let them sweep;
I once survived great floods, and do not fear,
Though ominous planets congregate, and seem
To foretell strange disasters.
From a dream –
Ah! dear God! such a dream! – I woke to hear,
Through the dense shadows lit by no star's gleam,
The rush of mighty waters on my ear.
Helpless, afraid, and all alone, I lay;
The floods had come upon me unaware.
I heard the crash of structures that were fair;
The bridges of fond hopes were swept away
By great salt waves of sorrow. In dismay
I saw by the red lightning's lurid glare
hat on the rock-bound island of despair
I had been cast. Till the dim dawn of day
I heard my castles falling, and the roll
Of angry billows bearing to the sea
The broken timbers of my very soul.
Were all the pent-up waters from the whole
Stupendous solar system to break free,
There are no floods that now can frighten me.
"Zenas Witt" by Edgar Lee Masters
I was sixteen, and I had the most terrible dreams,
And specks before my eyes, and nervous weakness.
And I couldn't remember the books I read,
Like Frank Drummer who memorized page after page.
And my back was weak, and I worried and worried,
And I was embarrassed and stammered my lessons,
And when I stood up to recite I'd forget
Everything that I had studied.
Well, I saw Dr. Weese's advertisement,
And there I read everything in print,
Just as if he had known me;
And about the dreams which I couldn't help.
So I knew I was marked for an early grave.
And I worried until I had a cough
And then the dreams stopped.
And then I slept the sleep without dreams
Here on the hill by the river.
"Old War-Dreams" by Walt Whitman
In midnight sleep, of many a face of anguish,
Of the look at first of the mortally wounded – of that indescribable look;
Of the dead on their backs, with arms extended wide,
I dream, I dream, I dream.
Of scenes of nature, fields and mountains;
Of skies, so beauteous after a storm – and at night the moon so unearthly bright,
Shining sweetly, shining down, where we dig the trenches and gather the heaps,
I dream, I dream, I dream.
Long, long have they pass'd – faces and trenches and fields;
Where through the carnage I moved with a callous composure – or away from the fallen,
Onward I sped at the time – But now of their forms at night,
I dream, I dream, I dream.
"Some Time" by Eugene Field
Last night, my darling, as you slept,
I thought I heard you sigh,
And to your little crib I crept,
And watched a space thereby;
And then I stopped and kissed your brow,
For oh! I love you so–
You are too young to know it now,
But some time you shall know!
Some time when, in a darkened place
Where others come to weep,
Your eyes shall look upon a face
Calm in eternal sleep,
The voiceless lips, the wrinkled brow,
The patient smile shall show–
You are too young to know it now,
But some time you may know!
Look backward, then, into the years,
And see me here to-night–
See, O my darling! how my tears
Are falling as I write;
And feel once more upon your brow
The kiss of long ago–
You are too young to know it now,
But some time you shall know.
"To a Sleeping Child" by Arthur Hugh Clough
Lips, lips, open!
Up comes a little bird that lives inside
Up comes a little bird, and peeps, and out he flies.
All the day he sits inside, and sometimes he sings,
Up he comes, and out he goes at night to spread his wings.
Little bird, little bird, whither will you go?
Round about the world, while nobody can know.
Little bird, little bird, whither do you flee?
Far away around the world, while nobody can see.
Little bird, little bird, how long will you roam?
All round the world and around again home;
Round the round world, and back through the air,
When the morning comes, the little bird is there.
Back comes the little bird and looks and in he flies,
Up wakes the little boy, and opens both his eyes.
Sleep, sleep, little boy, little birds away,
Little bird will come again, by the peep of day;
Sleep, little boy, the little bird must go
Round about the world, while nobody can know.
Sleep, sleep sound, little bird goes round,
Round and round he goes; sleep, sleep sound.
"Little Boy Sleepy" by Madison Julius Cawein
Little boy sleepy won't go to bed,
Though the Sand Man came an hour ago,
And sand all under his eyelids spread:
Though his eyes are heavy and heavy his head,
And his little tired feet seem made of lead,
And he nods and yawns as he drags them slow.
Little Boy Sleepy won't go to bed.
Little Boy Sleepy just has to play,
Though his toys are tired as he, I know:
His little toy-horse in its little toy-dray
Just seems to beg to be put away;
It has worked so hard all day, all day,
Hauling the toy-blocks to and fro.
Little Boy Sleepy just has to play.
Little Boy Sleepy won't be undressed;
"Just one more minute to play, my oh!"
His little lead soldier looks sodistressed,
And his paper rooster hangs down his crest,
And the little wool-dog just begs for rest,
And the Jack-in-the-Box looks worlds of woe.
Little Boy Sleepy won't be undressed.
Little Boy Sleepy lifts up his voice:
"I want to play with my toys some mo!
I am not sleepy! I want my toys!
My little toy-cat and my bears and boys,
And my little toy-train that makes a noise,
And the little tin-horn I blow and blow."
Little Boy Sleepy lifts up his voice.
Little Boy Sleepy just sighs and sighs;
And then he mutters, "It is n't so!
It is n't night! I must make some pies,
Some little mud pies!" and then his eyes
Just seem to close and down he lies
In his mother's arms who rocks him slow,
Little Boy Sleepy just sighs and sighs.
"Love and Sleep" by Algernon Charles Swinburne
Lying asleep between the strokes of night
I saw my love lean over my sad bed,
Pale as the duskiest lilys leaf or head,
Smooth-skinned and dark, with bare throat made to bite,
Too wan for blushing and too warm for white,
But perfect-coloured without white or red.
And her lips opened amorously, and said
I wist not what, saving one word Delight.
And all her face was honey to my mouth,
And all her body pasture to mine eyes;
The long lithe arms and hotter hands than fire,
The quivering flanks, hair smelling of the south,
The bright light feet, the splendid supple thighs
And glittering eyelids of my souls desire.
"Chantrey's Sleeping Children" by William Lisle Bowles
Look at those sleeping children; softly tread,
Lest thou do mar their dream, and come not nigh
Till their fond mother, with a kiss, shall cry,
'Tis morn, awake! awake! Ah! they are dead!
Yet folded in each other's arms they lie,
So still – oh, look! so still and smilingly,
So breathing and so beautiful, they seem,
As if to die in youth were but to dream
Of spring and flowers! Of flowers? Yet nearer stand –
There is a lily in one little hand,
Broken, but not faded yet,
As if its cup with tears were wet.
So sleeps that child, not faded, though in death,
And seeming still to hear her sister's breath,
As when she first did lay her head to rest
Gently on that sister's breast,
And kissed her ere she fell asleep!
The archangel's trump alone shall wake that slumber deep.
Take up those flowers that fell
From the dead hand, and sigh a long farewell!
Your spirits rest in bliss!
Yet ere with parting prayers we say,
Farewell for ever to the insensate clay,
Poor maid, those pale lips we will kiss!
Ah! 'tis cold marble! Artist, who hast wrought
This work of nature, feeling, and of thought;
Thine, Chantrey, be the fame
That joins to immortality thy name.
For these sweet children that so sculptured rest –
A sister's head upon a sister's breast –
Age after age shall pass away,
Nor shall their beauty fade, their forms decay.
For here is no corruption; the cold worm
Can never prey upon that beauteous form:
This smile of death that fades not, shall engage
The deep affections of each distant age!
Mothers, till ruin the round world hath rent,
Shall gaze with tears upon the monument!
And fathers sigh, with half-suspended breath:
How sweetly sleep the innocent in death!
"My Pansy Pets" by Joseph Horatio Chant
My pansy pets are sleeping well
Beneath their quilt of snow;
How they can breathe I cannot tell,
Nor how their rootlets grow;
But soon the snow will melt away
And April showers descend;
Then shall appear in colors gay
Each little pansy friend.
Of pride it may not show a trace;
Of lowly mind, alway;
But will not blush to show its face
All through the lifelong day:
Its fragrance other flowers surpass,
In form more stately, too.
But when you see my pets in mass,
Thank God they ever grew.
For though the human face may frown,
Or show a heart of guile,
My pansy pets as you look down
Will look at you and smile;
Nor will they murmur if you should
Pluck off their brightest bloom;
Their mission is to do us good,
And smile away our gloom.
"A Song" by Archibald Lampman
Oh night and sleep,
Ye are so soft and deep,
I am so weary, come ye soon to me.
Oh hours that creep,
With so much time to weep,
I am so tired, can ye no swifter be?
Come, night, anear;
I'll whisper in thine ear
What makes me so unhappy, full of care;
Dear night, I die
For love that all men buy
With tears, and know not it is dark despair.
Dear night, I pray,
How is it that men say
That love is sweet? It is not sweet to me.
For one boy's sake
A poor girl's heart must break;
So sweet, so true, and yet it could not be!
Oh, I loved well,
Such love as none can tell:
It was so true, it could not make him know:
For he was blind,
All light and all unkind:
Oh, had he known, would he have hurt me so?
Oh night and sleep,
Ye are so soft and deep,
I am so weary, come ye soon to me.
Oh hours that creep,
With so much time to weep,
I am so tired, can ye no swifter be?
"A Dream In Early Spring" by Fredegond Shove
Now when I sleep the thrush breaks through my dreams
With sharp reminders of the coming day:
After his call, one minute I remain
Unwaked, and on the darkness which is Me
There springs the image of a daffodil,
Growing upon a grassy bank alone,
And seeming with great joy his bell to fill
With drops of golden dew, which on the lawn
He shakes again, where they lie bright and chill.
His head is drooped; the shrouded winds that sing
Bend him which way they will: never on earth
Was there before so beautiful a ghost.
Alas! he had a less than flower-birth,
And like a ghost indeed must shortly glide
From all but the sad cells of memory,
Where he will linger, an imprisoned beam,
Or fallen shadow of the golden world,
Long after this and many another dream.
"Line On A Sleeping Child" by Frances Anne Kemble (Fanny)
Oh child! who to this evil world art come,
Led by the unseen hand of Him who guards thee,
Welcome unto this dungeon-house, thy home!
Welcome to all the woe this life awards thee!
Upon thy forehead yet the badge of sin
Hath worn no trace; thou look'st as though from heaven,
But pain, and guilt, and misery lie within;
Poor exile! from thy happy birth-land driven.
Thine eyes are sealed by the soft hand of sleep,
And like unruffled waves thy slumber seems;
The time's at hand when thou must wake to weep,
Or sleeping, walk a restless world of dreams.
How oft, as day by day life's burthen lies
Heavier and darker on thy fainting soul,
Wilt thou towards heaven turn thy weary eyes,
And long in bitterness to reach the goal!
How oft wilt thou, upon Time's flinty road,
Gaze at thy far off early days, in vain;
Weeping, how oft wilt thou cast down thy load,
And curse and pray, then take it up again!
How many times shall the fiend Hope, extend
Her poisonous chalice to thy thirsty lips!
How oft shall Love its withering sunshine lend,
To leave thee only a more dark eclipse!
How oft shall Sorrow strain thee in her grasp, –
How oft shall Sin laugh at thine overthrow –
How oft shall Doubt, Despair, and Anguish clasp
Their knotted arms around thine aching brow!
Oh, living soul, hail to thy narrow cage!
Spirit of light, hail to thy gloomy cave!
Welcome to longing youth, to loathing age,
Welcome, immortal! welcome to the grave!
"On —- Sleep" by Samuel Rogers
Sleep on, and dream of Heav'n awhile.
Tho' shut so close thy laughing eyes,
Thy rosy lips still seem to smile,
And move, and breathe delicious sighs!–
Ah, now soft blushes tinge her cheeks,
And mantle o'er her neck of snow.
Ah, now she murmurs, now she speaks
What most I wish–and fear to know.
She starts, she trembles, and she weeps!
Her fair hands folded on her breast.
–And now, how like a saint she sleeps!
A seraph in the realms of rest!
Sleep on secure! Above controul,
Thy thoughts belong to Heav'n and thee!
And may the secret of thy soul
Repose within its sanctuary!
"The Poet Who Sleeps" by Walter Savage Landor
One day, when I was young, I read
About a poet, long since dead,
Who fell asleep, as poets do
In writing–and make others too.
But herein lies the story's gist,
How a gay queen came up and kist
The sleeper.
'Capital!' thought I.
'A like good fortune let me try.'
Many the things we poets feign.
I feign'd to sleep, but tried in vain.
I tost and turn'd from side to side,
With open mouth and nostrils wide.
At last there came a pretty maid,
And gazed; then to myself I said,
'Now for it!' She, instead of kiss,
Cried, 'What a lazy lout is this!'
"Mary Magdalene And The Other Mary" by Christina Georgina Rossetti
A SONG FOR ALL MARIES.
Our Master lies asleep and is at rest;
His Heart has ceased to bleed, His Eye to weep.
The sun ashamed has dropt down in the west;
Our Master lies asleep.
Now we are they who weep, and trembling keep
Vigil, with wrung heart in a sighing breast,
While slow time creeps, and slow the shadows creep.
Renew Thy youth, as eagle from the nest;
O Master, who hast sown, arise to reap:
No cock-crow yet, no flush on eastern crest;
Our Master lies asleep.
"The Morning Sun" by Edward Shanks
Perhaps you sleep now, fifty miles to the south,
While I sit here and dream of you by night.
The thick soft blankets drawn about your mouth
Have made for you a nest of warm delight;
Your short crisp hair is thrown abroad and spilled
Upon the pillow's whiteness and your eyes
Are quiet and the round soft lids are filled
With sleep.
But I shall watch until sunrise
Creeps into chilly clouds and heavy air,
Across the lands where you sleep and I wake,
And I shall know the sun has seen you there,
Unmoving though the winter morning break.
Next, you will lift your hands and rub your eyes
And turn to sleep again but wake and start
And feel, half dreaming, with a dear surprise,
My hand in the sunbeam touching at your heart.
"Come When I sleep" by Victor-Marie Hugo
[XXVII.]
Oh! when I sleep, come near my resting-place,
As Laura came to bless her poet's heart,
And let thy breath in passing touch my face –
At once a space
My lips will part.
And on my brow where too long weighed supreme
A vision – haply spent now – black as night,
Let thy look as a star arise and beam –
At once my dream
Will seem of light.
Then press my lips, where plays a flame of bliss –
A pure and holy love-light – and forsake
The angel for the woman in a kiss –
At once, I wis,
My soul will wake!
"Only In Sleep" by Sara Teasdale
Only in sleep I see their faces,
Children I played with when I was a child,
Louise comes back with her brown hair braided,
Annie with ringlets warm and wild.
Only in sleep Time is forgotten,
What may have come to them, who can know?
Yet we played last night as long ago,
And the doll-house stood at the turn of the stair.
The years had not sharpened their smooth round faces,
I met their eyes and found them mild,
Do they, too, dream of me, I wonder,
And for them am I too a child?
"Poppies" by Victor James Daley
These are the flowers of sleep
That nod in the heavy noon,
Ere the brown shades eastward creep
To a drowsy and dreamful tune,
These are the flowers of sleep.
Loves lilies are passion-pale,
But these on the sun-kissed flood
Of the corn, that rolls breast deep,
Burn redder than drops of blood
On a dead kings golden mail.
Hearts dearest, I would that we
These blooms of forgetfulness
Might bind on our brows, and steep
Our love in Lethe ere less
Grow its flame with thee or me.
When Time with his evil eye
The beautiful Love has slain,
There is nought to gain or keep
Thereafter, and all is vain.
Should we wait to see Love die?
Sweetheart, of the joys men reap
We have reaped; 'tis time to rest.
Why should we wake but to weep?
Sleep and forgetting is best,
These are the flowers of sleep.
"Trench Duty" by Siegfried Loraine Sassoon
Shaken from sleep, and numbed and scarce awake,
Out in the trench with three hours' watch to take,
I blunder through the splashing mirk; and then
Hear the gruff muttering voices of the men
Crouching in cabins candle-chinked with light.
Hark! There's the big bombardment on our right
Rumbling and bumping; and the dark's a glare
Of flickering horror in the sectors where
We raid the Boche; men waiting, stiff and chilled,
Or crawling on their bellies through the wire.
"What? Stretcher-bearers wanted? Some one killed?"
Five minutes ago I heard a sniper fire:
Why did he do it? … Starlight overhead –
Blank stars. I'm wide-awake; and some chap's dead.
"Our Bird" by Marietta Holley
She lay asleep, and her face shone white
As under a snowy veil,
And the waxen hands clasped on her breast
Were full of snowdrops pale;
But a holy calm touched the baby lips,
The brow, and the sleeping eyes,
The look of an angel pitying us
From the peace of Paradise.
And now though she lies 'neath the coffin-lid,
We cannot think her dead;
But we think of her as of some delicate bird
To a milder country fled.
'Twas a long, dark flight for our gentle dove,
Our bird so tender and fair;
But we know she has reached the summer land
And folded her white wings there.
"The Sleeping Giant" by Emily Pauline Johnson
(THUNDER BAY, LAKE SUPERIOR)
When did you sink to your dreamless sleep
Out there in your thunder bed?
Where the tempests sweep,
And the waters leap,
And the storms rage overhead.
Were you lying there on your couch alone
Ere Egypt and Rome were born?
Ere the Age of Stone,
Or the world had known
The Man with the Crown of Thorn.
The winds screech down from the open west,
And the thunders beat and break
On the amethyst
Of your rugged breast, –
But you never arise or wake.
You have locked your past, and you keep the key
In your heart 'neath the westing sun,
Where the mighty sea
And its shores will be
Storm-swept till the world is done.
"By The Cradle" by Sarah Chauncey Woolsey
The baby Summer lies asleep and dreaming–
Dreaming and blooming like a guarded rose;
And March, a kindly nurse, though rude of seeming,
Is watching by the cradle hung with snows.
Her blowing winds but keep the rockers swinging,
And deepen slumber in the shut blue eyes,
And the shrill cadences of her high singing
Are to the babe but wonted lullabies.
She draws the coverlet white and tucks it trimly,
She folds the little sleeper safe from harm;
Or bends to lift the veil, and, peering inly,
Makes sure it lies all undisturbed and warm.
And so she sits, till in the still, gray dawning
Two fairer nurses come, her place to take,
And smiling, beaming, with no word of warning,
Draw off the quilt, and kiss the babe awake.
"The Mother By The Cradle" by George MacDonald
Sleep, baby boy, sleep sweet, secure;
Thy father's very miniature!
That art thou, though thy father goes
And says that thou hast not his nose.
This very moment here was he,
His face o'er thine did pose
And said–Much has he sure of me,
But no, 'tis not my nose.
I think myself, it is too small,
But it is his nose after all;
For if thy nose his nose be not,
Whence came the nose that thou hast got?
Sleep, boy! thy father only chose
To tease me–that's his part!
Never you mind about his nose,
But see you have his heart.
"Dream Anguish" by Maurice Henry Hewlett
My thought of thee is tortured in my sleep–
Sometimes thou art near beside me, but a cloud
Doth grudge me thy pale face, and rise to creep
Slowly about thee, to lap thee in a shroud;
And I, as standing by my dead, to weep
Desirous, cannot weep, nor cry aloud.
Or we must face the clamouring of a crowd
Hissing our shame; and I who ought to keep
Thine honour safe and my betrayed heart proud,
Knowing thee true, must watch a chill doubt leap
The tired faith of thee, and thy head bow'd,
Nor budge while the gross world holdeth thee cheap!
Or there are frost-bound meetings, and reproach
At parting, furtive snatches full of fear;
Love grown a pain; we bleed to kiss, and kiss
Because we bleed for love; the time doth broach
Shame, and shame teareth at us till we tear
Our hearts to shreds–yet wilder love for this!
"The Sleep-Worker" by Thomas Hardy
When wilt thou wake, O Mother, wake and see –
As one who, held in trance, has laboured long
By vacant rote and prepossession strong –
The coils that thou hast wrought unwittingly;
Wherein have place, unrealized by thee,
Fair growths, foul cankers, right enmeshed with wrong,
Strange orchestras of victim-shriek and song,
And curious blends of ache and ecstasy? –
Should that morn come, and show thy opened eyes
All that Life's palpitating tissues feel,
How wilt thou bear thyself in thy surprise? –
Wilt thou destroy, in one wild shock of shame,
Thy whole high heaving firmamental frame,
Or patiently adjust, amend, and heal?
Poems About Sleepless Nights
"Sleepless" by Sara Teasdale
If I could have your arms tonight,
But half the world and the broken sea
Lie between you and me.
The autumn rain reverberates in the courtyard,
Beating all night against the barren stone,
The sound of useless rain in the desolate courtyard
Makes me more alone.
If you were here, if you were only here,
My blood cries out to you all night in vain
As sleepless as the rain.
"Following" by Emily Elizabeth Dickinson
I had no cause to be awake,
My best was gone to sleep,
And morn a new politeness took,
And failed to wake them up,
But called the others clear,
And passed their curtains by.
Sweet morning, when I over-sleep,
Knock, recollect, for me!
I looked at sunrise once,
And then I looked at them,
And wishfulness in me arose
For circumstance the same.
'T was such an ample peace,
It could not hold a sigh, —
'T was Sabbath with the bells divorced,
'T was sunset all the day.
So choosing but a gown
And taking but a prayer,
The only raiment I should need,
I struggled, and was there.
"Sleeplessness" by William Wordsworth
A flock of sheep that leisurely pass by
One after one; the sound of rain, and bees
Murmuring; the fall of rivers, winds and seas,
Smooth fields, white sheets of water, and pure sky;—
I 've thought of all by turns, and still I lie
Sleepless; and soon the small birds' melodies
Must hear, first uttered from my orchard trees,
And the first cuckoo's melancholy cry.
Even thus last night, and two nights more, I lay,
And could not win thee, Sleep, by any stealth:
So do not let me wear to-night away;
Without thee what is all the morning's wealth?
Come, blessèd barrier between day and day,
Dear mother of fresh thoughts and joyous health!
"The Voyage of Sleep" by Arthur Wentworth Hamilton Eaton
To sleep I give myself away,
Unclasp the fetters of the mind,
Forget the sorrows of the day,
The burdens of the heart unbind.
With empty sail this tired bark
Drifts out upon the sea of rest,
While all the shore behind grows dark
And silence reigns from east to west.
At last awakes the hidden breeze
That bears me to the land of dreams,
Where music sighs among the trees
And murmurs in the winding streams.
O weary day, O weary day,
That dawns in fear and ends in strife,
That brings no cooling draught to allay
The burning fever thirst of life;
O sacred night, when angel hands
Are pressed upon the throbbing brow,
And when the soul on shining sands
Descends with angels from the prow,
And sees soft skies and meadows sweet,
And blossoming lanes that wind and wind
To bowers where friends long parted meet
And sit again with arms entwined,
And catch the perfumed breeze that blows
From pink-plumed orchards sloping fair
And every fresh expanding rose
That throws sweet kisses to the air.
O sacred night, O silvery shore,
O blossoming lanes that wind and wind,
Ye are my refuge more and more
From ghosts that haunt the waking mind.
To sleep I give myself away,
Forget the visions of unrest
That came through all the clamorous day,
And drift into the silent west.
"Sleep" by Henry Wadsworth Longfellow
Lull me to sleep, ye winds, whose fitful sound
Seems from some faint Aeolian harp-string caught;
Seal up the hundred wakeful eyes of thought
As Hermes with his lyre in sleep profound
The hundred wakeful eyes of Argus bound;
For I am weary, and am overwrought
With too much toil, with too much care distraught,
And with the iron crown of anguish crowned.
Lay thy soft hand upon my brow and cheek,
O peaceful Sleep! until from pain released
I breathe again uninterrupted breath!
Ah, with what subtile meaning did the Greek
Call thee the lesser mystery at the feast
Whereof the greater mystery is death!
"Rock Me To Sleep" by Elizabeth Akers Allen
Backward, turn backward, O Time, in your flight,
Make me a child again just for to-night!
Mother, come back from the echoless shore,
Take me again to your heart as of yore;
Kiss from my forehead the furrows of care,
Smooth the few silver threads out of my hair;
Over my slumbers your loving watch keep;—
Rock me to sleep, mother,—rock me to sleep!
Backward, flow backward, O tide of the years!
I am so weary of toil and of tears,—
Toil without recompense, tears all in vain,—
Take them, and give me my childhood again!
I have grown weary of dust and decay,—
Weary of flinging my soul-wealth away;
Weary of sowing for others to reap;—
Rock me to sleep, mother,—rock me to sleep!
Tired of the hollow, the base, the untrue,
Mother, O mother, my heart calls for you!
Many a summer the grass has grown green,
Blossomed, and faded our faces between,
Yet with strong yearning and passionate pain
Long I to-night for your presence again.
Come from the silence so long and so deep;—
Rock me to sleep, mother,—rock me to sleep!
Over my heart, in the days that are flown,
No love like mother-love ever has shone;
No other worship abides and endures,—
Faithful, unselfish, and patient, like yours:
None like a mother can charm away pain
From the sick soul and the world-weary brain.
Slumber's soft calms o'er my heavy lids creep;—
Rock me to sleep, mother,—rock me to sleep!
Come, let your brown hair, just lighted with gold,
Fall on your shoulders again as of old;
Let it drop over my forehead to-night,
Shading my faint eyes away from the light;
For with its sunny-edged shadows once more
Haply will throng the sweet visions of yore;
Lovingly, softly, its bright billows sweep;—
Rock me to sleep, mother,—rock me to sleep!
Mother, dear mother, the years have been long
Since I last listened your lullaby song:
Sing, then, and unto my soul it shall seem
Womanhood's years have been only a dream.
Clasped to your heart in a loving embrace,
With your light lashes just sweeping your face,
Never hereafter to wake or to weep;—
Rock me to sleep, mother,—rock me to sleep!
"O Death, rocke me on sleep" by George Boleyn, Viscount Rochford
O death, rocke me on sleep,
Bring me on quiet rest,
Let pass my very guiltless ghost
Out of my careful breast!
Toll on the Passing Bell!
Ring out the doleful knell!
Let the sound my death tell:
For I must die!
There is no remedy,
For now I die!…
Farewell, my pleasures past!
Welcome, my present pain!
I feel my torments so increase,
That life cannot remain!
Cease now the Passing Bell!
Rung is my doleful knell!
For the sound my death doth tell!
Death doth draw nigh!
Sound my end dolefully!
For now I die.
"To Sleep" by William Cliffton
Hence with thy palsied hand, detested Sleep!
Go seal the lids of wretchedness and care:
Seek thou the couch where injured beauties weep,
And rescue these one moment from despair.
For me, I charge thee o'er my busy brain
Thy stupefying influence never fling;
Fancy is there, with all her lovely train,
And dreads the shadow of thy raven wing.
But when exhausted is my lingering breath,
And songs of joy, and every transport o'er,
One sleep I'll take, the last cold sleep of death,
To wake where thou can'st never plague me more.
"Sleeping Out: Full Moon" by Rupert Brooke
They sleep within.…
I cower to the earth, I waking, I only.
High and cold thou dreamest, O queen, high-dreaming and lonely.
We have slept too long, who can hardly win
The white one flame, and the night-long crying;
The viewless passers; the world's low sighing
With desire, with yearning,
To the fire unburning,
To the heatless fire, to the flameless ecstasy!.…
Helpless I lie.
And around me the feet of thy watchers tread.
There is a rumour and a radiance of wings above my head,
An intolerable radiance of wings.…
All the earth grows fire,
White lips of desire
Brushing cool on the forehead, croon slumbrous things.
Earth fades; and the air is thrilled with ways,
Dewy paths full of comfort. And radiant bands,
The gracious presence of friendly hands,
Help the blind one, the glad one, who stumbles and strays,
Stretching wavering hands, up, up, through the praise
Of a myriad silver trumpets, through cries,
To all glory, to all gladness, to the infinite height,
To the gracious, the unmoving, the mother eyes,
And the laughter, and the lips, of light.
"Yet A Little Sleep" by Robert Fuller Murray
Beside the drowsy streams that creep
Within this island of repose,
Oh, let us rest from cares and woes,
Oh, let us fold our hands to sleep!
Is it ignoble, then, to keep
Awhile from where the rough wind blows,
And all is strife, and no man knows
What end awaits him on the deep?
The voyager may rest awhile,
When rest invites, and yet may be
Neither a sluggard nor a craven.
With strength renewed he quits the isle,
And putting out again to sea,
Makes sail for his desired haven.
"The Glimpse" by Walter De La Mare
Art thou asleep? or have thy wings
Wearied of my unchanging skies?
Or, haply, is it fading dreams
Are in my eyes?
Not even an echo in my heart
Tells me the courts thy feet trod last,
Bare as a leafless wood it is,
The summer past.
My inmost mind is like a book
The reader dulls with lassitude,
Wherein the same old lovely words
Sound poor and rude.
Yet through this vapid surface, I
Seem to see old-time deeps; I see,
Past the dark painting of the hour,
Life's ecstasy.
Only a moment; as when day
Is set, and in the shade of night,
Through all the clouds that compassed her,
Stoops into sight
Pale, changeless, everlasting Dian,
Gleams on the prone Endymion,
Troubles the dulness of his dreams:
And then is gone.
"The Battlefield" by George Herbert Clarke
Around no fire the soldiers sleep to-night,
But lie a-wearied on the ice-bound field,
With cloaks wrapt round their sleeping forms, to shield
Them from the northern winds. Ere comes the light
Of morn brave men must arm, stern foes to fight.
The sentry stands, his limbs with cold congealed;
His head a-nod with sleep; he cannot yield,
Though sleep and snow in deadly force unite.
Amongst the sleepers lies the Boy awake,
And wide-eyed plans brave glories that transcend
The deeds of heroes dead; then dreams o'ertake
His tired-out brain, and lofty fancies blend
To one grand theme, and through all barriers break
To guard from hurt his faithful sleeping friend.
"Insomnia" by Robert William Service
Heigh ho! to sleep I vainly try;
Since twelve I haven't closed an eye,
And now it's three, and as I lie,
From Notre Dame to St. Denis
The bells of Paris chime to me;
"You're young," they say, "and strong and free."
I do not turn with sighs and groans
To ease my limbs, to rest my bones,
As if my bed were stuffed with stones,
No peevish murmur tips my tongue –
Ah no! for every sound upflung
Says: "Lad, you're free and strong and young."
And so beneath the sheet's caress
My body purrs with happiness;
Joy bubbles in my veins. . . . Ah yes,
My very blood that leaps along
Is chiming in a joyous song,
Because I'm young and free and strong.
"Night Speaks" by William Wordsworth
Grateful is Sleep, my life in stone bound fast;
More grateful still: while wrong and shame shall last,
On me can Time no happier state bestow
Than to be left unconscious of the woe.
Ah then, lest you awaken me, speak low.
Grateful is Sleep, more grateful still to be
Of marble; for while shameless wrong and woe
Prevail, 'tis best to neither hear nor see.
Then wake me not, I pray you. Hush, speak low.
Come, gentle Sleep, Death's image tho' thou art,
Come share my couch, nor speedily depart;
How sweet thus living without life to lie,
Thus without death how sweet it is to die.
"Sleep On!" by William Schwenck Gilbert
Fear no unlicensed entry,
Heed no bombastic talk,
While guards the British Sentry
Pall Mall and Birdcage Walk.
Let European thunders
Occasion no alarms,
Though diplomatic blunders
May cause a cry "To arms!"
Sleep on, ye pale civilians;
All thunder-clouds defy:
On Europe's countless millions
The Sentry keeps his eye!
Should foreign-born rapscallions
In London dare to show
Their overgrown battalions,
Be sure I'll let you know.
Should Russians or Norwegians
Pollute our favoured clime
With rough barbaric legions,
I'll mention it in time.
So sleep in peace, civilians,
The Continent defy;
While on its countless millions
The Sentry keeps his eye !
"The Cross Of Snow" by Henry Wadsworth Longfellow
In the long, sleepless watches of the night,
A gentle face–the face of one long dead–
Looks at me from the wall, where round its head
The night-lamp casts a halo of pale light.
Here in this room she died; and soul more white
Never through martyrdom of fire was led
To its repose; nor can in books be read
The legend of a life more benedight.
There is a mountain in the distant West
That, sun-defying, in its deep ravines
Displays a cross of snow upon its side.
Such is the cross I wear upon my breast
These eighteen years, through all the changing scenes
And seasons, changeless since the day she died.
"To Miss …. On Her Asking The Author Why She Had Sleepless Nights" by Thomas Moore
I'll ask the sylph who round thee flies,
And in thy breath his pinion dips,
Who suns him in thy radiant eyes,
And faints upon thy sighing lips:
I'll ask him where's the veil of sleep
That used to shade thy looks of light;
And why those eyes their vigil keep
When other suns are sunk in night?
And I will say–her angel breast
Has never throbbed with guilty sting;
Her bosom is the sweetest nest
Where Slumber could repose his wing!
And I will say–her cheeks that flush,
Like vernal roses in the sun,
Have ne'er by shame been taught to blush,
Except for what her eyes have done!
Then tell me, why, thou child of air!
Does slumber from her eyelids rove?
What is her heart's impassioned care?
Perhaps, oh sylph! perhaps, 'tis love.
"To His Sweet Saviour" by Robert Herrick
Night hath no wings, to him that cannot sleep;
And Time seems then, not for to fly, but creep;
Slowly her chariot drives as if that she
Had broke her wheel, or crackt her axletree.
Just so it is with me who, list'ning, pray
The winds to blow the tedious night away,
That I might see the cheerful peeping day.
Sick is my heart; O Saviour! do Thou please
To make my bed soft in my sicknesses;
Lighten my candle, so that I beneath
Sleep not for ever in the vaults of death;
Let me Thy voice betimes i'th' morning hear;
Call, and I'll come; say Thou the when and where;
Draw me but first, and after Thee I'll run,
And make no one stop, till my race be done.
"An Echo" by Jonathan Swift
Never sleeping, still awake,
Pleasing most when most I speak;
The delight of old and young,
Though I speak without a tongue.
Nought but one thing can confound me,
Many voices joining round me;
Then I fret, and rave, and gabble,
Like the labourers of Babel.
Now I am a dog, or cow,
I can bark, or I can low;
I can bleat, or I can sing,
Like the warblers of the spring.
Let the lovesick bard complain,
And I mourn the cruel pain;
Let the happy swain rejoice,
And I join my helping voice:
Both are welcome, grief or joy,
I with either sport and toy.
Though a lady, I am stout,
Drums and trumpets bring me out:
Then I clash, and roar, and rattle,
Join in all the din of battle.
Jove, with all his loudest thunder,
When I'm vext, can't keep me under;
Yet so tender is my ear,
That the lowest voice I fear;
Much I dread the courtier's fate,
When his merit's out of date,
For I hate a silent breath,
And a whisper is my death.
"Unborn" by John Le Gay Bereton
O wistful eyes that haunt the gloom of sleep,
Are you my own, remembered from the night
I sat before my glass in dumb affright
And saw my cowering soul afraid to weep?
Perhaps you are his, foreshadowed, when I creep
Behind him and confess the hopeless blight
That wilts the bloom of our supreme delight
The breath of horror from the unknown deep.
Eyes that have never seen a mothers face,
Have you no mercy that you stare and stare,
Although I never felt the hope I slew?
Wide eyes, but when I kneel to God for grace,
Your steadfast pity deepens my despair;The darkness I desire is full of you.
Famous Poems About Sleep
"A Cradle Song" by William Blake
Sleep, sleep, beauty bright,
Dreaming in the joys of night;
Sleep, sleep; in thy sleep
Little sorrows sit and weep.
Sweet babe, in thy face
Soft desires I can trace,
Secret joys and secret smiles,
Little pretty infant wiles.
As thy softest limbs I feel,
Smiles as of the morning steal
O'er thy cheek, and o'er thy breast
Where thy little heart doth rest.
O the cunning wiles that creep
In thy little heart asleep!
When thy little heart doth wake,
Then the dreadful light shall break.
"Sonnet XXVII" by William Shakespeare
Weary with toil, I haste me to my bed,
The dear repose for limbs with travel tired;
But then begins a journey in my head
To work my mind, when body's work's expired:
For then my thoughts–from far where I abide–
Intend a zealous pilgrimage to thee,
And keep my drooping eyelids open wide,
Looking on darkness which the blind do see:
Save that my soul's imaginary sight
Presents thy shadow to my sightless view,
Which, like a jewel hung in ghastly night,
Makes black night beauteous, and her old face new.
Lo! thus, by day my limbs, by night my mind,
For thee, and for myself, no quiet find.
"A Cradle Song" by William Blake
Sweet dreams, form a shade
O'er my lovely infant's head!
Sweet dreams of pleasant streams
By happy, silent, moony beams!
Sweet Sleep, with soft down
Weave thy brows an infant crown!
Sweet Sleep, angel mild,
Hover o'er my happy child!
Sweet smiles, in the night
Hover over my delight!
Sweet smiles, mother's smiles,
All the livelong night beguiles.
Sweet moans, dovelike sighs,
Chase not slumber from thy eyes!
Sweet moans, sweeter smiles,
All the dovelike moans beguiles.
Sleep, sleep, happy child!
All creation slept and smiled.
Sleep, sleep, happy sleep,
While o'er thee thy mother weep.
Sweet babe, in thy face
Holy image I can trace;
Sweet babe, once like thee
Thy Maker lay, and wept for me:
Wept for me, for thee, for all,
When He was an infant small.
Thou His image ever see,
Heavenly face that smiles on thee!
Smiles on thee, on me, on all,
Who became an infant small;
Infant smiles are His own smiles;
Heaven and earth to peace beguiles.
"Stopping By Woods On A Snowy Evening" by Robert Lee Frost
Whose woods these are I think I know.
His house is in the village, though;
He will not see me stopping here
To watch his woods fill up with snow.
My little horse must think it's queer
To stop without a farmhouse near
Between the woods and frozen lake
The darkest evening of the year.
He gives his harness bells a shake
To ask if there's some mistake.
The only other sound's the sweep
Of easy wind and downy flake.
The woods are lovely, dark, and deep,
But I have promises to keep,
And miles to go before I sleep,
And miles to go before I sleep.
"A Dream Within A Dream" by Edgar Allan Poe
Take this kiss upon the brow!
And, in parting from you now,
Thus much let me avow
You are not wrong, who deem
That my days have been a dream:
Yet if hope has flown away
In a night, or in a day,
In a vision or in none,
Is it therefore the less gone?
All that we see or seem
Is but a dream within a dream.
I stand amid the roar
Of a surf-tormented shore,
And I hold within my hand
Grains of the golden sand
How few! yet how they creep
Through my fingers to the deep
While I weep while I weep!
O God! can I not grasp
Them with a tighter clasp?
O God! can I not save
One from the pitiless wave?
Is all that we see or seem
But a dream within a dream?
"The City Of Sleep" by Rudyard Kipling
Over the edge of the purple down,
Where the single lamplight gleams,
Know ye the road to the Merciful Town
That is hard by the Sea of Dreams,
Where the poor may lay their wrongs away,
And the sick may forget to weep?
But we, pity us! Oh, pity us!
We wakeful; ah, pity us!,
We must go back with Policeman Day,
Back from the City of Sleep!
Weary they turn from the scroll and crown,
Fetter and prayer and plough,
They that go up to the Merciful Town,
For her gates are closing now.
It is their right in the Baths of Night
Body and soul to steep,
But we, pity us! ah, pity us!
We wakeful; ah, pity us!,
We must go back with Policeman Day,
Back from the City of Sleep!
Over the edge of the purple down,
Ere the tender dreams begin,
Look, we may look, at the Merciful Town,
But we may not enter in!
Outcasts all, from her guarded wall
Back to our watch we creep:
We, pity us! ah, pity us!
We wakeful; ah, pity us!,
We that go back with Policeman Day,
Back from the City of Sleep!
Poems About Sleeping Beauty
"Memory" by Laurence Hope (Adela Florence Cory Nicolson)
How I loved you in your sleep,
With the starlight on your hair!
The touch of your lips was sweet,
Aziza whom I adore,
I lay at your slender feet,
And against their soft palms pressed,
I fitted my face to rest.
As winds blow over the sea
From Citron gardens ashore,
Came, through your scented hair,
The breeze of the night to me.
My lips grew arid and dry,
My nerves were tense,
Though your beauty soothe the eye
It maddens the sense.
Every curve of that beauty is known to me,
Every tint of that delicate roseleaf skin,
And these are printed on every atom of me,
Burnt in on every fibre until I die.
And for this, my sin,
I doubt if ever, though dust I be,
The dust will lose the desire,
The torment and hidden fire,
Of my passionate love for you.
Aziza whom I adore,
My dust will be full of your beauty, as is the blue
And infinite ocean full of the azure sky.
In the light that waxed and waned
Playing about your slumber in silver bars,
As the palm trees swung their feathery fronds athwart the stars,
How quiet and young you were,
Pale as the Champa flowers, violet veined,
That, sweet and fading, lay in your loosened hair.
How sweet you were in your sleep,
With the starlight on your hair!
Your throat thrown backwards, bare,
And touched with circling moonbeams, silver white
On the couch's sombre shade.
O Aziza my one delight,
When Youth's passionate pulses fade,
And his golden heart beats slow,
When across the infinite sky
I see the roseate glow
Of my last, last sunset flare,
I shall send my thoughts to this night
And remember you as I die,
The one thing, among all the things of this earth, found fair.
How sweet you were in your sleep,
With the starlight, silver and sable, across your hair!
"Laura Sleeping" by Charles Cotton
With such a gale as wings soft Love,
And with so sweet, so rich an air,
As breathes from the Arabian grove.
A breath as hushed as lover's sigh;
Or that unfolds the morning's door:
Sweet as the winds that gently fly
To sweep the Spring's enamelled floor.
Murmur soft music to her dreams,
That pure and unpolluted run
Like to the new-born crystal streams,
Under the bright enamoured sun.
But when she walking shall display,
Her light, retire within your bar;
Her breath is life, her eyes are day,
And all mankind her creatures are.
"Sleep, Angry Beauty, Sleep" by Thomas Campion
Sleep, angry beauty, sleep, and fear not me!
For who a sleeping lion dares provoke?
It shall suffice me here to sit and see
Those lips shut up that never kindly spoke:
What sight can more content a lover's mind
Than beauty seeming harmless, if not kind?
My words have charmed her, for secure she sleeps,
Though guilty much of wrong done to my love;
And in her slumber, see! she close-eyed weeps:
Dreams often more than waking passions move.
Plead, Sleep, my cause, and make her soft like thee,
That she in peace may wake and pity me.
"Desire" by Paul Cameron Brown
Sleep is a striking woman
accosted by various men
while in a dance;
the warring desires thus
present themselves as on
a battlefield –
hunger comes arrayed with
red plumes to befit
his appetites,
sensuality somewhat
decked out as a dandy
in a mauve waistcoat
and, of course, there is
Fear, the most thwarted
of the suitors, bejewelled with a
flashing sabre, rattling it from
the tail of his skinny stick horse,
the pale charger riding
to intercept the beautiful courtesan Sleep
bestowing her favours illicitly
wherein she would but choose.
"Sleep! Sleep! Beauty Bright" by William Blake
Sleep! sleep! beauty bright,
Dreaming o'er the joys of night;
Sleep! sleep! in thy sleep
Little sorrows sit and weep.
Sweet Babe, in thy face
Soft desires I can trace,
Secret joys and secret smiles,
Little pretty infant wiles.
As thy softest limbs I feel,
Smiles as of the morning steal
O'er thy cheek, and o'er thy breast
Where thy little heart does rest.
O! the cunning wiles that creep
In thy little heart asleep.
When thy little heart does wake
Then the dreadful lightnings break,
From thy cheek and from thy eye,
O'er the youthful harvests nigh.
Infant wiles and infant smiles
Heaven and Earth of peace beguiles.
Short Poems About Sleep
"XVII: Asleep" by Emily Dickinson
As far from pity as complaint,
As cool to speech as stone,
As numb to revelation
As if my trade were bone.
As far from time as history,
As near yourself to-day
As children to the rainbow's scarf,
Or sunset's yellow play
To eyelids in the sepulchre.
How still the dancer lies,
While color's revelations break,
And blaze the butterflies!
"The Dream" by Robert Herrick
By dream I saw one of the three
Sisters of fate appear to me;
Close to my bedside she did stand,
Showing me there a firebrand;
She told me too, as that did spend,
So drew my life unto an end.
Three quarters were consum'd of it;
Only remained a little bit,
Which will be burnt up by-and-by;
Then, Julia, weep, for I must die.
"She Walketh Veiled and Sleeping" by Charlotte Perkins Gilman
She walketh veiled and sleeping,
For she knoweth not her power;
She obeyeth but the pleading
Of her heart, and the high leading
Of her soul, unto this hour.
Slow advancing, halting, creeping,
Comes the Woman to the hour!—
She walketh veiled and sleeping,
For she knoweth not her power.
"A Dream" by Stephen Philips
My dead love came to me, and said,
'God gives me one hour's rest,
To spend with thee on earth again:
How shall we spend it best?'
'Why, as of old,' I said; and so
We quarrell'd, as of old:
But, when I turn'd to make my peace,
That one short hour was told.
"Sleep." by Jean Ingelow
(A WOMAN SPEAKS.)
O sleep, we are beholden to thee, sleep,
Thou bearest angels to us in the night,
Saints out of heaven with palms. Seen by thy light
Sorrow is some old tale that goeth not deep;
Love is a pouting child. Once I did sweep
Through space with thee, and lo, a dazzling sight –
Stars! They came on, I felt their drawing and might;
And some had dark companions. Once (I weep
When I remember that) we sailed the tide,
And found fair isles, where no isles used to bide,
And met there my lost love, who said to me,
That 'twas a long mistake: he had not died.
Sleep, in the world to come how strange 'twill be
Never to want, never to wish for thee!
"The Dreams of the Dreamer" by Georgia Douglas Johnson
The dreams of the dreamer
Are life-drops that pass
The break in the heart
To the soul's hour-glass.
The songs of the singer
Are tones that repeat
The cry of the heart
'Till it ceases to beat.
"Sleeping" by Emily Elizabeth Dickinson
A long, long sleep, a famous sleep
That makes no show for dawn
By stretch of limb or stir of lid, —
An independent one.
Was ever idleness like this?
Within a hut of stone
To bask the centuries away
Nor once look up for noon?
"The Dream Keeper" by Langston Hughes
Bring me all of your dreams,
You dreamers.
Bring me all of your
Heart melodies
That I may wrap them
In a blue cloud-cloth
Away from the too rough fingers
Of the world.
"It Is No Dream Of Mine" by Henry David Thoreau
It is no dream of mine,
To ornament a line,
I cannot come nearer to God and Heaven
Than I live to Walden even
I am its stony shore,
And the breeze that passes o'er,
In the hollow of my hand
Are its water and its sand,
And its deepest resort
Lies high in my thought
"The Maze of Sleep" by Clark Ashton Smith
Sleep is a pathless labyrinth,
Dark to the gaze of moons and suns,
Through which the colored clue of dreams,
A gossamer thread, obscurely runs.
"Sleep" by John Wolcot
Come, gentle sleep! attend thy votary's prayer,
And, though death's image, to my couch repair;
How sweet, though lifeless, yet with life to lie,
And, without dying, O how sweet to die!
"Sleep" by Algernon Charles Swinburne
Sleep, when a soul that her own clouds cover
Wails that sorrow should always keep
Watch, nor see in the gloom above her
Sleep,
Down, through darkness naked and steep,
Sinks, and the gifts of his grace recover
Soon the soul, though her wound be deep.
God beloved of us, all men's lover,
All most weary that smile or weep
Feel thee afar or anear them hover,
Sleep.
From "Evening Hymn" by Sir Thomas Browne
Sleep is a death; O make me try,
By sleeping, what it is to die!
And as gently lay my head
On my grave as now my bed.
Howe'er I rest, Great God, let me
Awake again at last with Thee;
And thus assured, behold I lie
Securely, or to wake or die.
"Come, Sleep" by John Fletcher
Come, Sleep, and with thy sweet deceiving
Lock me in delight awhile;
Let some pleasing dreams beguile
All my fancies; that from thence
I may feel an influence,
All my powers of care bereaving!
Though but a shadow, but a sliding
Let me know some little joy!
We that suffer long annoy
Are contented with a thought
Through an idle fancy wrought:
O let my joys have some abiding!
"Unwarned" by Emily Elizabeth Dickinson
'T is sunrise, little maid, hast thou
No station in the day?
'T was not thy wont to hinder so, —
Retrieve thine industry.
'T is noon, my little maid, alas!
And art thou sleeping yet?
The lily waiting to be wed,
The bee, dost thou forget?
My little maid, 't is night; alas,
That night should be to thee
Instead of morning! Hadst thou broached
Thy little plan to me,
Dissuade thee if I could not, sweet,
I might have aided thee.
"At Even" by Frederic Manning
Hush ye! Hush ye! My babe is sleeping.
Hush, ye winds, that are full of sorrow!
Hush, ye rains, from your weary weeping!
Give him slumber until to-morrow.
Hush ye, yet! In the years hereafter,
Surely sorrow is all his reaping;
Tears shall be in the place of laughter,
Give him peace for a while in sleeping.
Hush ye, hush! he is weak and ailing:
Send his mother his share of weeping.
Hush ye, winds, from your endless wailing;
Hush ye, hush ye, my babe is sleeping!
"From the Portuguese. Song: If thou art sleeping, maiden" by Henry Wadsworth Longfellow
If thou art sleeping, maiden,
Awake, and open thy door.
'T is the break of day, and we must away,
O'er meadow, and mount, and moor.
Wait not to find thy slippers,
But come with thy naked feet:
We shall have to pass through the dewy grass,
And waters wide and fleet.
"Nirvana" by John Hall Wheelock
Sleep on—I lie at heaven's high oriels,
Over the stars that murmur as they go
Lighting your lattice-window far below.
And every star some of the glory spells
Whereof I know.
I have forgotten you, long long ago;
Like the sweet, silver singing of thin bells
Vanished, or music fading faint and low.
Sleep on—I lie at heaven's high oriels,
Who loved you so.
"The Mystic's Prayer" by Fiona MacLeod (William Sharp)
Lay me to sleep in sheltering flame,
O Master of the Hidden Fire!
Wash pure my heart, and cleanse for me
My soul's desire.
In flame of sunrise bathe my mind,
O Master of the Hidden Fire,
That, when I wake, clear-eyed may be
My soul's desire.
"To A Sleeping Baby's Eyes" by Eugene Field
And thou, twin orbs of love and joy!
Unveil thy glories with the morn–
Dear eyes, another day is born–
Awake, O little sleeping boy!
Bright are the summer morning skies,
But in this quiet little room
There broods a chill, oppressive gloom–
All for the brightness of thine eyes.
Without those radiant orbs of thine
How dark this little world would be–
This sweet home-world that worships thee–
So let their wondrous glories shine
On those who love their warmth and joy–
Awake, O sleeping little boy.
"A Baby's Epitaph" by Algernon Charles Swinburne
April made me: winter laid me here away asleep.
Bright as Maytime was my daytime; night is soft and deep:
Though the morrow bring forth sorrow, well are ye that weep.
Ye that held me dear beheld me not a twelvemonth long:
All the while ye saw me smile, ye knew not whence the song
Came that made me smile, and laid me here, and wrought you wrong.
Angels, calling from your brawling world one undefiled,
Homeward bade me, and forbade me here to rest beguiled:
Here I sleep not: pass, and weep not here upon your child.
"Sonnet X" by Fernando Antonio Nogueira Pessoa
As to a child, I talked my heart asleep
With empty promise of the coming day,
And it slept rather for my words made sleep
Than from a thought of what their sense did say.
For did it care for sense, would it not wake
And question closer to the morrow's pleasure?
Would it not edge nearer my words, to take
The promise in the meting of its measure?
So, if it slept, 'twas that it cared but for
The present sleepy use of promised joy,
Thanking the fruit but for the forecome flower
Which the less active senses best enjoy.
Thus with deceit do I detain the heart
Of which deceit's self knows itself a part.
"Asleep! O Sleep A Little While, White Pearl!" by John Keats
Asleep! O sleep a little while, white pearl!
And let me kneel, and let me pray to thee,
And let me call Heaven's blessing on thine eyes,
And let me breathe into the happy air,
That doth enfold and touch thee all about,
Vows of my slavery, my giving up,
My sudden adoration, my great love!
"To Sleep" by William Wordsworth
Fond words have oft been spoken to thee, Sleep!
And thou hast had thy store of tenderest names;
The very sweetest, Fancy culls or frames,
When thankfulness of heart is strong and deep!
Dear Bosom-child we call thee, that dost steep
In rich reward all suffering; Balm that tames
All anguish; Saint that evil thoughts and aims
Takest away, and into souls dost creep,
Like to a breeze from heaven. Shall I alone,
I surely not a man ungently made,
Call thee worst Tyrant by which Flesh is crost?
Perverse, self-willed to own and to disown,
Mere slave of them who never for thee prayed,
Still last to come where thou art wanted most!
"The Vision To Electra" by Robert Herrick
I dreamed we both were in a bed
Of roses, almost smothered:
The warmth and sweetness had me there
Made lovingly familiar,
But that I heard thy sweet breath say,
Faults done by night will blush by day.
I kissed thee, panting, and, I call
Night to the record! that was all.
But, ah! if empty dreams so please,
Love give me more such nights as these
"Deep Sleep" by George William Russell
Heart-hidden from the outer things I rose,
The spirit woke anew in nightly birth
Into the vastness where forever glows
The star-soul of the earth.
There all alone in primal ecstasy,
Within her depths where revels never tire,
The olden Beauty shines; each thought of me
Is veined through with its fire.
And all my thoughts are throngs of living souls;
They breath in me, heart unto heart allied
With joy undimmed, though when the morning tolls
The planets may divide.
"Here Sleeps The Bard" by Thomas Moore
Here sleeps the Bard who knew so well
All the sweet windings of Apollo's shell;
Whether its music rolled like torrents near.
Or died, like distant streamlets, on the ear.
Sleep, sleep, mute bard; alike unheeded now
The storm and zephyr sweep thy lifeless brow;–
That storm, whose rush is like thy martial lay;
That breeze which, like thy love-song, dies away!
"Lying Down Alone" by John Duncan (Edward Powys Mathers, Translator)
I shall never see your tired sleep
In the bed that you make beautiful,
Nor hardly ever be a dream
That plays by your dark hair;
Yet I think I know your turning sigh
And your trusting arm's abandonment,
For they are the picture of my night,
My night that does not end.
"Mother And Babe" by Walt Whitman
I see the sleeping babe, nestling the breast of its mother;
The sleeping mother and babe-hush'd, I study them long and long.
"I Slept, And Dreamed That Life Was Beauty" by Louisa May Alcott
"I slept, and dreamed that life was beauty;
I woke, and found that life was duty.
Was thy dream then a shadowy lie?
Toil on, sad heart, courageously,
And thou shall find thy dream to be
A noonday light and truth to thee."
"My Dead" by Hanford Lennox Gordon
Last night in my feverish dreams I heard
A voice like the moan of an autumn sea,
Or the low, sad wail of a widowed bird,
And it said "My darling, come home to me."
Then a hand was laid on my throbbing head
As cold as clay, but it soothed my pain:
I wakened and knew from among the dead
My darling stood by my coach again.
"Bad Dreams I" by Robert Browning
Last night I saw you in my sleep:
And how your charm of face was changed!
I asked, Some love, some faith you keep?
You answered, Faith gone, love estranged.
Whereat I woke, a twofold bliss:
Waking was one, but next there came
This other: Though I felt, for this,
My heart break, I loved on the same.
"Fragment: The Deserts Of Dim Sleep" by Percy Bysshe Shelley
I went into the deserts of dim sleep –
That world which, like an unknown wilderness,
Bounds this with its recesses wide and deep –
"Upon Himself Being Buried" by Robert Herrick
Let me sleep this night away,
Till the dawning of the day;
Then at th' opening of mine eyes
I, and all the world, shall rise.
"Nightfall" by Robert Fuller Murray
Let me sleep. The day is past,
And the folded shadows keep
Weary mortals safe and fast.
Let me sleep.
I am all too tired to weep
For the sunlight of the Past
Sunk within the drowning deep.
Treasured vanities I cast
In an unregarded heap.
Time has given rest at last.
Let me sleep.
"Admonition" (Translation from Hebrew) by Emma Lazarus
Long in the lap of childhood didst thou sleep,
Think how thy youth like chaff did disappear;
Shall life's sweet Spring forever last? Look up,
Old age approaches ominously near.
Oh shake thou off the world, even as the bird
Shakes off the midnight dew that clogged his wings.
Soar upward, seek redemption from thy guilt
And from the earthly dross that round thee clings.
Draw near to God, His holy angels know,
For whom His bounteous streams of mercy flow.
"Sonnet: On A Stolen Kiss" by George Wither
Now gentle sleep hath closed up those eyes,
Which waking kept my boldest thoughts in awe,
And free access unto that sweet lip lies
From whence I long the rosy breath to draw.
Methinks no wrong it were if I should steal,
From those two melting rubies, one poor kiss.
None sees the theft that would the thief reveal,
Nor rob I her of aught which she can miss.
Nay, should I twenty kisses take away,
There would be little sign I had done so.
Why then should I this robbery delay?
Oh, she may wake, and therewith angry grow.
Well, if she do, I'll back restore that one,
And twenty hundred thousand more for loan.
"Sick Leave" by Siegfried Loraine Sassoon
When I'm asleep, dreaming and lulled and warm, –
They come, the homeless ones, the noiseless dead.
While the dim charging breakers of the storm
Bellow and drone and rumble overhead,
Out of the gloom they gather about my bed.
They whisper to my heart; their thoughts are mine.
"Why are you here with all your watches ended?
From Ypres to Frise we sought you in the Line."
In bitter safety I awake, unfriended;
And while the dawn begins with slashing rain
I think of the Battalion in the mud.
"When are you going out to them again?
Are they not still your brothers through our blood?"
"Oh! Breathe Not His Name" by Thomas Moore
Oh! breathe not his name, let it sleep in the shade,
Where cold and unhonored his relics are laid:
Sad, silent, and dark, be the tears that we shed,
As the night-dew that falls on the grass o'er his head.
But the night-dew that falls, tho' in silence it weeps,
Shall brighten with verdure the grave where he sleeps;
And the tear that we shed, tho' in secret it rolls,
Shall long keep his memory green in our souls.
"Full Moon" by Walter De La Mare
One night as Dick lay half asleep,
Into his drowsy eyes
A great still light begins to creep
From out the silent skies.
It was lovely moon's, for when
He raised his dreamy head,
Her surge of silver filled the pane
And streamed across his bed.
So, for a while, each gazed at each –
Dick and the solemn moon –
Till, climbing slowly on her way,
She vanished, and was gone.
"Epitaph" by Alan L. Strang
Our loved ones lay them down to sleep
And leave us here to grieve and mourn,
While we, our silent watches keep,
O'er their low graves whence they are bourne.
Some heroes are in battle slain,
Their names are honored far and near,
While others die on beds of pain
And no sad mourner sheds a tear.
This day we honor each and all
Whose soul has left its temporal case;
And be he great, or be he small,
We'll reverence his resting place.
"Dreams" by Madison Julius Cawein
They mock the present and they haunt the past,
And in the future there is naught agleam
With hope, the soul desires, that at last
The heart pursuing does not find a dream.
"Sleep Now, O Sleep Now" by James Joyce
Sleep now, O sleep now,
O you unquiet heart!
A voice crying Sleep now
Is heard in my heart.
The voice of the winter
Is heard at the door.
O sleep, for the winter
Is crying Sleep no more.
My kiss will give peace now
And quiet to your heart,
Sleep on in peace now,
O you unquiet heart!
"To M." by Arthur Macy
Sweet visions came to me in sleep,
Ah! wondrous fair to see;
And in my mind I strove to keep
The dream to tell to thee.
But morning broke with golden gleam,
And shone upon thy face,
And life was lovelier than a dream,
And dreams had lost their grace.
"A Dream Of Spring" by Marrietta Holley
The world is asleep! All hushed is Nature's warm, sweet breath.
The world is asleep, and dreaming the silent dream of snow,
But through the silence that seems like the silence of death,
Under their shroud of ermine, the souls of the roses glow.
And forever the heart of the water throbs and beats,
Though bound by a million gleaming fetters and crystal rings,
No sound on lonesome mornings the lonely watcher greets,
But the frosty pane is impressed with the shadow of coming wings