Here are the 57 best handpicked poems about the color red categorized:
Famous poems about red
Poems about the color red that rhyme
Short poems about red
Poems about colors by famous poets
So if you want the best collection of poems about the color red, then you're in the right place!
Let's get started!
My Favorite Poem About the Color Red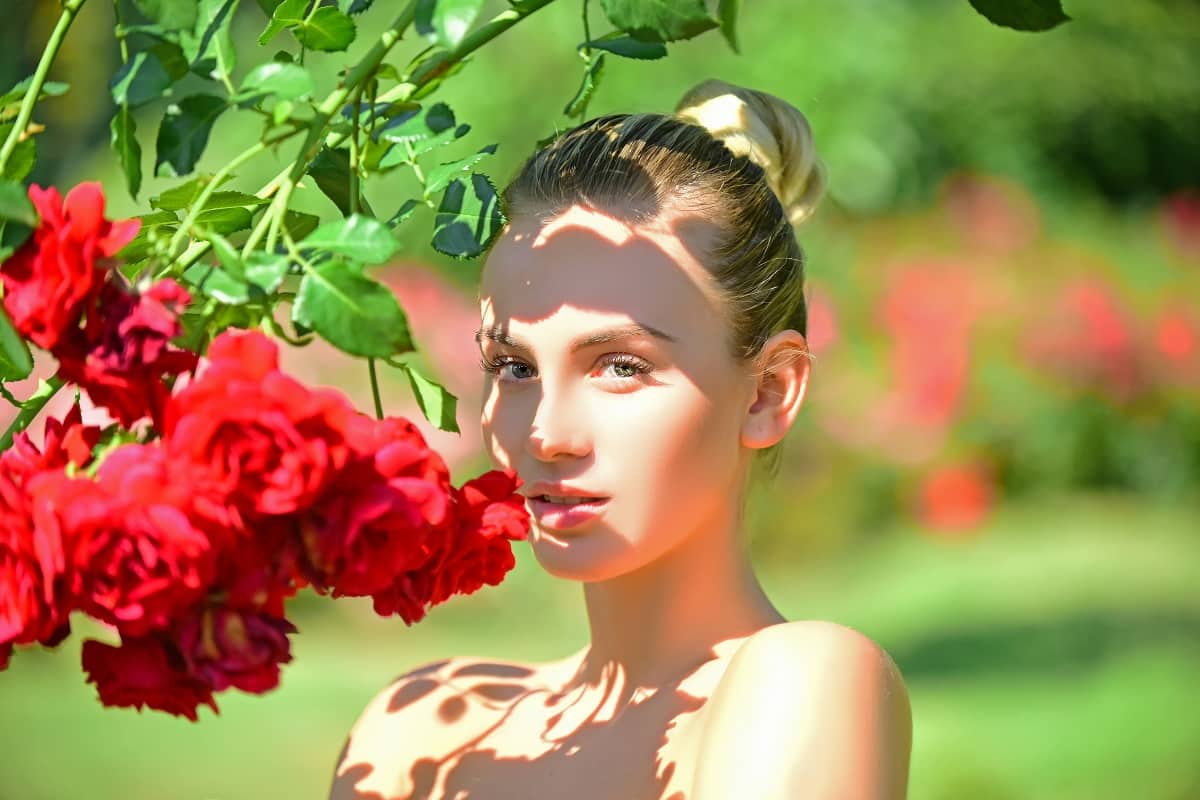 A Red Flower
by Claude McKay

Your lips are like a southern lily red,
Wet with the soft rain-kisses of the night,
In which the brown bee buries deep its head,
When still the dawn's a silver sea of light.

Your lips betray the secret of your soul,
The dark delicious essence that is you,
A mystery of life, the flaming goal
I seek through mazy pathways strange and new.

Your lips are the red symbol of a dream,
What visions of warm lilies they impart,
That line the green bank of a fair blue stream,
With butterflies and bees close to each heart!

Brown bees that murmur sounds of music rare,
That softly fall upon the langourous breeze,
Wafting them gently on the quiet air
Among untended avenues of trees.

O were I hovering, a bee, to probe
Deep down within your scented heart, fair flower,
Enfolded by your soft vermilion robe,
Amorous of sweets, for but one perfect hour!
Famous Poems About Red
Beauty Is Vain
by Christina Rossetti

While roses are so red,
While lilies are so white,
Shall a woman exalt her face
Because it gives delight?
She's not so sweet as a rose,
A lily's straighter than she,
And if she were as red or white
She'd be but one of three.

Whether she flush in love's summer
Or in its winter grow pale,
Whether she flaunt her beauty
Or hide it away in a veil,
Be she red or white,
And stand she erect or bowed,
Time will win the race he runs with her
And hide her away in a shroud.
A Red, Red Rose
by Robert Burns

O my luve's like a red, red rose,
That's newly sprung in June;
O my luve's like the melodie
That's sweetly played in tune.

As fair art thou, my bonnie lass,
So deep in luve am I;
And I will luve thee still, my dear,
Till a' the seas gang dry.

Till a' the seas gang dry, my dear,
And the rocks melt wi' the sun:
O I will love thee still, my dear,
While the sands o' life shall run.

And fare thee weel, my only luve,
And fare thee weel awhile!
And I will come again, my luve,
Though it were ten thousand mile.
The Sick Rose
by William Blake

O Rose, thou art sick:
The invisible worm,
That flies in the night
In the howling storm,

Has found out thy bed
Of crimson joy;
And his dark secret love
Does thy life destroy.
Double Red Daisies
by Robert Graves

Double red daisies, they're my flowers,
Which nobody else may grow.
In a big quarrelsome house like ours
They try it sometimes—but no,
I root them up because they're my flowers,
Which nobody else may grow.

Claire has a tea-rose, but she didn't plant it;
Ben has an iris, but I don't want it.
Daisies, double red daisies for me,
The beautifulest flowers in the garden.

Double red daisy, that's my mark:
I paint it in all my books!
It's carved high up on the beech-tree bark,
How neat and lovely it looks!
So don't forget that it's my trade mark;
Don't copy it in your books.

Claire has a tea-rose, but she didn't plant it;
Ben has an iris, but I don't want it.
Daisies, double red daisies for me,
The beautifulest flowers in the garden.
Now Sleeps the Crimson Petal
by Alfred Lord Tennyson

Now sleeps the crimson petal, now the white;
Nor waves the cypress in the palace walk;
Nor winks the gold fin in the porphyry font:
The fire-fly wakens: waken thou with me.

Now droops the milkwhite peacock like a ghost,
And like a ghost she glimmers on to me.

Now lies the Earth all Danaë to the stars,
And all thy heart lies open unto me.

Now slides the silent meteor on, and leaves
A shining furrow, as thy thoughts in me.

Now folds the lily all her sweetness up,
And slips into the bosom of the lake:
So fold thyself, my dearest, thou, and slip
Into my bosom and be lost in me.
Flame-Heart
by Claude McKay

So much have I forgotten in ten years,
So much in ten brief years; I have forgot
What time the purple apples come to juice
And what month brings the shy forget-me-not;
Forgotten is the special, startling season
Of some beloved tree's flowering and fruiting,
What time of year the ground doves brown the fields
And fill the noonday with their curious fluting:
I have forgotten much, but still remember
The poinsettia's red, blood-red in warm December.

I still recall the honey-fever grass,
But I cannot bring back to mind just when
We rooted them out of the ping-wing path
To stop the mad bees in the rabbit pen.
I often try to think in what sweet month
The languid painted ladies used to dapple
The yellow bye road mazing from the main,
Sweet with the golden threads of the rose-apple:
I have forgotten, strange, but quite remember
The poinsettia's red, blood-red in warm December.

What weeks, what months, what time o' the mild year
We cheated school to have our fling at tops?
What days our wine-thrilled bodies pulsed with joy
Feasting upon blackberries in the copse?
Oh, some I know! I have embalmed the days,
Even the sacred moments, when we played,
All innocent of passion uncorrupt.
At noon and evening in the flame-heart's shade:
We were so happy, happy,—I remember
Beneath the poinsettia's red in warm December.
Red Carnations
by Ella Wheeler Wilcox

One time in Arcadie's fair bowers
There met a bright immortal band,
To choose their emblems from the flowers
That made an Eden of that land.

Sweet Constancy, with eyes of hope,
Strayed down the garden path alone
And gathered sprays of heliotrope,
To place in clusters at her zone.

True Friendship plucked the ivy green,
Forever fresh, forever fair.
Inconstancy with flippant mien
The fading primrose chose to wear.

One moment Love the rose paused by;
But Beauty picked it for her hair.
Love paced the garden with a sigh—
He found no fitting emblem there.

Then suddenly he saw a flame;
A conflagration turned to bloom.
It even put the rose to shame,
Both in its beauty and perfume.

He watched it, and it did not fade:
He plucked it, and it brighter grew
In cold or heat, all undismayed,
It kept its fragrance and its hue.

"Here deathless love and passion sleep,"
He cried, "embodied in this flower.
This is the emblem I will keep."
Love wore carnations from that hour.
Greater Love
by Wilfred Owen

Red lips are not so red
As the stained stones kissed by the English dead.
Kindness of wooed and wooer
Seems shame to their love pure.
O Love, your eyes lose lure
When I behold eyes blinded in my stead!

Your slender attitude
Trembles not exquisite like limbs knife-skewed,
Rolling and rolling there
Where God seems not to care;
Till the fierce love they bear
Cramps them in death's extreme decrepitude.

Your voice sings not so soft,—
Though even as wind murmuring through raftered loft,—
Your dear voice is not dear,
Gentle, and evening clear,
As theirs whom none now hear,
Now earth has stopped their piteous mouths that coughed.

Heart, you were never hot
Nor large, nor full like hearts made great with shot;
And though your hand be pale,
Paler are all which trail
Your cross through flame and hail:
Weep, you may weep, for you may touch them not.
The Red Wheelbarrow
by William Carlos Williams

so much depends
upon

a red wheel
barrow

glazed with rain
water

beside the white
chickens.
The Red House
by John Frederick Freeman

On the wide fields the water gleams like snow,
And snow like water pale beneath pale sky,
When old and burdened the white clouds are stooped low.
Sudden as thought, or startled near bird's cry,
The whiteness of first light on hills of snow
New dropped from skiey hills of tumbling white
Streams from the ridge to where the long woods lie;
And tall ridge-trees lift their soft crowns of white
Above slim bodies all black or flecked with snow.
By the tossed foam of the not yet frozen brook
Black pigs go straggling over fields of snow;
The air is full of snow, and starling and rook
Are blacker amid the myriad streams of light.
Warm as old fire the Red House burns yet bright
Beneath the unmelting snows of pine and larch,
While February moves as slow, as slow
As Spring might never come, never come March.

Amid such snows, by generations haunted,
By echoes, memories and dreams enchanted,
Firm when dark winds through the night stamp and shout,
Brightest when time silvers the world all about,
That old house called The Heart burns, burns, and still
Outbraves the mortal threat of the hanging hill.
Red Maples
by Sara Teasdale

In the last year I have learned,
How few men are worth my trust;
I have seen the friend I loved
Struck by death into the dust,
And fears I never knew before,
Have knocked and knocked upon my door,
"I shall hope little and ask for less,"
I said, "There is no happiness."

I have grown wise at last, but how,
Can I hide the gleam on the willow-bough,
Or keep the fragrance out of the rain
Now that April is here again?
When maples stand in a haze of fire,
What can I say to the old desire,
What shall I do with the joy in me,
That is born out of agony?
Red Riding-Hood
by James Whitcomb Riley

Sweet little myth of the nursery story—
Earliest love of mine infantile breast,
Be something tangible, bloom in thy glory
Into existence, as thou art addressed!
Hasten! appear to me, guileless and good—
Thou are so dear to me, Red Riding-Hood!

Azure-blue eyes, in a marvel of wonder,
Over the dawn of a blush breaking out;
Sensitive nose, with a little smile under
Trying to hide in a blossoming pout—
Couldn't be serious, try as you would,
Little mysterious Red Riding-Hood!

Hah! little girl, it is desolate, lonely,
Out in this gloomy old forest of Life!—
Here are not pansies and buttercups only—
Brambles and briers as keen as a knife;
And a Heart, ravenous, trails in the wood
For the meal have he must,—Red Riding-Hood!
The Red River Voyageur
by John Greenleaf Whittier

Out and in the river is winding
The links of its long, red chain,
Through belts of dusky pine-land
And gusty leagues of plain.

Only, at times, a smoke-wreath
With the drifting cloud—rack joins,—
The smoke of the hunting-lodges
Of the wild Assiniboins.

Drearily blows the north-wind
From the land of ice and snow;
The eyes that look are weary,
And heavy the hands that row.

And with one foot on the water,
And one upon the shore,
The Angel of Shadow gives warning
That day shall be no more.

Is it the clang of wild-geese?
Is it the Indian's yell,
That lends to the voice of the north-wind
The tones of a far-off bell?

The voyageur smiles as he listens
To the sound that grows apace;
Well he knows the vesper ringing
Of the bells of St. Boniface.

The bells of the Roman Mission,
That call from their turrets twain,
To the boatman on the river,
To the hunter on the plain!

Even so in our mortal journey
The bitter north-winds blow,
And thus upon life's Red River
Our hearts, as oarsmen, row.

And when the Angel of Shadow
Rests his feet on wave and shore,
And our eyes grow dim with watching
And our hearts faint at the oar,

Happy is he who heareth
The signal of his release
In the bells of the Holy City,
The chimes of eternal peace!
The Red Wolf
by Bliss Carman (William)

With the fall of the leaf comes the wolf, wolf, wolf,
The old red wolf at my door.
And my hateful yellow dwarf, with his hideous crooked laugh,
Cries "Wolf, wolf, wolf!" at my door.

With the still of the frost comes the wolf, wolf, wolf,
The gaunt red wolf at my door.
He's as tall as a Great Dane, with his grizzly russet mane;
And he haunts the silent woods at my door.

The scarlet maple leaves and the sweet ripe nuts,
May strew the forest glade at my door,
But my cringing cunning dwarf, with his slavered kacking laugh,
Cries "Wolf, wolf, wolf!" at my door.

The violets may come, the pale wind-flowers blow,
And tremble by the stream at my door;
But my dwarf will never cease, until his last release,
From his "Wolf, wolf, wolf!" at the door.

The long sweet April wind may woo the world from grief,
And tell the old tales at my door;
The rainbirds in the rain may plead their far refrain,
In the glad young year at my door;

And in the quiet sun, the silly partridge brood
In the red pine dust by my door;
Yet my squinting runty dwarf, with his lewd ungodly laugh,
Cries "Wolf, wolf, wolf!" at my door.

I'm his master (and his slave, with his "Wolf, wolf, wolf!")
As he squats in the sun at my door.
There morn and noon and night, with his cuddled low delight,
He watches for the wolf at my door.

The wind may parch his hide, or freeze him to the bone,
While the wolf walks far from the door;
Still year on year he sits, with his five unholy wits,
And watches for the wolf at the door.

But the fall of the leaf and the starting of the bud
Are the seasons he loves by the door;
Then his blood begins to rouse, this Caliban I house,
And it's "Wolf, wolf, wolf!" at the door.

In the dread lone of the night I can hear him snuff the sill;
Then it's "Wolf, wolf, wolf!" at the door;
His damned persistent bark, like a husky's in the dark,
His "Wolf, wolf, wolf!" at the door.

I have tried to rid the house of the misbegotten spawn;
But he skulks like a shadow at my door,
With the same uncanny glee as when he came to me
With his first cry of wolf at my door.

I curse him, and he leers; I kick him, and he whines;
But he never leaves the stone at my door.
Peep of day or set of sun, his croaking's never done
Of the Red Wolf of Despair at my door.

But when the night is old, and the stars begin to fade,
And silence walks the path by my door,
Then is his dearest hour, his most unbridled power,
And low comes his "Wolf!" at the door.

I turn me in my sleep between the night and day,
While dreams throng the yard at my door.
In my strong soul aware of a grewsome terror there
Soon to knock with command at my door.

Is it the hollow voice of the census-taker Time
In his old idle round from door to door?
Or only the north wind, when all the leaves are thinned,
Come at last with his moan to my door?

I cannot guess nor tell; only it comes and comes,
As from a vaster world beyond my door,
From centuries of eld, the death of freedom knelled,
A host of mortal fears at my door.

Then I wake; and joy and youth and fame and love and bliss,
And all the good that ever passed my door,
Grow dim, and faint and fade, with the whole world unmade,
To perish as the summer at my door.

The crouching heart within me quails like a shuddering thing,
As I turn on my pillow to the door;
Then in the chill white dawn, when life is half withdrawn,
Comes the dream-curdling "Wolf!" at my door.

Only my yellow dwarf; (my servitor and lord!)
I hear him lift the latch of my door;
I see his wobbling chin and his unrepentant grin,
As he lets his oafship in at the door.

He is low and humped and foul, and shambles like an ape;
And stealthily he barricades the door,
Then lays his goblin head against my lonely bed,
With a "Wolf, wolf, wolf," at the door!

I loathe him, but I feed him; I'll tell you how it was
(Hear him now with his "Wolf!" at the door!)
That I ever took him in; he is–he is my kin,
And kin to the wolf at the door!

I loathe him, yet he lives; as God lets Satan live,
I suffer him to slumber at my door,
Till that long-looked-for time, that splendid sudden prime,
When Spring shall go in scarlet by my door.

That day I will arise, put my heel upon his throat,
And squirt his yellow blood upon the door;
Then watch him dying there, like a spider in his lair,
With a "Wolf, wolf, wolf!" at my door.

The great white morning sun shall walk the earth again,
And the children return to my door,
I shall hear their merry laugh, and forget my buried dwarf,
As a tale that is told at the door.

Far from the quiet woods the gaunt red wolf shall flee,
As a cur that is stoned from the door;
And God's great peace come back along the lonely track,
To fill the golden year at my door.
The Redbird
by Madison Julius Cawein

Among the white haw-blossoms, where the creek
Droned under drifts of dogwood and of haw,
The redbird, like a crimson blossom blown
Against the snow-white bosom of the Spring,
The chaste confusion of her lawny breast,
Sang on, prophetic of serener days,
As confident as June's completer hours.
And I stood listening like a hind, who hears
A wood nymph breathing in a forest flute
Among the beech-boles of myth-haunted ways:
And when it ceased, the memory of the air
Blew like a syrinx in my brain: I made
A lyric of the notes that men might know:

He flies with flirt and fluting-
As flies a crimson star
From flaming star-beds shooting-
From where the roses are.

Wings past and sings; and seven
Notes, wild as fragrance is,-
That turn to flame in heaven,-
Float round him full of bliss.

He sings; each burning feather
Thrills, throbbing at his throat;
A song of firefly weather,
And of a glowworm boat:

Of Elfland and a princess
Who, born of a perfume,
His music rocks,-where winces
That rosebud's cradled bloom.

No bird sings half so airy,
No bird of dusk or dawn,
Thou masking King of Faery!
Thou red-crowned Oberon!
Redbirds
by Sara Teasdale

Redbirds, redbirds,
Long and long ago,
What a honey-call you had
In hills I used to know;

Redbud, buckberry,
Wild plum-tree
And proud river sweeping
Southward to the sea,

Brown and gold in the sun
Sparkling far below,
Trailing stately round her bluffs
Where the poplars grow.

Redbirds, redbirds,
Are you singing still
As you sang one May day
On Saxton's Hill?
The Redbreast Chasing the Butterfly
by William Wordsworth

Art thou the bird whom Man loves best,
The pious bird with the scarlet breast,
Our little English Robin;
The bird that comes about our doors
When Autumn-winds are sobbing?
Art thou the Peter of Norway Boors?
Their Thomas in Finland,
And Russia far inland?
The bird, that by some name or other
All men who know thee call their brother,
The darling of children and men?
Could Father Adam open his eyes
And see this sight beneath the skies,
He'd wish to close them again.
If the Butterfly knew but his friend,
Hither his flight he would bend;
And find his way to me,
Under the branches of the tree:
In and out, he darts about;
Can this be the bird, to man so good,
That, after their bewildering,
Covered with leaves the little children,
So painfully in the wood?
What ailed thee, Robin, that thou could'st pursue
A beautiful creature,
That is gentle by nature?
Beneath the summer sky
From flower to flower let him fly;
'Tis all that he wishes to do.
The cheerer Thou of our in-door sadness,
He is the friend of our summer gladness:
What hinders, then, that ye should be
Playmates in the sunny weather,
And fly about in the air together!
His beautiful wings in crimson are drest,
A crimson as bright as thine own:
Would'st thou be happy in thy nest,
O pious Bird! whom man loves best,
Love him, or leave him alone!
The Crimson House
by Bliss Carman (William)

Love built a crimson house,
I know it well,
That he might have a home
Wherein to dwell.

Poor Love that roved so far
And fared so ill,
Between the morning star
And the Hollow Hill,

Before he found the vale
Where he could bide,
With memory and oblivion
Side by side.

He took the silver dew
And the dun red clay,
And behold when he was through
How fair were they!

The braces of the sky
Were in its girth,
That it should feel no jar
Of the swinging earth;

That sun and wind might bleach
But not destroy
The house that he had builded
For his joy.

"Here will I stay," he said,
"And roam no more,
And dust when I am dead
Shall keep the door."

There trooping dreams by night
Go by, go by.
The walls are rosy white
In the sun's eye.

The windows are more clear
Than sky or sea;
He made them after God's
Transparency.

It is a dearer place
Than kirk or inn;
Such joy on joy as there
Has never been.

There may my longed-for rest
And welcome be,
When Love himself unbars
The door for me!
The Scarlet Lilies
by Violet Jacob

I see her as though she were standing yet
In her tower at the end of the town,
When the hot sun mounts and when dusk comes down,
With her two hands laid on the parapet;
The curve of her throat as she turns this way,
The bend of her body – I see it all;
And the watching eyes that look day by day
O'er the flood that runs by the city wall.

The winds by the river would come and go
On the flame-red gown she was wont to wear,
And the scarlet lilies that crowned her hair,
And the scarlet lilies that grew below.
I used to lie like a wolf in his lair,
With a burning heart and a soul in thrall,
Gazing across in a fume of despair
O'er the flood that runs by the river wall.

I saw when he came with his tiger's eyes,
That held you still in the grip of their glance,
And the cat-smooth air he had learned in France,
The light on his sword from the evening skies;
When the heron stood at the water's edge,
And the sun went down in a crimson ball,
I crouched in a thicket of rush and sedge
By the flood that runs by the river wall.

He knew where the stone lay loose in its place,
And a foot might hold in the chink between,
The carven niche where the arms had been,
And the iron rings in the tower's face;
For the scarlet lilies lay broken round,
Snapped through at the place where his tread would fall,
As he slipped at dawn to the yielding ground,
Near the flood that runs by the river wall.

I gave the warning – I ambushed the band
In the alder-clump – he was one to ten –
Shall I fight for my soul as he fought then,
Lord God, in the grasp of the devil's hand?
As the cock crew up in the morning chill,
And the city waked to the watchman's call,
There were four left lying to sleep their fill
At the flood that runs by the city wall.

Had I owned this world to its farthest part,
I had bartered all to have had his share;
Yet he died that night in the city square,
With a scarlet lily above his heart.
And she? Where the torrent goes by the slope,
There rose in the river a stifled call,
And two white hands strove with a knotted rope
In the flood that runs by the river wall.

Christ! I had thought I should die like a man,
And that death, grim death, might himself be sweet,
When the red sod rocked to the horses' feet,
And the knights went down as they led the van; –
But the end that waits like a trap for me,
Will come when I fight for my latest breath,
With a white face drowned between God and me
In the flood that runs by the banks of death.
Rose And Redbird – A Faerytale
by Madison Julius Cawein

I had the strangest dream last night:
I dreamed the poppies, red and white,
That over-run the flower-bed,
Changed to wee women, white and red,
Who, jeweled with the twinkling wet,
Joined hands and danced a minuet.

And there, beside the garden walk,
I thought a red-rose stood at talk
With a black cricket; and I heard
The cricket say, 'You are the bird,
Red-crested, who comes every day
To sing his lyric roundelay.'

The rose replied, 'Nay! you must know
That bird and I loved long-ago:
I am a princess, he a prince:
And we were parted ever since
The world of science made us don
The new disguises we have on.'

And then the rose put off disguise
And stood revealed before my eyes,
A faery princess; and, in black,
His tiny fiddle on his back,
An elfin fiddler, long of nose,
The cricket bowed before the rose.

A house of moss and firefly-light
Now seemed to rise within the night
Beside the tree where, bending low,
The flowers stood, a silken row,
Around the rose, a faery band
Before the Queen of Faeryland.

And suddenly I saw the side
Of a great beech-tree open wide,
And there, behold! were wondrous things,
Slim flower-like people bright with wings,
Who bowed before a throne of state,
Whereon the rose and redbird sate.

And then I woke; and there, behold,
Was naught except the moonlight's gold
On tree and garden; and the flowers
Safe snuggled in their beds and bowers:
The rose was gone, but where she'd stood
Lay scattered crimson of her hood.

The cricket still was at his tune
Somewhere between the dawn and moon:
And I'd have sworn it was a dream
Had I not glimpsed a glowworm gleam
And heard a chuckling in the tree,
And seen the dewdropp wink at me.
Baptism
by Claude McKay

Into the furnace let me go alone;
Stay you without in terror of the heat.
I will go naked in – for thus ' tis sweet-
Into the weird depths of the hottest zone.
I will not quiver in the frailest bone,
You will not note a flicker of defeat;
My heart shall tremble not its fate to meet,
My mouth give utterance to any moan.
The yawning oven spits forth fiery spears;
Red aspish tongues shout wordlessly my name.
Desire destroys, consumes my mortal fears,
Transforming me into a shape of flame .
I will come out, back to your world of tears,
A stronger soul within a finer frame.
The Answer
by Sara Teasdale

When I go back to earth
And all my joyous body
Puts off the red and white
That once had been so proud,

If men should pass above
With false and feeble pity,
My dust will find a voice
To answer them aloud:
"Be still, I am content,

Take back your poor compassion,
Joy was a flame in me
Too steady to destroy;
Lithe as a bending reed
Loving the storm that sways her—

I found more joy in sorrow
Than you could find in joy."
Invocation
by William Henry Drummond

Phoebus, arise!
And paint the sable skies
With azure, white, and red:
Rouse Memnon's mother from her Tithon's bed
That she may thy career with roses spread:
The nightingales thy coming each-where sing:
Make an eternal spring!
Give life to this dark world which lieth dead;
Spread forth thy golden hair
In larger locks than thou wast wont before,
And emperor-like decore
With diadem of pearl thy temples fair:
Chase hence the ugly night
Which serves but to make dear thy glorious light.

This is that happy morn,
That day, long-wished day,
Of all my life so dark,
(If cruel stars have not my ruin sworn,
And fates my hopes betray),
Which, purely white, deserves
An everlasting diamond should it mark.
This is the morn should bring unto this grove
My Love, to hear and recompense my love.
Fair King, who all preserves,
But show thy blushing beams
And thou two sweeter eyes
Shalt see than those which by Peneus' streams
Did once thy heart surprise.
Now, Flora, deck thyself in fairest guise:
If that ye winds would hear
A voice surpassing far Amphion's lyre,
Your furious chiding stay;
Let Zephyr only breathe,
And with her tresses play.
The winds all silent are,
And Phoebus in his chair
Ensaffroning sea and air
Makes vanish every star:
Night like a drunkard reels
Beyond the hills, to shun his flaming wheels:
The fields with flowers are decked in every hue,
The clouds with orient gold spangle their blue;
Here is the pleasant place,
And nothing wanting is, save She, alas!
Poems About the Color Red That Rhyme
The Waking Year
by Emily Dickinson

A lady red upon the hill
Her annual secret keeps;
A lady white within the field
In placid lily sleeps!

The tidy breezes with their brooms
Sweep vale, and hill, and tree!
Prithee, my pretty housewives!
Who may expected be?

The neighbors do not yet suspect!
The woods exchange a smile —
Orchard, and buttercup, and bird —
In such a little while!

And yet how still the landscape stands,
How nonchalant the wood,
As if the resurrection
Were nothing very odd!
Red Breast
by William Arthur Dunkerley (John Oxenham)

I saw one hanging on a tree,
And O his face was sad to see,–
Misery, misery me!

There were berries red upon his head,
And in his hands, and on his feet,
But when I tried to pick and eat,
They were his blood, and he was dead;–
Misery, misery me!

It broke my heart to see him there,
So lone and sad in his despair;
The nails of woe were through his hands,
And through his feet,–ah, misery me!

With beak and claws I did my best
To loose the nails and set him free,
But they were all too strong for me;–
Misery, misery me!

I picked and pulled, and did my best,
And his red blood stained all my breast;
I bit the nails, I pecked the thorn,
O, never saw I thorn so worn;
But yet I could not get him free;–
Misery, misery me!

And never since have I feared man,
But ever I seek him when I can,
And let him see the wish in me
To ease him of his misery.
The Rose
by Madison Julius Cawein

You have forgot: it once was red
With life, this rose, to which you said,
When, there in happy days gone by,
You plucked it, on my breast to lie,
'Sleep there, O rose! how sweet a bed
Is thine!-And, heart, be comforted;
For, though we part and roses shed
Their leaves and fade, love cannot die.-'
You have forgot.

So by those words of yours I'm led
To send it you this day you wed.
Look well upon it. You, as I,
Should ask it now, without a sigh,
If love can lie as it lies dead.
You have forgot.
The Red Canoe
by William Henry Drummond

De win' is sleepin' in de pine, but O! de night is black!
An' all day long de loon bird cry on Lac Wayagamack,
No light is shinin' by de shore for helpin' steer heem t'roo
W'en out upon de night, Ubalde he tak' de red canoe.

I hear de paddle dip, dip, dip! wance more I hear de loon,
I feel de breeze was show de way for storm dat 's comin' soon,
An' den de sky fly open wit' de lightning splittin' t'roo,
An' 'way beyon' de point I see de leetle red canoe.

It 's dark again, but lissen how across Wayagamack
De tonder 's roarin' loud, an' now de mountains answer back,
I wonder wit' de noise lak dat, he hear me, le bon Dieu
W'en on ma knee I ax Heem save de leetle red canoe!

Is dat a voice, so far away, it die upon ma hear?
Or only win' was foolin' me, an' w'isperin' "Belzemire?"
Yaas, yaas, Ubalde, your Belzemire she 's prayin' hard for you,
An' den again de lightning come, but w'ere 's de red canoe?

Dey say I 'm mad, dem foolish folk, cos w'en de night is black
An' w'en de wave lak snow-dreef come on Lac Wayagamack
I tak' de place w'ere long ago we use to sit, us two,
An' wait until de lightning bring de leetle red canoe.
The Rose
by James Whitcomb Riley

It tossed its head at the wooing breeze;
And the sun, like a bashful swain,
Beamed on it through the waving trees
With a passion all in vain,–
For my rose laughed in a crimson glee,
And hid in the leaves in wait for me.

The honey-bee came there to sing
His love through the languid hours,
And vaunt of his hives, as a proud old king
Might boast of his palace-towers:
But my rose bowed in a mockery,
And hid in the leaves in wait for me.

The humming-bird, like a courtier gay,
Dipped down with a dalliant song,
And twanged his wings through the roundelay
Of love the whole day long:
Yet my rose turned from his minstrelsy
And hid in the leaves in wait for me.

The firefly came in the twilight dim
My red, red rose to woo–
Till quenched was the flame of love in him,
And the light of his lantern too,
As my rose wept with dewdrops three
And hid in the leaves in wait for me.

And I said: I will cull my own sweet rose–
Some day I will claim as mine
The priceless worth of the flower that knows
No change, but a bloom divine–
The bloom of a fadeless constancy
That hides in the leaves in wait for me!

But time passed by in a strange disguise,
And I marked it not, but lay
In a lazy dream, with drowsy eyes,
Till the summer slipped away,
And a chill wind sang in a minor key:
'Where is the rose that waits for thee?'

. . . . . . . .

I dream to-day, o'er a purple stain
Of bloom on a withered stalk,
Pelted down by the autumn rain
In the dust of the garden-walk,
That an Angel-rose in the world to be
Will hide in the leaves in wait for me.
Poppies
by Victor James Daley

These are the flowers of sleep
That nod in the heavy noon,
Ere the brown shades eastward creep
To a drowsy and dreamful tune—
These are the flowers of sleep.

Love's lilies are passion-pale,
But these on the sun-kissed flood
Of the corn, that rolls breast deep,
Burn redder than drops of blood
On a dead king's golden mail.

Heart's dearest, I would that we
These blooms of forgetfulness
Might bind on our brows, and steep
Our love in Lethe ere less
Grow its flame with thee or me.

When Time with his evil eye
The beautiful Love has slain,
There is nought to gain or keep
Thereafter, and all is vain.
Should we wait to see Love die?

Sweetheart, of the joys men reap
We have reaped; 'tis time to rest.
Why should we wake but to weep?
Sleep and forgetting is best—
These are the flowers of sleep.
Roses
by Alfred Joyce Kilmer (Joyce)

I went to gather roses and twine them in a ring,
For I would make a posy, a posy for the King.
I got an hundred roses, the loveliest there be,
From the white rose vine and the pink rose bush and from the red rose tree.

But when I took my posy and laid it at His feet
I found He had His roses a million times more sweet.
There was a scarlet blossom upon each foot and hand,

And a great pink rose bloomed from His side for the healing of the land.

Now of this fair and awful King there is this marvel told,
That He wears a crown of linked thorns instead of one of gold.
Where there are thorns are roses, and I saw a line of red,
A little wreath of roses around His radiant head.

A red rose is His Sacred Heart, a white rose is His face,
And His breath has turned the barren world to a rich and flowery place.
He is the Rose of Sharon, His gardener am I,
And I shall drink His fragrance in Heaven when I die.
Rose and Leaf
by Madison Julius Cawein

All the roses now are gone,
All their glories shed:
Here's a rose that grows not wan,
Rose of love to wear upon
Your fair breast instead.

Everywhere sere leaves are seen
Golden, red and grey:
Here's a leaf for ever green,
Leaf of truth to hold between
Your white hands alway.

Here's my leaf and here's my rose.
Take them. They are yours.
In my garden nothing grows,
Garden of my heart, God knows,
That as long endures.
The Rose and the Fern
by Oliver Wendell Holmes

Lady, life's sweetest lesson wouldst thou learn,
Come thou with me to Love's enchanted bower;
High overhead the trellised roses burn;
Beneath thy feet behold the feathery fern,—
A leaf without a flower.

What though the rose leaves fall? They still are sweet,
And have been lovely in their beauteous prime,
While the bare frond seems ever to repeat,
"For us no bud, no blossom, wakes to greet
The joyous flowering time!"

Heed thou the lesson. Life has leaves to tread
And flowers to cherish; summer round thee glows;
Wait not till autumn's fading robes are shed,
But while its petals still are burning red
Gather life's full-blown rose!
The Colour
by Thomas Hardy

"What shall I bring you?
Please will white do
Best for your wearing
The long day through?"
" White is for weddings,
Weddings, weddings,
White is for weddings,
And that won't do."

"What shall I bring you?
Please will red do
Best for your wearing
The long day through?"
" Red is for soldiers,
Soldiers, soldiers,
Red is for soldiers,
And that won't do."

"What shall I bring you?
Please will blue do
Best for your wearing
The long day through?"
" Blue is for sailors,
Sailors, sailors,
Blue is for sailors,
And that won't do.

"What shall I bring you?
Please will green do
Best for your wearing
The long day through?"
" Green is for mayings,
Mayings, mayings,
Green is for mayings,
And that won't do."

"What shall I bring you
Then? Will black do
Best for your wearing
The long day through?"
" Black is for mourning,
Mourning, mourning,
Black is for mourning,
And black will do."
The Ballad of Reading Gaol (excerpt)
by Oscar Wilde

I

He did not wear his scarlet coat,
For blood and wine are red,
And blood and wine were on his hands
When they found him with the dead,
The poor dead woman whom he loved,
And murdered in her bed.

He walked amongst the Trial Men
In a suit of shabby grey;
A cricket cap was on his head,
And his step seemed light and gay;
But I never saw a man who looked
So wistfully at the day.
Short Poems About Red
Poppies
by Madison Julius Cawein

Summer met Sleep at sunset,
Dreaming within the south,
Drugged with his soul's deep slumber,
Red with her heart's hot drouth,
These are the drowsy kisses
She pressed upon his mouth.
The Roses
by Alan L. Strang

I have roses in my garden,
And their fragrance fills the air.
How I love to watch them blooming;
For they all are very fair.

Some have deep red velvet petals,
Some again are snowy white;
And the little baby pink ones,
Surely give you such delight.

Pretty birds come to my garden,
And sing there the live-long day;
Yes the birds and pretty flowers
Help and cheer us on our way.
Red Illusions Under Glass
by Paul Cameron Brown

Life as green illusion –
the cool fronds of the fern
are deep set in firmest soil
and the grassy narrows
brook a silent, liquid play.

Red illusions under glass –
quietly picking strawberries
where a woman hums to
the buzz of flies
with the afternoon sun disappearing overhead.

Each grasp of the berry
a red stain, the darting of seeds,
crimson tendrils do confuse the eye
with a polka dot starling raucous
in glee above.
The Roses on the Terrace
by Alfred Lord Tennyson

Rose, on this terrace fifty years ago,
When I was in my June, you in your May,
Two words, 'My Rose,' set all your face aglow,
And now that I am white and you are gray,
That blush of fifty years ago, my dear,
Blooms in the past, but close to me to-day,
As this red rose, which on our terrace here
Glows in the blue of fifty miles away.
Rubies
by Ella Wheeler Wilcox

The crimson life-drops from a virgin heart
Pierced to the core by Cupid's fatal dart.
Roses on the Breakfast Table
by D. H. Lawrence

Just a few of the roses we gathered from the Isar
Are fallen, and their mauve-red petals on the cloth
Float like boats on a river, while other
Roses are ready to fall, reluctant and loth.

She laughs at me across the table, saying
I am beautiful. I look at the rumpled young roses
And suddenly realise, in them as in me,
How lovely the present is that this day discloses.
Red Fox (Red Horse Lake)
by Paul Cameron Brown

A magnificent Red Devil
splayed out in his tracks;
this tumultuous soul, baron of the backwoods
with his provenance unknown …
this compromise to individuality
abandons him to chorome death
under a canopy-canapë dream-coated rock dome.

Trepanned, empire of trees, dark matter
& a castle of leaves,
a fish-hawk for a tomahawk
in his thermo-cline eyes …
dithyrambic young osprey in the offing,
candelabra under stars.

Going inland for freshwater prawns,
sandalwood and tortoiseshells
finding bewitchment amid moving cars.
Yea, the Roses Are Still on Fire
by Mathilde Blind

Yea, the roses are still on fire
With the bygone heat of July,
Though the least little wind drifting by
Shake a rose-leaf or two from the brier,
Be it never so soft a sigh.

Ember of love still glows and lingers
Deep at the red heart's smouldering core;
With the sudden passionate throb of yore
We shook as our eyes and clinging fingers
Met once only to meet no more.
Poems About Colors by Famous Poets
The Thorn
by William Wordsworth

V.
Ah me! what lovely tints are there !
Of olive green and scarlet bright,
In spikes , in branches, and in stars,
Green , red , and pearly white.
This heap of earth o'ergrown with moss,
Which close beside the Thorn you see ,
So fresh in all its beauteous dyes,
Is like an infant's grave in size,
As like as like can be :
But'never, never any where,
An infant's grave was half so fair.
Lines
by William Wordsworth

Written at a small distance from my House, and sent by
my little boy to the person to whom they are addressed.

It is the first mild day of March:
Each minute sweeter than before,
The Red-breast sings from the tall Larch
That stands beside our door.
There is a blessing in the air,
Which seems a sense of joy to yield
To the bare trees, and mountains bare,
And grass in the green field.
My Sister! (' tis a wish of mine)
Now that our morning meal is done,
Make haste , your morning task resign;
Come forth and feel the sun.

Edward will come with you; and pray,
Put on with speed your woodland dress ;
And bring no book: for this one day
We'll give to idleness.
No joyless forms shall regulate
Our living Calendar:
We from to – day, my Friend, will date
The opening of the year.
Love, now an universal birth,
From heart to heart is stealing ,
From earth to man , from man to earth:
-It is the hour of feeling.
One moment now may give us more
Than fifty years of reason:
Our minds shall drink at every pore
The spirit of the season.

Some silent laws our hearts may make,
Which they shall long obey:
We for the year to come may take
Our temper from to – day,
And from the blessed power that rolls
About, below , above,
We'll frame the measure of our souls:
They shall be tuned to love.
Then come, my sister! come, pray ,
With speed put on your woodland dress;
-And bring no book: for this one day
We'll give to idleness.
Colors
by Stephen Vincent Benet

for D. M. C.

The little man with the vague beard and guise
Pulled at the wicket. "Come inside!" he said,
"I'll show you all we've got now — it was size
You wanted? — oh, dry colors! Well" — he led
To a dim alley lined with musty bins,
And pulled one fiercely. Violent and bold
A sudden tempest of mad, shrieking sins
Scarlet screamed out above the battered gold
Of tins and picture-frames. I held my breath.
He tugged another hard — and sapphire skies
Spread in vast quietude, serene as death,
O'er waves like crackled turquoise — and my eyes
Burnt with the blinding brilliance of calm sea!
"We're selling that lot there out cheap!" said he.
Blue Roses
by Rudyard Kipling

Roses red and roses white
Plucked I for my love's delight.
She would none of all my posies,
Bade me gather her blue roses.

Half the world I wandered through,
Seeking where such flowers grew.
Half the world unto my quest
Answered me with laugh and jest.

Home I came at wintertide,
But my silly love had died
Seeking with her latest breath
Roses from the arms of Death.

It may be beyond the grave
She shall find what she would have.
Mine was but an idle quest,
Roses white and red are best!
Nothing Gold Can Stay
by Robert Frost

Nature's first green is gold,
Her hardest hue to hold.
Her early leaf's a flower;
But only so an hour.
Then leaf subsides to leaf.
So Eden sank to grief,
So dawn goes down to day.
Nothing gold can stay.
Roses and Rue
by Sara Teasdale

Bring me the roses white and red,
And take the laurel leaves away;
Yea, wreathe the roses round my head
That wearies 'neath the crown of bay.
"We searched the wintry forests thro'
And found no roses anywhere
But we have brought a little rue
To twine a circlet for your hair."
I would not pluck the rose in May,
I wove a laurel crown instead;
And when the crown is cast away,
They bring me rue, the rose is dead.
The Wanderer
by Sara Teasdale

I saw the sunset-colored sands,
The Nile like flowing fire between,
Where Rameses stares forth serene,
And Ammon's heavy temple stands.

I saw the rocks where long ago,
Above the sea that cries and breaks,
Swift Perseus with Medusa's snakes
Set free the maiden white like snow.

And many skies have covered me,
And many winds have blown me forth,
And I have loved the green, bright north,
And I have loved the cold, sweet sea.

But what to me are north and south,
And what the lure of many lands,
Since you have leaned to catch my hands
And lay a kiss upon my mouth.
The Faery Forest
by Sara Teasdale

The faery forest glimmered
Beneath an ivory moon,
The silver grasses shimmered
Against a faery tune.

Beneath the silken silence
The crystal branches slept,
And dreaming thro' the dew-fall
The cold white blossoms wept.
Firelight and Nightfall
by D. H. Lawrence

The darkness steals the forms of all the queens,
But oh, the palms of his two black hands are red,
Inflamed with binding up the sheaves of dead
Hours that were once all glory and all queens.

And I remember all the sunny hours
Of queens in hyacinth and skies of gold,
And morning singing where the woods are scrolled
And diapered above the chaunting flowers.

Here lamps are white like snowdrops in the grass;
The town is like a churchyard, all so still
And grey now night is here; nor will
Another torn red sunset come to pass.
The Blossoms on the Trees
by James Whitcomb Riley

Blossoms crimson, white, or blue,
Purple, pink, and every hue,
From sunny skies, to tintings drowned
In dusky drops of dew,
I praise you all, wherever found,
And love you through and through;–
But, Blossoms On The Trees,
With your breath upon the breeze,
There's nothing all the world around
As half as sweet as you!

Could the rhymer only wring
All the sweetness to the lees
Of all the kisses clustering
In juicy Used-to-bes,
To dip his rhymes therein and sing
The blossoms on the trees,–
"O Blossoms on the Trees,"
He would twitter, trill and coo,
"However sweet, such songs as these
Are not as sweet as you:–
For you are blooming melodies
The eyes may listen to!"
The Blue Bell
Emily Brontë

The Bluebell is the sweetest flower
That waves in summer air:
Its blossoms have the mightiest power
To soothe my spirit's care.

There is a spell in purple heath
Too wildly, sadly dear;
The violet has a fragrant breath,
But fragrance will not cheer,

The trees are bare, the sun is cold,
And seldom, seldom seen;
The heavens have lost their zone of gold,
And earth her robe of green.

And ice upon the glancing stream
Has cast its sombre shade;
And distant hills and valleys seem
In frozen mist arrayed.

The Bluebell cannot charm me now,
The heath has lost its bloom;
The violets in the glen below,
They yield no sweet perfume.

But, though I mourn the sweet Bluebell,
'Tis better far away;
I know how fast my tears would swell
To see it smile to-day.

For, oh! when chill the sunbeams fall
Adown that dreary sky,
And gild yon dank and darkened wall
With transient brilliancy;

How do I weep, how do I pine
For the time of flowers to come,
And turn me from that fading shine,
To mourn the fields of home!
Fancy's Fool
by Bliss Carman (William)

"Cornel, cornel, green and white,
Spreading on the forest floor,
Whither went my lost delight
Through the silent door?"

"Mortal, mortal, overfond,
How come you at all to know
There be any joys beyond
Blisses here and now?"

"Cornel, cornel, white and cool,
Many a mortal, I've heard tell,
Who is only Fancy's fool
Knows that secret well."

"Mortal, mortal, what would you
With that beauty once was yours?
Perishable is the dew,
And the dust endures."

"Cornel, cornel, pierce me not
With your sweet, reserved disdain!
Whisper me of things forgot
That shall be again."

"Mortal, we are kinsmen, led
By a hope beyond our reach.
Know you not the word unsaid
Is the flower of speech?"

All the snowy blossoms faded,
While the scarlet berries grew;
And all summer they evaded
Anything they knew.

"Cornel, cornel, green and red
Flooring for the forest wide,
Whither down the ways of dread
Went my starry-eyed?"

"Mortal, mortal, is there found
Any fruitage half so fair
In the dim world underground
As there grows in air?"

"Wilding cornel, you can guess
Nothing of eternal pain,
Growing there in quietness
In the sun and rain."

"Mortal, where your heart would be
Not a wanderer may go,
But he shares the dark with me
Underneath the snow."

And the scarlet berries scattered
With the coming on of fall;
Not to one of them it mattered
Anything at all.
A Sunset Fantasy
by Victor James Daley

A Sunset Fantasy
Spellbound by a sweet fantasy
At evenglow I stand
Beside an opaline strange sea
That rings a sunset land.
The rich lights fade out one by one,
And, like a peony
Drowning in wine, the crimson sun
Sinks down in that strange sea.

His wake across the ocean-floor
In a long glory lies,
Like a gold wave-way to the shore
Of some sea paradise.

My dream flies after him, and I
Am in another land;
The sun sets in another sky,
And we sit hand in hand.

Gray eyes look into mine; such eyes
I think the angel's are—
Soft as the soft light in the skies
When shines the morning star,

And tremulous as morn, when thin
Gold lights begin to glow,
Revealing the bright soul within
As dawn the sun below.

So, hand in hand, we watch the sun
Burn down the Western deeps,
Dreaming a charmed dream, as one
Who in enchantment sleeps;

A dream of how we twain some day,
Careless of map or chart,
Will both take ship and sail away
Into the sunset's heart.

Our ship shall be of sandal built,
Like ships in old-world tales,
Carven with cunning art, and gilt,
And winged with scented sails

Of silver silk, whereon the red
Great gladioli burn,
A rainbow-flag at her masthead,
A rose-flag at her stern;

And, perching on the point above
Wherefrom the pennon blows,
The figure of a flying dove,
And in her beak a rose.

And from the fading land the breeze
Shall bring us, blowing low,
Old odours and old memories,
And airs of long ago—

A melody that has no words
Of mortal speech a part,
Yet touching all the deepest chords
That tremble in the heart:

A scented song blown oversea,
As though from bowers of bloom
A wind-harp in a lilac-tree
Breathed music and perfume.

And we, no more with longings pale,
Will smile to hear it blow;
I in the shadow of the sail,
You in the sunset-glow.

For, with the fading land, our fond
Old fears shall all fade out,
Paled by the light from shores beyond
The dread of Death or Doubt.

And from a gloomy cloud above
When Death his shadow flings,
The Spirit of Immortal Love
Will shield us with his wings.

He is the lord of dreams divine,
And lures us with his smiles
Along the splendour opaline
Unto the Blessed Isles.
Books of Songs: Lyrical Interlude 5
by Heinrich Heine

Thy face, so lovely and serene,
In vision I have lately seen;
So like an angel's 'tis, and meek,
Though bitter grief has blanch'd thy cheek.

Thy lips alone, they still are red;
Death soon will kiss them pale and dead;
The heavenly light will soon be o'er,