Here are my favorite poems about loving someone you can't have categorized:
Famous poems about one-sided love
Poems about wanting someone who doesn't want you
Painful poems about loving someone in silence
Unrequited love poems
So if you want the best poems about loving someone you can't have, then you're in the right place.
Let's jump right in!
Somber Poems About Loving Someone You Can't Have
Discover a collection of the most heart-wrenching poems about loving someone you can't have.
From the raw emotions of one-sided love to the painful realities of unrequited love, these poems offer solace to anyone who has ever experienced this bittersweet longing.
Find all these poignant poems in one place here and immerse yourself in the cathartic power of poetry.
Read on and enjoy!
My #1 Favorite Poem About Loving Someone You Can't Have
"Appeal" by Anne Brontë
Oh, I am very weary,
Though tears no longer flow;
My eyes are tired of weeping,
My heart is sick of woe;
My life is very lonely,
My days pass heavily,
I'm weary of repining;
Wilt thou not come to me?
Oh, didst thou know my longings
For thee, from day to day,
My hopes, so often blighted,
Thou wouldst not thus delay!
Famous Poems About One-Sided Love
"Sonnet 87" by William Shakespeare
Farewell! thou art too dear for my possessing,
And like enough thou knowst thy estimate.
The Charter of thy worth gives thee releasing;
My bonds in thee are all determinate.
For how do I hold thee but by thy granting,
And for that riches where is my deserving?
The cause of this fair gift in me is wanting,
And so my patent back again is swerving.
Thy self thou gav'st, thy own worth then not knowing,
Or me, to whom thou gav'st it, else mistaking,
So thy great gift, upon misprision growing,
Comes home again, on better judgement making.
Thus have I had thee as a dream doth flatter:
In sleep a king, but waking no such matter.
"Wind and Window Flower" by Robert Frost
Lovers, forget your love,
And list to the love of these,
She a window flower,
And he a winter breeze.
When the frosty window veil
Was melted down at noon,
And the cagèd yellow bird
Hung over her in tune,
He marked her through the pane,
He could not help but mark,
And only passed her by,
To come again at dark.
He was a winter wind,
Concerned with ice and snow,
Dead weeds and unmated birds,
And little of love could know.
But he sighed upon the sill,
He gave the sash a shake,
As witness all within
Who lay that night awake.
Perchance he half prevailed
To win her for the flight
From the firelit looking-glass
And warm stove-window light.
But the flower leaned aside
And thought of naught to say,
And morning found the breeze
A hundred miles away.
"Sonnet 18" by William Shakespeare
Shall I compare thee to a summer's day?
Thou art more lovely and more temperate:
Rough winds do shake the darling buds of May,
And summer's lease hath all too short a date;
Sometime too hot the eye of heaven shines,
And often is his gold complexion dimm'd;
And every fair from fair sometime declines,
By chance or nature's changing course untrimm'd;
But thy eternal summer shall not fade,
Nor lose possession of that fair thou ow'st;
Nor shall death brag thou wander'st in his shade,
When in eternal lines to time thou grow'st:
So long as men can breathe or eyes can see,
So long lives this, and this gives life to thee.
"Debt" by Sara Teasdale
What do I owe to you
Who loved me deep and long?
You never gave my spirit wings
Nor gave my heart a song.
But oh, to him I loved,
Who loved me not at all,
I owe the little open gate
That led through heaven's wall.
"Take, Oh Take Those Lips Away" by William Shakespeare
Take, oh take those lips away,
That so sweetly were forsworn,
And those eyes: the break of day,
Lights that do mislead the Morn;
But my kisses bring again, bring again,
Seals of love, but sealed in vain, sealed in vain.
"I Am Not Yours" by Sara Teasdale
I am not yours, not lost in you,
Not lost, although I long to be
Lost as a candle lit at noon,
Lost as a snowflake in the sea.
You love me, and I find you still
A spirit beautiful and bright,
Yet I am I, who long to be
Lost as a light is lost in light.
Oh plunge me deep in love—put out
My senses, leave me deaf and blind,
Swept by the tempest of your love,
A taper in a rushing wind.
"Thinkin' Long" by Anna MacManus (Ethna Carbery)
Oh thinkin' long 's the weary work!
It breaks my heart from dawn
Till all the wee, wee, friendly stars
Come out at dayli'gone.
An' thinkin' long 's the weary work,
When I must spin and spin,
To drive the fearsome fancies out,
An' hold the hopeful in!
Ah, sure my lad is far away!
My lad who left our glen
When from the soul of Ireland came
A call for fightin' men;
I miss his gray eyes glancin' bright,
I miss his liltin' song,
And that is why, the lonesome day,
I 'm always thinkin' long.
May God's kind angels guard him
When the fray is fierce and grim,
And blunt the point of every sword
That turns its hate on him,
Where round the torn yet dear green flag
The brave and lovin' throng—
But the lasses of Glenwherry smile
At me for thinkin' long.
"Song at Capri" by Sara Teasdale
When beauty grows too great to bear
How shall I ease me of its ache,
For beauty more than bitterness
Makes the heart break.
Now while I watch the dreaming sea
With isles like flowers against her breast,
Only one voice in all the world
Could give me rest.
"Bequest" by Emily Elizabeth Dickinson
You left me, sweet, two legacies, —
A legacy of love
A Heavenly Father would content,
Had He the offer of;
You left me boundaries of pain
Capacious as the sea,
Between eternity and time,
Your consciousness and me.
"Sonnet 147" by William Shakespeare
My love is as a fever, longing still
For that which longer nurseth the disease,
Feeding on that which doth preserve the ill,
Th' uncertain sickly appetite to please.
My reason, the physician to my love,
Angry that his prescriptions are not kept,
Hath left me, and I desperate now approve
Desire is death, which physic did except.
Past cure I am, now reason is past care,
And frantic-mad with evermore unrest;
My thoughts and my discourse as madmen's are,
At random from the truth vainly expressed:
For I have sworn thee fair, and thought thee bright,
Who art as black as hell, as dark as night.
"Annabel Lee" by Edgar Allan Poe
It was many and many a year ago,
In a kingdom by the sea,
That a maiden there lived whom you may know
By the name of Annabel Lee;
And this maiden she lived with no other thought
Than to love and be loved by me.
I was a child and she was a child,
In this kingdom by the sea,
But we loved with a love that was more than love—
I and my Annabel Lee—
With a love that the wingèd seraphs of Heaven
Coveted her and me.
And this was the reason that, long ago,
In this kingdom by the sea,
A wind blew out of a cloud, chilling
My beautiful Annabel Lee;
So that her highborn kinsmen came
And bore her away from me,
To shut her up in a sepulchre
In this kingdom by the sea.
The angels, not half so happy in Heaven,
Went envying her and me—
Yes!—that was the reason (as all men know,
In this kingdom by the sea)
That the wind came out of the cloud by night,
Chilling and killing my Annabel Lee.
But our love it was stronger by far than the love
Of those who were older than we—
Of many far wiser than we—
And neither the angels in Heaven above
Nor the demons down under the sea
Can ever dissever my soul from the soul
Of the beautiful Annabel Lee;
For the moon never beams, without bringing me dreams
Of the beautiful Annabel Lee;
And the stars never rise, but I feel the bright eyes
Of the beautiful Annabel Lee;
And so, all the night-tide, I lie down by the side
Of my darling—my darling—my life and my bride,
In her sepulchre there by the sea—
In her tomb by the sounding sea.
"When You Are Old" by William Butler Yeats
When you are old and grey and full of sleep,
And nodding by the fire, take down this book,
And slowly read, and dream of the soft look
Your eyes had once, and of their shadows deep;
How many loved your moments of glad grace,
And loved your beauty with love false or true,
But one man loved the pilgrim soul in you,
And loved the sorrows of your changing face;
And bending down beside the glowing bars,
Murmur, a little sadly, how Love fled
And paced upon the mountains overhead
And hid his face amid a crowd of stars.
"Minstrel Man" by Langston Hughes
Because my mouth
Is wide with laughter
And my throat
Is deep with song,
You do not think
I suffer after
I have held my pain
So long.
Because my mouth
Is wide with laughter,
You do not hear
My inner cry,
Because my feet
Are gay with dancing,
You do not know
I die.
"Her Voice" by Oscar Wilde
The wild bee reels from bough to bough
With his furry coat and his gauzy wing.
Now in a lily-cup, and now
Setting a jacinth bell a-swing,
In his wandering;
Sit closer love: it was here I trow
I made that vow,
Swore that two lives should be like one
As long as the sea-gull loved the sea,
As long as the sunflower sought the sun,—
It shall be, I said, for eternity
'Twixt you and me!
Dear friend, those times are over and done.
Love's web is spun.
Look upward where the poplar trees
Sway in the summer air,
Here n the valley never a breeze
Scatters the thistledown, but there
Great winds blow fair
From the mighty murmuring mystical seas,
And the wave-lashed leas.
Look upward where the white gull screams,
What does it see that we do not see?
Is that a star? or the lamp that gleams
On some outward voyaging argosy,—
Ah! can it be
We have lived our lives in a land of dreams!
How sad it seems.
Sweet, there is nothing left to say
But this, that love is never lost,
Keen winter stabs the breasts of May
Whose crimson roses burst his frost,
Ships tempest-tossed
Will find a harbor in some bay,
And so we may.
And there is nothing left to do
But to kiss once again, and part,
Nay, there is nothing we should rue,
I have my beauty,—you your Art,
Nay, do not start,
One world was not enough for two
Like me and you.
"Ebb" by Edna St. Vincent Millay
I know what my heart is like
Since your love died:
It is like a hollow ledge
Holding a little pool
Left there by the tide,
A little tepid pool,
Drying inward from the edge.
"I Shall Forget You Presently, My Dear" by Edna St. Vincent Millay
I shall forget you presently, my dear,
So make the most of this, your little day,
Your little month, your little half a year
Ere I forget, or die, or move away,
And we are done forever; by and by
I shall forget you, as I said, but now,
If you entreat me with your loveliest lie
I will protest you with my favorite vow.
I would indeed that love were longer-lived,
And vows were not so brittle as they are,
But so it is, and nature has contrived
To struggle on without a break thus far,—
Whether or not we find what we are seeking
Is idle, biologically speaking.
"The Rival" by Thomas Hardy
I determined to find out whose it was –
The portrait he looked at so, and sighed;
Bitterly have I rued my meanness
And wept for it since he died!
I searched his desk when he was away,
And there was the likeness–yes, my own!
Taken when I was the season's fairest,
And time-lines all unknown.
I smiled at my image, and put it back,
And he went on cherishing it, until
I was chafed that he loved not the me then living,
But that past woman still.
Well, such was my jealousy at last,
I destroyed that face of the former me;
Could you ever have dreamed the heart of woman
Would work so foolishly!
"Anna, Thy Charms" by Robert Burns
Anna, thy charms my bosom fire,
And waste my soul with care;
But ah! how bootless to admire,
When fated to despair!
Yet in thy presence, lovely fair,
To hope may be forgiv'n;
For sure 'twere impious to despair,
So much in sight of Heav'n.
"In Her Precincts" by Thomas Hardy
Her house looked cold from the foggy lea,
And the square of each window a dull black blur
Where showed no stir:
Yes, her gloom within at the lack of me
Seemed matching mine at the lack of her.
The black squares grew to be squares of light
As the eyeshade swathed the house and lawn,
And viols gave tone;
There was glee within. And I found that night
The gloom of severance mine alone.
"A Red, Red Rose" by Robert Burns
O my Luve is like a red, red rose
That's newly sprung in June;
O my Luve is like the melody
That's sweetly played in tune.
So fair art thou, my bonnie lass,
So deep in luve am I;
And I will luve thee still, my dear,
Till a' the seas gang dry.
Till a' the seas gang dry, my dear,
And the rocks melt wi' the sun;
I will love thee still, my dear,
While the sands o' life shall run.
And fare thee weel, my only luve!
And fare thee weel awhile!
And I will come again, my luve,
Though it were ten thousand mile.
Poems About Wanting Someone Who Doesn't Want You
"The Want of You" by Angelina Weld Grimké
A hint of gold where the moon will be;
Through the flocking clouds just a star or two;
Leaf sounds, soft and wet and hushed,
And oh! the crying want of you.
"Heart Yearnings" by George Marion McClellan
Oh! for the welcome breath of country air,
With Summer skies and flowers,
To shout and feel once more the halcyon
Of gayer boyhood hours.
I think the sight of fields and shady lanes
Would ease my heart of pains.
To cool once more my thirst, where bubbled up
The waters of a spring,
Where I have seen the golden daffodils
And lillies flourishing,
My fevered heart would more than half forget
Its sighs, and vain regret.
Far, far away, from early scenes am I;
And, too, my youth has fled;
For me a stranger's land, a stranger's sky,
That arches overhead.
For scenes and joys that now have passed me by,
I can but give a sigh.
"Never Seek to Tell thy Love" by William Blake
Never seek to tell thy love
Love that never told can be
For the gentle wind does move
Silently invisibly
I told my love I told my love
I told her all my heart
Trembling cold in ghastly fears
Ah she doth depart
Soon as she was gone from me
A traveller came by
Silently invisibly
O was no deny
"The Philosopher" by Edna St. Vincent Millay
And what are you that, missing you,
I should be kept awake
As many nights as there are days
With weeping for your sake?
And what are you that, missing you,
As many days as crawl
I should be listening to the wind
And looking at the wall?
I know a man that's a braver man
And twenty men as kind,
And what are you, that you should be
The one man in my mind?
Yet women's ways are witless ways,
As any sage will tell,-
And what am I, that I should love
So wisely and so well?
"The Dream" by John Donne
Dear love, for nothing less than thee
Would I have broke this happy dream;
It was a theme
For reason, much too strong for fantasy,
Therefore thou wak'd'st me wisely; yet
My dream thou brok'st not, but continued'st it.
Thou art so true that thoughts of thee suffice
To make dreams truths, and fables histories;
Enter these arms, for since thou thought'st it best,
Not to dream all my dream, let's act the rest.
As lightning, or a taper's light,
Thine eyes, and not thy noise wak'd me;
Yet I thought thee
(For thou lovest truth) an angel, at first sight;
But when I saw thou sawest my heart,
And knew'st my thoughts, beyond an angel's art,
When thou knew'st what I dreamt, when thou knew'st when
Excess of joy would wake me, and cam'st then,
I must confess, it could not choose but be
Profane, to think thee any thing but thee.
Coming and staying show'd thee, thee,
But rising makes me doubt, that now
Thou art not thou.
That love is weak where fear's as strong as he;
'Tis not all spirit, pure and brave,
If mixture it of fear, shame, honour have;
Perchance as torches, which must ready be,
Men light and put out, so thou deal'st with me;
Thou cam'st to kindle, goest to come; then I
Will dream that hope again, but else would die.
"The Heart of Stone" by John Harrington
Whence comes my love? O heart, disclose!
It was from cheeks that shame the rose,
From lips that spoil the ruby's praise,
From eyes that mock the diamond's blaze:
Whence comes my woe? as freely own;
Ah me! 'twas from a heart like stone.
The blushing cheek speaks modest mind,
The lips befitting words most kind,
The eye does tempt to love's desire,
And seems to say, "'Tis Cupid's fire;"
Yet all so fair but speak my moan,
Since nought doth say the heart of stone.
Why thus, my love, so kind bespeak
Sweet eye, sweet lip, sweet blushing cheek,—
Yet not a heart to save my pain?
O Venus, take thy gifts again!
Make not so fair to cause our moan,
Or make a heart that's like your own.
"Sonnet 2" by Edna St. Vincent Millay
Time does not bring relief; you all have lied
Who told me time would ease me of my pain!
I miss him in the weeping of the rain;
I want him at the shrinking of the tide;
The old snows melt from every mountain-side,
And last year's leaves are smoke in every lane;
But last year's bitter loving must remain
Heaped on my heart, and my old thoughts abide.
There are a hundred places where I fear
To go,—so with his memory they brim.
And entering with relief some quiet place
Where never fell his foot or shone his face
I say, "There is no memory of him here!"
And so stand stricken, so remembering him.
"If You Should Go" by Countee Cullen
Love, leave me like the light,
The gently passing day;
We would not know, but for the night,
When it has slipped away.
So many hopes have fled,
Have left me but the name
Of what they were. When love is dead,
Go thou, beloved, the same.
Go quietly; a dream
When done, should leave no trace
That it has lived, except a gleam
Across the dreamer's face.
"The Silent Lover" by Sir Walter Raleigh
Passions are likened best to floods and streams:
The shallow murmur, but the deep are dumb;
So, when affections yield discourse, it seems
The bottom is but shallow whence they come.
They that are rich in words, in words discover
That they are poor in that which makes a lover.
Wrong not, sweet empress of my heart,
The merit of true passion,
With thinking that he feels no smart,
That sues for no compassion;
Since, if my plaints serve not to approve
The conquest of thy beauty,
It comes not from defect of love,
But from excess of duty.
For, knowing that I sue to serve
A saint of such perfection,
As all desire, but none deserve,
A place in her affection,
I rather choose to want relief
Than venture the revealing;
Where glory recommends the grief,
Despair distrusts the healing.
Thus those desires that aim too high
For any mortal lover,
When reason cannot make them die,
Discretion doth them cover.
Yet, when discretion doth bereave
The plaints that they should utter,
Then thy discretion may perceive
That silence is a suitor.
Silence in love bewrays more woe
Than words, though ne'er so witty:
A beggar that is dumb, you know,
May challenge double pity.
Then wrong not, dearest to my heart,
My true, though secret, passion:
He smarteth most that hides his smart,
And sues for no compassion.
"The Heart's Desire" by Madison Julius Cawein
God made her body out of foam and flowers,
And for her hair the dawn and darkness blent;
Then called two planets from their heavenly towers,
And in her face, divinely eloquent,
Gave them a firmament.
God made her heart of rosy ice and fire,
Of snow and flame, that freezes while it burns;
And of a starbeam and a moth's desire
He made her soul, to'ards which my longing turns,
And all my being yearns.
So is my life a prisoner unto passion,
Enslaved of her who gives nor sign nor word;
So in the cage her loveliness doth fashion
Is love endungeoned, like a golden bird
That sings but is not heard.
Could it but once convince her with beseeching!
But once compel her as the sun the South!
Could it but once, fond arms around her reaching,
Upon the red carnation of her mouth
Dew its eternal drouth!
Then might I rise victorious over sadness,
O'er fate and change, and, with but little care,
Torched by the glory of that moment's gladness,
Breast the black mountain of my life's despair,
And die or do and dare.
"The December Rose" by Edith Nesbit
Here's a rose that blows for Chloe,
Fair as ever a rose in June was,
Now the garden's silent, snowy,
Where the burning summer noon was.
In your garden's summer glory
One poor corner, shelved and shady,
Told no rosy, radiant story,
Grew no rose to grace its lady.
What shuts sun out shuts out snow too;
From his nook your secret lover
Shows what slighted roses grow to
When the rose you chose is over.
"Words for Departure" by Louise Bogan
Nothing was remembered, nothing forgotten.
When we awoke, wagons were passing on the warm summer pavements,
The window-sills were wet from rain in the night,
Birds scattered and settled over chimneypots
As among grotesque trees.
Nothing was accepted, nothing looked beyond.
Slight-voiced bells separated hour from hour,
The afternoon sifted coolness
And people drew together in streets becoming deserted.
There was a moon, and light in a shop-front,
And dusk falling like precipitous water.
Hand clasped hand,
Forehead still bowed to forehead—
Nothing was lost, nothing possessed,
There was no gift nor denial.
I have remembered you.
You were not the town visited once,
Nor the road falling behind running feet.
You were as awkward as flesh
And lighter than frost or ashes.
You were the rind,
And the white-juiced apple,
The song, and the words waiting for music.
You have learned the beginning;
Go from mine to the other.
Be together; eat, dance, despair,
Sleep, be threatened, endure.
You will know the way of that.
But at the end, be insolent;
Be absurd—strike the thing short off;
Be mad—only do not let talk
Wear the bloom from silence.
And go away without fire or lantern.
Let there be some uncertainty about your departure.
"Never Give All The Heart" by William Butler Yeats
Never give all the heart, for love
Will hardly seem worth thinking of
To passionate women if it seem
Certain, and they never dream
That it fades out from kiss to kiss;
For everything that's lovely is
But a brief, dreamy, kind delight.
O never give the heart outright,
For they, for all smooth lips can say,
Have given their hearts up to the play.
And who could play it well enough
If deaf and dumb and blind with love?
He that made this knows all the cost,
For he gave all his heart and lost.
"The Call of the Wild" by Alexander Posey
I'm tired of the gloom
In a four-walled room;
Heart-weary, I sigh
For the open sky,
And the solitude
Of the greening wood;
Where the bluebirds call,
And the sunbeams fall,
And the daisies lure
The soul to be pure.
I'm tired of the life
In the ways of strife;
Heart-weary, I long
For the river's song,
And the murmur of rills
In the breezy hills;
Where the pipe of Pan—
The hairy half-man—
The bright silence breaks
By the sleeping lakes.
"Heart's Desire" by Winifred M. Letts
My heart's desire was like a garden seen
On sudden through the opening of a door
In the grey sheet of life, unguessed before
But now how magic in sun-smitten green:
Wide cedar-shaded lawns, the glow and sheen
Of borders decked with all a gardener's lore,
Long shaven hedges of old yew, hung o'er
With gossamer, wide paths to please a queen,
Whose happy silken skirts would brush the dew
From peonies and lupins white and blue.
Enchanted, there I lingered for a space,
Forgetful of the street, of tasks to do.
But when I would have entered that sweet place
The wind rose and the door slammed in my face.
"The Heart Unseen" by Richard Le Gallienne
So many times the heart can break,
So many ways,
Yet beat along and beat along
So many days.
A fluttering thing we never see,
And only hear
When some stern doctor to our side
Presses his ear.
Strange hidden thing, that beats and beats
We know not why,
And makes us live, though we indeed
Would rather die.
Mysterious, fighting, loving thing,
So sad, so true –
I would my laughing eyes some day
Might look on you.
"The Silver Music" by Ford Madox Ford
In Chepstow stands a castle;
My love and I went there;
The foxgloves on the wall all heard
Her footsteps on the stair.
The sun was high in heaven,
And the perfume on the air
Came from purple cat's valerian…
But her footsteps on the stair
Made a sound like silver music
Thro' the perfume in the air.
Oh I'm weary for the castle,
And I'm weary for the Wye,
And the flowered walls are purple
And the purple walls are high.
And above the cat's valerian
The foxgloves brush the sky.
But I must plod along the road
That leads to Germany.
And another soldier fellow
Shall come courting of my dear
And it's I shall not be with her
With my lips beside her ear.
For it's he shall walk beside her
In the perfume of the air
To the silver silver music
Of her footstep on the stair.
"The Wound" by Thomas Hardy
I climbed to the crest,
And, fog-festooned,
The sun lay west
Like a crimson wound:
Like that wound of mine
Of which none knew,
For I'd given no sign
That it pierced me through.
"Summer Morn in New Hampshire" by Claude McKay
All yesterday it poured, and all night long
I could not sleep; the rain unceasing beat
Upon the shingled roof like a weird song,
Upon the grass like running children's feet.
And down the mountains by the dark cloud kissed,
Like a strange shape in filmy veiling dressed,
Slid slowly, silently, the wraith-like mist,
And nestled soft against the earth's wet breast.
But lo, there was a miracle at dawn!
The still air stirred at touch of the faint breeze,
The sun a sheet of gold bequeathed the lawn,
The songsters twittered in the rustling trees.
And all things were transfigured in the day,
But me whom radiant beauty could not move;
For you, more wonderful, were far away,
And I was blind with hunger for your love.
"Patience" by D. H. Lawrence
A wind comes from the north
Blowing little flocks of birds
Like spray across the town,
And a train, roaring forth,
Rushes stampeding down
With cries and flying curds
Of steam, out of the darkening north.
Whither I turn and set
Like a needle steadfastly,
Waiting ever to get
The news that she is free;
But ever fixed, as yet,
To the lode of her agony.
"A Winter's Tale" by D. H. Lawrence
Yesterday the fields were only grey with scattered snow,
And now the longest grass-leaves hardly emerge;
Yet her deep footsteps mark the snow, and go
On towards the pines at the hills' white verge.
I cannot see her, since the mist's white scarf
Obscures the dark wood and the dull orange sky;
But she's waiting, I know, impatient and cold, half
Sobs struggling into her frosty sigh.
Why does she come so promptly, when she must know
That she's only the nearer to the inevitable farewell;
The hill is steep, on the snow my steps are slow –
Why does she come, when she knows what I have to tell?
Painful Poems About Loving Someone In Silence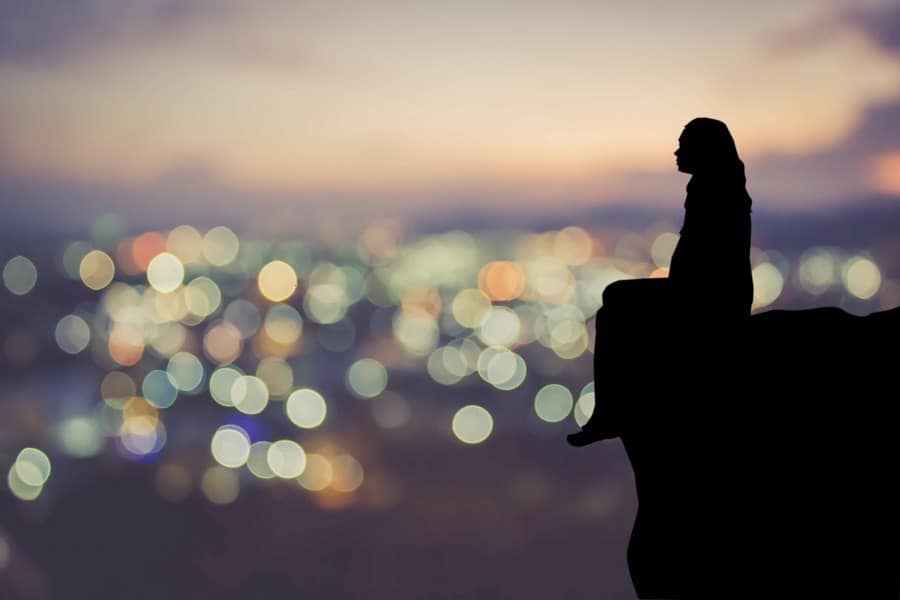 "Love's Secret" by William Blake
Never seek to tell thy love,
Love that never told can be;
For the gentle wind doth move
Silently, invisibly.
I told my love, I told my love,
I told her all my heart,
Trembling, cold, in ghastly fears.
Ah! she did depart!
Soon after she was gone from me,
A traveller came by,
Silently, invisibly:
He took her with a sigh.
"A Cry" by Sara Teasdale
Oh, there are eyes that he can see,
And hands to make his hands rejoice,
But to my lover I must be
Only a voice.
Oh, there are breasts to bear his head,
And lips whereon his lips can lie,
But I must be till I am dead
Only a cry.
"Choice" by Angela Morgan
I'd rather have the thought of you
To hold against my heart,
My spirit to be taught of you
With west winds blowing,
Than all the warm caresses
Of another love's bestowing,
Or all the glories of the world
In which you had no part.
I'd rather have the theme of you
To thread my nights and days,
I'd rather have the dream of you
With faint stars glowing,
I'd rather have the want of you,
The rich, elusive taunt of you
Forever and forever and forever unconfessed
Than claim the alien comfort
Of any other's breast.
O lover! O my lover,
That this should come to me!
I'd rather have the hope for you,
Ah, Love, I'd rather grope for you
Within the great abyss
Than claim another's kiss —
Alone I'd rather go my way
Throughout eternity.
"Old Wine" by Margaret Widdemer
If I could lift
My heart but high enough
My heart could fill with love:
But ah, my heart
Too still and heavy stays
Too brimming with old days.
"We Parted in Silence" by Louisa Macartney Crawford
We parted in silence, we parted by night,
On the banks of that lonely river;
Where the fragrant limes their boughs unite,
We met—and we parted forever!
The night-bird sung, and the stars above
Told many a touching story,
Of friends long passed to the kingdom of love,
Where the soul wears its mantle of glory.
We parted in silence,—our cheeks were wet
With the tears that were past controlling;
We vowed we would never, no, never forget,
And those vows at the time were consoling;
But those lips that echoed the sounds of mine
Are as cold as that lonely river;
And that eye, that beautiful spirit's shrine,
Has shrouded its fires forever.
And now on the midnight sky I look,
And my heart grows full of weeping;
Each star is to me a sealèd book,
Some tale of that loved one keeping.
We parted in silence,—we parted in tears,
On the banks of that lonely river:
But the odor and bloom of those bygone years
Shall hang o'er its waters forever.
"He Would Not Stay for Me, and Who Can Wonder" by A. E. Housman
He would not stay for me, and who can wonder?
He would not stay for me to stand and gaze.
I shook his hand, and tore my heart in sunder,
And went with half my life about my ways.
"Renouncement" by Alice Meynell
I must not think of thee; and, tired yet strong,
I shun the thought that lurks in all delight—
The thought of thee—and in the blue heaven's height,
And in the sweetest passage of a song.
Oh, just beyond the fairest thoughts that throng
This breast, the thought of thee waits hidden yet bright;
But it must never, never come in sight;
I must stop short of thee the whole day long.
But when sleep comes to close each difficult day,
When night gives pause to the long watch I keep,
And all my bonds I needs must loose apart,
Must doff my will as raiment laid away,—
With the first dream that comes with the first sleep
I run, I run, I am gathered to thy heart.
"A Maiden" by Sara Teasdale
Oh if I were the velvet rose
Upon the red rose vine,
I'd climb to touch his window
And make his casement fine.
And if I were the little bird
That twitters on the tree,
All day I'd sing my love for him
Till he should harken me.
But since I am a maiden
I go with downcast eyes,
And he will never hear the songs
That he has turned to sighs.
And since I am a maiden
My love will never know
That I could kiss him with a mouth
More red than roses blow.
"The Barrier" by Claude McKay
I must not gaze at them although
Your eyes are dawning day;
I must not watch you as you go
Your sun-illumined way;
I hear but I must never heed
The fascinating note,
Which, fluting like a river reed,
Comes from your trembling throat;
I must not see upon your face
Love's softly glowing spark;
For there's the barrier of race,
You're fair and I am dark.
"Sonnet VII" by Edna St. Vincent Millay
When I too long have looked upon your face,
Wherein for me a brightness unobscured
Save by the mists of brightness has its place,
And terrible beauty not to be endured,
I turn away reluctant from your light,
And stand irresolute, a mind undone,
A silly, dazzled thing deprived of sight
From having looked too long upon the sun.
Then is my daily life a narrow room
In which a little while, uncertainly,
Surrounded by impenetrable gloom,
Among familiar things grown strange to me
Making my way, I pause, and feel, and hark,
Till I become accustomed to the dark.
"In the Orchard" by Muriel Stuart
"I thought you loved me." "No, it was only fun."
"When we stood there, closer than all?" "Well, the harvest moon
"Was shining and queer in your hair, and it turned my head."
"That made you?" "Yes." "Just the moon and the light it made
"Under the tree?" "Well, your mouth, too." "Yes, my mouth?"
"And the quiet there that sang like the drum in the booth.
"You shouldn't have danced like that." "Like what?" "So close,
"With your head turned up, and the flower in your hair, a rose
"That smelt all warm." "I loved you. I thought you knew
"I wouldn't have danced like that with any but you."
"I didn't know. I thought you knew it was fun."
"I thought it was love you meant." "Well, it's done." "Yes, it's done.
"I've seen boys stone a blackbird, and watched them drown
"A kitten … it clawed at the reeds, and they pushed it down
"Into the pool while it screamed. Is that fun, too?"
"Well, boys are like that … Your brothers…" "Yes, I know.
"But you, so lovely and strong! Not you! Not you!"
"They don't understand it's cruel. It's only a game."
"And are girls fun, too?" "No, still in a way it's the same.
"It's queer and lovely to have a girl…" "Go on."
"It makes you mad for a bit to feel she's your own,
"And you laugh and kiss her, and maybe you give her a ring,
"But it's only in fun." "But I gave you everything."
"Well, you shouldn't have done it. You know what a fellow thinks
"When a girl does that." "Yes, he talks of her over his drinks
"And calls her a—" "Stop that now. I thought you knew."
"But it wasn't with anyone else. It was only you."
"How did I know? I thought you wanted it too.
"I thought you were like the rest. Well, what's to be done?"
"To be done?" "Is it all right?" "Yes." "Sure?" "Yes, but why?"
"I don't know. I thought you were going to cry.
"You said you had something to tell me." "Yes, I know.
"It wasn't anything really … I think I'll go."
"Yes, it's late. There's thunder about, a drop of rain
"Fell on my hand in the dark. I'll see you again
"At the dance next week. You're sure that everything's right?"
"Yes." "Well, I'll be going." "Kiss me…" "Good night." …
"Good night."
"All That Love Asks" by Ella Wheeler Wilcox
"All that I ask," says Love, "is just to stand
And gaze, unchided, deep in thy dear eyes;
For in their depths lies largest Paradise.
Yet, if perchance one pressure of thy hand
Be granted me, then joy I thought complete
Were still more sweet."
"All that I ask," says Love, "all that I ask,
Is just thy hand clasp. Could I brush thy cheek
As zephyrs brush a rose leaf, words are weak
To tell the bliss in which my soul would bask.
There is no language but would desecrate
A joy so great."
"All that I ask, is just one tender touch
Of that soft cheek. Thy pulsing palm in mine,
Thy dark eyes lifted in a trust divine
And those curled lips that tempt me overmuch
Turned where I may not seize the supreme bliss
Of one mad kiss.
"All that I ask," says Love, "of life, of death.
Or of high heaven itself, is just to stand,
Glance melting into glance, hand twined in hand,
The while I drink the nectar of thy breath,
In one sweet kiss, but one, of all thy store,
I ask no more."
"All that I ask "–nay, self-deceiving Love,
Reverse thy phrase, so thus the words may fall,
In place of "all I ask," say, "I ask all,"
All that pertains to earth or soars above,
All that thou weft, art, will be, body, soul,
Love asks the whole.
"A Winter Night" by Sara Teasdale
My window-pane is starred with frost,
The world is bitter cold to-night,
The moon is cruel, and the wind
Is like a two-edged sword to smite.
God pity all the homeless ones,
The beggars pacing to and fro,
God pity all the poor to-night
Who walk the lamp-lit streets of snow.
My room is like a bit of June,
Warm and close-curtained fold on fold,
But somewhere, like a homeless child,
My heart is crying in the cold.
"My Heart Shall Be Thy Garden" by Alice Christiana Gertrude Thompson Meynell
My heart shall be thy garden. Come, my own,
Into thy garden; thine be happy hours
Among my fairest thoughts, my tallest flowers,
From root to crowning petal, thine alone.
Thine is the place from where the seeds are sown
Up to the sky enclosed, with all its showers.
But ah, the birds, the birds! Who shall build bowers
To keep these thine? O friend, the birds have flown.
For as these come and go, and quit our pine
To follow the sweet season, or, new-comers,
Sing one song only from our alder-trees.
My heart has thoughts, which, though thine eyes hold mine,
Flit to the silent world and other summers,
With wings that dip beyond the silver seas.
"Sonnet V" by Edna St. Vincent Millay
If I should learn, in some quite casual way,
That you were gone, not to return again–
Read from the back-page of a paper, say,
Held by a neighbour in a subway train,
And such a street (so are the papers filled)
A hurrying man–who happened to be you–
At noon to-day had happened to be killed,
I should not cry aloud–I could not cry
Aloud, or wring my hands in such a place–
I should but watch the station lights rush by
With a more careful interest on my face,
Or raise my eyes and read with greater care
Where to store furs and how to treat the hair.
Unrequited Love Poems
"Unrequited" by Madison Julius Cawein
Passion? not hers! who held me with pure eyes:
One hand among the deep curls of her brow,
I drank the girlhood of her gaze with sighs:
She never sighed, nor gave me kiss or vow.
So have I seen a clear October pool,
Cold, liquid topaz, set within the sere
Gold of the woodland, tremorless and cool,
Reflecting all the heartbreak of the year.
Sweetheart? not she! whose voice was music-sweet;
Whose face loaned language to melodious prayer.
Sweetheart I called her. – When did she repeat
Sweet to one hope, or heart to one despair!
So have I seen a wildflower's fragrant head
Sung to and sung to by a longing bird;
And at the last, albeit the bird lay dead,
No blossom wilted, for it had not heard.
"You Say You Love" by John Keats
You say you love; but with a voice
Chaster than a nun's, who singeth
The soft Vespers to herself
While the chime-bell ringeth –
O love me truly!
You say you love; but with a smile
Cold as sunrise in September,
As you were Saint Cupid's nun,
And kept his weeks of Ember.
O love me truly!
You say you love – but then your lips
Coral tinted teach no blisses.
More than coral in the sea –
They never pout for kisses –
O love me truly!
You say you love; but then your hand
No soft squeeze for squeeze returneth,
It is like a statue's dead –
While mine to passion burneth –
O love me truly!
O breathe a word or two of fire!
Smile, as if those words should burn be,
Squeeze as lovers should – O kiss
And in thy heart inurn me!
O love me truly!
"Lost Love" by Thomas Hardy
I play my sweet old airs –
The airs he knew
When our love was true –
But he does not balk
His determined walk,
And passes up the stairs.
I sing my songs once more,
And presently hear
His footstep near
As if it would stay;
But he goes his way,
And shuts a distant door.
So I wait for another morn
And another night
In this soul-sick blight;
And I wonder much
As I sit, why such
A woman as I was born!
"Unloved" by Rose Hawthorne Lathrop
Paler than the water's white
Stood the maiden in the shade,
And more silent than the night
Were her lips together laid;
Eyes she hid so long and still
By lids wet with unshed tears,
Hands she loosely clasped at will,
Though her heart was full of fears.
Never, never, never more
May her soul with joy be moved;
Silent, silent, silent, – for
He was silent whom she loved.
"The Dream" by Edna St. Vincent Millay
Love, if I weep it will not matter,
And if you laugh I shall not care;
Foolish am I to think about it,
But it is good to feel you there.
Love, in my sleep I dreamed of waking, —
White and awful the moonlight reached
Over the floor, and somewhere, somewhere,
There was a shutter loose, —it screeched!
Swung in the wind, — and no wind blowing! —
I was afraid, and turned to you,
Put out my hand to you for comfort, —
And you were gone! Cold, cold as dew,
Under my hand the moonlight lay!
Love, if you laugh I shall not care,
But if I weep it will not matter, —
Ah, it is good to feel you there!
"Lady, Lady" by Anne Spencer
Lady, Lady, I saw your face,
Dark as night withholding a star . . .
The chisel fell, or it might have been
You had borne so long the yoke of men.
Lady, Lady, I saw your hands,
Twisted, awry, like crumpled roots,
Bleached poor white in a sudsy tub,
Wrinkled and drawn from your rub-a-dub.
Lady, Lady, I saw your heart,
And altared there in its darksome place
Were the tongues of flame the ancients knew,
Where the good God sits to spangle through.
"Louise Smith" by Edgar Lee Masters
Herbert broke our engagement of eight years
When Annabelle returned to the village
From the Seminary, ah me!
If I had let my love for him alone
It might have grown into a beautiful sorrow –
Who knows? – filling my life with healing fragrance.
But I tortured it, I poisoned it,
I blinded its eyes, and it became hatred –
Deadly ivy instead of clematis.
And my soul fell from its support,
Its tendrils tangled in decay.
Do not let the will play gardener to your soul
Unless you are sure
It is wiser than your soul's nature.
"Desolation" by Ella Wheeler Wilcox
I think that the bitterest sorrow or pain
Of love unrequited, or cold death's wo,
Is sweet, compared to that hour when we know
That some grand passion is on the wane.
When we see that the glory, and glow, and grace
Which lent a splendor to night and day,
Are surely fading, and showing the gray
And dull groundwork of the commonplace
When fond expressions on dull ears fall,
When the hands clasp calmly without one thrill,
When we cannot muster by force of will
The old emotions that came at call.
When the dream has vanished we fain would keep,
When the heart, like a watch, runs out of gear,
And all the savor goes out of the year,
Oh, then is the time–if we could–to weep!
But no tears soften this dull, pale wo,
We must sit and face it with dry, sad eyes.
If we seek to hold it, the swifter joy flies–
We can only be passive, and let it go.
"O, Were I Loved as I Desire to Be!" by Alfred Lord Tennyson
O, were I loved as I desire to be!
What is there in the great sphere of the earth,
Or range of evil between death and birth,
That I should fear, – if I were loved by thee!
All the inner, all the outer world of pain,
Clear love would pierce and cleave, if thou wert mine;
As I have heard that somewhere in the main
Fresh-water springs come up through bitter brine.
'I were joy, not fear, clasped hand in hand with thee,
To wait for death – mute – careless of all ills,
Apart upon a mountain, though the surge
Of some new deluge from a thousand hills
Flung leagues of roaring foam into the gorge
Below us, as far on as eye could see.
"The Broken Heart" by Samuel Griswold Goodrich
Oh think not with love's soft token,
Or music my heart to thrill
For its strings its strings are broken,
And the chords would fain be still!
Oh think not to waken the measure
Of joy on a ruined lute
Think not to waken pleasure,
Where grief sits mourning and mute.
The pearls that gleam in the billow,
But darken the gloom of the deep
And laughter plants the pillow
With thorns, where sorrow would sleep.
The gems that gleam on the finger
Of her who is sleeping and cold,
But wring the hearts that linger.
And dream of the love they told.
My bosom is but a grave,
My breast a voiceless choir
Speak not to the echoless cave,
Touch not the broken lyre!
"Ashes of Life" by Edna St. Vincent Millay
Love has gone and left me and the days are all alike;
Eat I must, and sleep I will, — and would that night were here!
But ah! — to lie awake and hear the slow hours strike!
Would that it were day again! — with twilight near!
Love has gone and left me and I don't know what to do;
This or that or what you will is all the same to me;
But all the things that I begin I leave before I'm through, —
There's little use in anything as far as I can see.
Love has gone and left me, — and the neighbors knock and borrow,
And life goes on forever like the gnawing of a mouse, —
And to-morrow and to-morrow and to-morrow and to-morrow
There's this little street and this little house.
"I Waited Til the Twilight" by Charles Swain
I waited till the twilight,
And yet he did not come ;
I strayed along the brookside,
And slowly wandered home ;
When who should come behind me,
But him I would have chid ;
He said he came to find me
Do you really think he did?
He said since last we parted ,
He'd thought of naught so sweet,
As of this very moment, –
The moment we should meet.
He showed me where, half- shaded,
A cottage home lay hid ;
He said for me he'd made it
Do you really think he did?
He said when first he saw me,
Life seemed at once divine,
Each night he dreamed of angels,
And every face was mine ;
Sometimes, a voice in sleeping,
Would all his hopes forbid ;
And then he'd waken weeping —
Do you really think he did?