Here are the 85 best handpicked poems about stars categorized:
Short poems on stars
Poems about stars and love
Poems about stars and death
Poems about stars and space
Famous poems about stars
So if you want the best collection of poems about stars, then you're in the right place.
Let's get started!
Disclaimer: This post contains affiliate links, we may earn a commission at no extra cost to you.
Our Handpicked Poems About Stars
Discover the mysteries of starry poetry through our collection where verses twinkle and shimmer like distant constellations, guiding us through a universe of wonder and dreams!
Be dazzled by these compact and delightful verses that capture the essence of stars in just a few lines and experience the cosmic magic of timeless works from renowned poets who found inspiration in the majesty of stars.
If you're seeking for a quick dose of starry enchantment or desire to delve into the depths of star-spun poetry, our collection has the best star-themed poems to offer.
Celebrate the cosmic wonders that have captivated poets throughout history, and let these luminous verses illuminate your path through the celestial tapestry of stars.
Join us in this epic cosmic journey.
Let's get straight to it!
🌕🧘‍♀️ Moon Reading below
Were you born on an Aries Full Moon? Or was it a Libra Waning Gibbous? And what does it all mean?
The sign and phase of the moon at the exact moment of your birth reveals more about you than you could possibly imagine.
Together they influence your strengths and passions . . . and reveal your potential for abundance, love and prosperity.
I was born under a Pisces Full Moon, and it was eye opening to discover how that led me on the journey I have taken so far–and what it means for my future.
If you'd like to understand how the Moon shapes your very existence . . .
Then you must find out what your Moon Sign & Moon Phase say about you.
My Favorite Poem About Stars
Stars
by Robert Frost

How countlessly they congregate
O'er our tumultuous snow,
Which flows in shapes as tall as trees
When wintry winds do blow!—

As if with keenness for our fate,
Out faltering few steps on
To white rest, and a place of rest
Invisible at dawn,—

And yet with neither love nor hate,
Those stars like some snow-white
Minerva's snow-white marble eyes
Without the gift of sight.
Short Poems on Stars
Summer Stars
by Carl Sandburg

Bend low again, night of summer stars.
So near you are, sky of summer stars,
So near, a long-arm man can pick off stars,
Pick off what he wants in the sky bowl,
So near you are, summer stars,
So near, strumming, strumming,
So lazy and hum-strumming.
The Star
by Douglas Ainslie

You move upon the earth as one
New lit from off the car
That God Apollo guides, the Sun—
And in your hand, a Star;
For in your perfect form unite
Divided hemispheres,
The joy of day, the bliss of night—
Sun raptures, moonlit tears.
These words of love, I tell them o'er,
As monk his rosary—
We know the visions we adore
Are bright Reality.
A Starry Night
by Paul Laurence Dunbar

A cloud fell down from the heavens,
And broke on the mountain's brow;
It scattered the dusky fragments
All over the vale below.

The moon and the stars were anxious
To know what its fate might be;
So they rushed to the azure op'ning,
And all peered down to see.
The Stars
by Madison Julius Cawein

These– the bright symbols of man's hope and fame,
In which he reads his blessing or his curse–
Are syllables with which God speaks His name
In the vast utterance of the universe.
Baby Toes
by Carl Sandburg

There is a blue star, Janet,
Fifteen years' ride from us,
If we ride a hundred miles an hour.
There is a white star, Janet,
Forty years' ride from us,
If we ride a hundred miles an hour.
Shall we ride
To the blue star
Or the white star?
Christmas Day And Every Day
by George MacDonald

Star high,
Baby low:
'Twixt the two
Wise men go;
Find the baby,
Grasp the star–
Heirs of all things
Near and far!
The Star
by Lola Ridge

Last night
I watched a star fall like a great pearl into the sea,
Till my ego expanding encompassed sea and star,
Containing both as in a trembling cup.
Lightly stepped a yellow star
by Emily Dickinson

Lightly stepped a yellow star
To its lofty place,
Loosed the Moon her silver hat
From her lustral face.
All of evening softly lit
As an astral hall—
"Father," I observed to Heaven,
"You are punctual."
Stars and Flowers
by Ethelwyn Wetherald

The stars enchant the upper skies
The flowers chain the feet
They look into each other's eyes
And flame and fragrance meet

So will it be when Death unbars
These slender doors of ours
And turns our spirits into stars
Our bodies into flowers.
My Star
by Robert Browning

All that I know
Of a certain star,
Is, it can throw
(Like the angled spar)
Now a dart of red,
Now a dart of blue,
Till my friends have said
They would fain see, too,
My star that dartles the red and the blue!
Then it stops like a bird; like a flower, hangs furled:
They must solace themselves with the Saturn above it.
What matter to me if their star is a world?
Mine has opened its soul to me; therefore I love it.
I Know The Stars
by Sara Teasdale

I know the stars by their names,
Aldebaran, Altair,
And I know the path they take
Up heaven's broad blue stair.
I know the secrets of men
By the look of their eyes,
Their gray thoughts, their strange thoughts
Have made me sad and wise.
But your eyes are dark to me
Though they seem to call and call,
I cannot tell if you love me
Or do not love me at all.
I know many things,
But the years come and go,
I shall die not knowing
The thing I long to know.
Fragment – Stars.
by Madison Julius Cawein

The fields of space gleam bright, as if some ancient giant, old
As the moon and her extinguished mountains,
Had dipped his fingers huge into the twilight's sea of gold
And sprinkled all the heavens from these fountains.
From "Mad Moments"
by Henry Ellison

The stars come forth, a silent hymn of praise
To the great God, and shining every one,
Make up the glorious harmony, led on
By Hesperus their Chorister; each plays
A part in the grand concert with its rays,
And yet so stilly, modestly, as none
Claimed to himself ought of the good thus done
By all together, mingled in soft blaze.
Each has his path, there moves unerringly,
Nor seeks for empty fame, do we as they.
Let each soul lend its utmost light, each play
In the grand concert of Humanity
Its destined part;—then mankind on its way
Shall move as surely as those stars on high.
The Falling Star
by Rosa Newmarch

One star has left its purple track
And from the happy skies
Has pierced that ocean blind and black,
Whence never star nor ship came back,
Where hope extinguished lies.
O fall not thou, my star, whose light
Is all too dear for speech,
To hidden deeps, where stark and white
My wrecked hopes drift through gulfs too dark
For love's own lamp to reach.
Wind and Stars
by Isa (Craig) Knox

The stars are shining fixt and bright,
I stand upon the windy height,
Alone with sorrow and the night.
O stars so high, from earth apart,
Ye are the hopes that stirred my heart;
O wind, its beating wings thou art.
The wind may rave, the starry spheres
Unheeding shine, nor moved by fears
Nor shaken into trembling tears.
O hush, wild heart, regarded not,
Sink to the level of thy lot,
In pity sink, and be forgot.
The Star
by Alice Corbin

I saw a star fall in the night,
And a grey moth touched my cheek;
Such majesty immortals have,
Such pity for the weak
From "Incidentals"
by Hi Simons

When the "screws" had made their last round
And the lights in the cells were out,
I arose and peered out the window.
And just over the edge of the prison-wall
I saw a tiny, twinkling, yellow star
Furtively winking at me,
Like the eye of the Infinite;
Mischievously happy
Because it had slipped me a bit of joy
Over the wall, from "the outside."
Star Thought
by Frances Shaw

I shall see a star tonight
From a distant mountain height;
From a city you will see
The same star that shines on me.
'Tis not of the firmament
On a solar journey bent;
Fixed it is through time and weather;—
'Tis a thought we hold together.
From "Under the Tree"
by Elizabeth Madox Roberts

O little one, away so far,
You cannot hear me when I sing.
You cannot tell me what you are,
I cannot tell you anything.
From "A Sailor's Note-book"
by Robert J. Roe

I lie on mine back
Un look at stars—
So bright, so thick,
Sailing like Portugee men-o'-wars;
Un I ask myself how many stars can be
Un how far.
But I am only one little man
On one little ship
Sailing ninety days to one port,
Un I think I am mighty big business.
Stars ain't Portugee men-o'-wars.
The Stars
by Park Benjamin

What marvel is it, that, in other lands
And ancient days, men worshipped the divine
And brilliant majesty of stars that shine
Pure in their lofty spheres, like angel-bands?
With a deep reverence, when evening came,
With her high train of shadows, have I bowed
Beneath the heaven, as each new-lighted flame
Glowed in the sapphire free from mist or cloud:
A holy presence seemed to fill the air,
Invisible spirits, such as live in dreams,
Came floating down on their celestial beams,
And from my heart there rose a silent prayer.
What marvel, then, that men of yore could see
In each bright star a glorious deity?
The Star
by Mrs. Elizabeth Jesup Eames

There is a star—Eve's fairest and her first—
That with unaltered beauty ever shineth:
What visions of the heart its light once nursed!
Ah! Hope's fair hand no more her rose-wreath twineth!
Beneath thy silvery rays, O peerless Star,
The beautiful floats dimly and afar.
The fair ideal wrought of the poet's dreaming
Hath left me with an ever-pining heart:
No more my fancy, with bright visions teeming,
Brings to these idle lines the inspiréd art,
O Angel of my youth! return once more,
And 'neath this star, which is to me a shrine,
The enchanted lamp of poesy restore,
And fill my lone heart with its light divine!
🌕🧘‍♀️ Moon Reading below
Were you born on an Aries Full Moon? Or was it a Libra Waning Gibbous? And what does it all mean?
The sign and phase of the moon at the exact moment of your birth reveals more about you than you could possibly imagine.
Together they influence your strengths and passions . . . and reveal your potential for abundance, love and prosperity.
I was born under a Pisces Full Moon, and it was eye opening to discover how that led me on the journey I have taken so far–and what it means for my future.
If you'd like to understand how the Moon shapes your very existence . . .
Then you must find out what your Moon Sign & Moon Phase say about you.
Poems About Stars and Love
The Earthworm And The Star.
by Charles Hamilton Musgrove

An Earthworm once loved a Star. In the hush of the summer night,
He lay quite close to the ground and gazed on its golden light;
He looked from his house of clay, and dreamed of wonderful things,
Till, lo! (as he thought) his longing brought forth miraculous wings.

The Butterfly soared in the air, straight toward the beckoning spark;
His wings grew weary and chill, but the Star smiled through the dark;
His wings grew heavy and cold, the wings that he dreamed love gave,
And he folded them there in the starlight, and the dust became his grave.
In a Boat
by D.H. Lawrence

See the stars, love,
In the water much clearer and brighter
Than those above us, and whiter,
Like nenuphars.
Star-shadows shine, love,
How many stars in your bowl?
How many shadows in your soul,
Only mine, love, mine?
When I move the oars, love,
See how the stars are tossed,
Distorted, the brightest lost.
—So that bright one of yours, love.
The poor waters spill
The stars, waters broken, forsaken.
—The heavens are not shaken, you say, love,
Its stars stand still.
There, did you see
That spark fly up at us; even
Stars are not safe in heaven.
—What of yours, then, love, yours?
What then, love, if soon
Your light be tossed over a wave?
Will you count the darkness a grave,
And swoon, love, swoon?
Shine Out, Stars!
by Thomas Moore

Shine out, Stars! let Heaven assemble
Round us every festal ray,
Lights that move not, lights that tremble,
All to grace this Eve of May.
Let the flower-beds all lie waking,
And the odors shut up there,
From their downy prisons breaking,
Fly abroad thro sea and air.

And Would Love, too, bring his sweetness,
With our other joys to weave,
Oh what glory, what completeness,
Then would crown this bright May Eve!
Shine out, Stars! let night assemble
Round us every festal ray,
Lights that move not, lights that tremble,
To adorn this Eve of May.
Star of My Heart
by Vachel Lindsay

Star of my heart, I follow from afar.
Sweet Love on high, lead on where shepherds are,
Where Time is not, and only dreamers are.
Star from of old, the Magi-Kings are dead
And a foolish Saxon seeks the manger-bed.
O lead me to Jehovah's child
Across this dreamland lone and wild,
Then will I speak this prayer unsaid,
And kiss his little haloed head –
"My star and I, we love thee, little child."

Except the Christ be born again to-night
In dreams of all men, saints and sons of shame,
The world will never see his kingdom bright.
Stars of all hearts, lead onward thro' the night
Past death-black deserts, doubts without a name,
Past hills of pain and mountains of new sin
To that far sky where mystic births begin,
Where dreaming ears the angel-song shall win.
Our Christmas shall be rare at dawning there,
And each shall find his brother fair,
Like a little child within:
All hearts of the earth shall find new birth
And wake, no more to sin.
Starlight.
by Nathaniel Parker Willis

The evening star will twinkle presently.
The last small bird is silent, and the bee
Has gone into his hive, and the shut flowers
Are bending as if sleeping on the stem,
And all sweet living things are slumbering
In the deep hush of nature's resting time.
The faded West looks deep, as if its blue
Were searchable, and even as I look,
The twilight hath stole over it, and made
Its liquid eye apparent, and above
To the far-stretching zenith, and around,
As if they waited on her like a queen,
Have stole out the innumerable stars
To twinkle like intelligence in heaven.
Is it not beautiful, my fair Adel?
Fit for the young affections to come out
And bathe in like an element! How well
The night is made for tenderness – so still
That the low whisper, scarcely audible,
Is heard like music, and so deeply pure
That the fond thought is chastened as it springs
And on the lip made holy. I have won
Thy heart, my gentle girl! but it hath been
When that soft eye was on me, and the love
I told beneath the evening influence
Shall be as constant as its gentle star.
The Star of Love.
by George Pope Morris

The star of love now shines above,
Cool zephyrs crisp the sea;
Among the leaves the wind-harp weaves
Its serenade for thee.
The star, the breeze, the wave, the trees,
Their minstrelsy unite,
But all are drear till thou appear
To decorate the night.

The light of noon streams from the moon,
Though with a milder ray
O'er hill and grove, like woman's love,
It cheers us on our way.
Thus all that's bright–the moon, the night,
The heavens, the earth, the sea,
Exert their powers to bless the hours
We dedicate to thee.
Poems About Stars and Death
Stars and Graves
by William Walsham How

The poet scanned with mighty awe
The mystery of Man;
He spake the strange things that he saw,
And thus it ran:—
"The silent stars are overhead,
The silent graves below:
A dream between—how quickly fled!—
Is all we know."
He pointed up—he pointed down—
The witnesses were there.
O'er the between a veil was thrown
He could not tear.
The Preacher saw the hand he raised,
And heard the words he spake;
And in his soul with grief amazed
A fire outbreak.
"Poet," he cried, "the things we see
They are not all we know;
The web of thy philosophy
I rend it so!"—
He pointed with his eager hand
Behind and then before,—
And there, and there, for ever stand
Two wonders more.
"The silent stars sing out with mirth,
The graves with grass are green:—
Christ cometh twice upon the earth;—
We live between!"
Flowers And Stars.
by Rosanna Eleanor Leprohon

"Beloved! thou'rt gazing with thoughtful look
On those flowers of brilliant hue,
Blushing in spring tide freshness and bloom,
Glittering with diamond dew:
What dost thou read in each chalice fair,
And what does each blossom say?
Do they not tell thee, my peerless one,
Thou'rt lovelier far than they?"

"Not so – not so, but they whisper low
That quickly will fade their bloom;
Soon will they withered lie on the sod,
Ravished of all perfume;
They tell that youth and beauty below
Are doomed, alas! to decay,
And I, like them, in life's flower and prime
May pass from this earth away."

"Too sad thy thoughts! Look up at yon stars,
That gleam in the sapphire skies;
Not clearer their radiance, best beloved,
Than the light of thine own dark eyes!
With no thoughts of death or sad decay,
Can they thy young spirit fill;
Through ages they've shone with changeless light,
And yet they are shining still!"

"Ah! they bring before my spirit's gaze
Dreams of that home so blessed,
Where those who have served the Master well
At length from their labors rest;
And do not chide if, despite all ties,
Of close-clinging earthly love,
There are times when I turn a wistful glance
To that distant home above."
Mahomed Akram's Appeal To The Stars
by Laurence Hope (Adela Florence Cory Nicolson)

Oh, Silver Stars that shine on what I love,
Touch the soft hair and sparkle in the eyes, –
Send, from your calm serenity above,
Sleep to whom, sleepless, here, despairing lies.

Broken, forlorn, upon the Desert sand
That sucks these tears, and utterly abased,
Looking across the lonely, level land,
With thoughts more desolate than any waste.

Planets that shine on what I so adore,
Now thrown, the hour is late, in careless rest,
Protect that sleep, which I may watch no more,
I, the cast out, dismissed and dispossessed.

Far in the hillside camp, in slumber lies
What my worn eyes worship but never see.
Happier Stars! your myriad silver eyes
Feast on the quiet face denied to me.

Loved with a love beyond all words or sense,
Lost with a grief beyond the saltest tear,
So lovely, so removed, remote, and hence
So doubly and so desperately dear!

Stars! from your skies so purple and so calm,
That through the centuries your secrets keep,
Send to this worn-out brain some Occult Balm,
Send me, for many nights so sleepless, sleep.

And ere the sunshine of the Desert jars
My sense with sorrow and another day,
Through your soft Magic, oh, my Silver Stars!
Turn sleep to Death in some mysterious way.
Poems About Stars and Space
The Treasure
by Robinson Jeffers

Mountains, a moment's earth-waves rising and hollowing; the earth too's an ephemerid; the stars—
Short-lived as grass the stars quicken in the nebula and dry in their summer, they spiral
Blind up space, scattered black seeds of a future; nothing lives long, the whole sky's
Recurrences tick the seconds of the hours of the ages of the gulf before birth, and the gulf
After death is like dated: to labor eighty years in a notch of eternity is nothing too tiresome,
Enormous repose after, enormous repose before, the flash of activity.
Surely you never have dreamed the incredible depths were prologue and epilogue merely
To the surface play in the sun, the instant of life, what is called life? I fancy
That silence is the thing, this noise a found word for it; interjection, a jump of the breath at that silence;
Stars burn, grass grows, men breathe: as a man finding treasure says 'Ah!' but the treasure's the essence;
Before the man spoke it was there, and after he has spoken he gathers it, inexhaustible treasure.
From "The Star-Treader"
by Clark Ashton Smith

A voice cried to me in a dawn of dreams,
Saying, "Make haste: the webs of death and birth
Are brushed away, and all the threads of earth
Wear to the breaking; spaceward gleams
Thine ancient pathway of the suns,
Whose flame is part of thee;
And deeps outreach immutably
Whose largeness runs
Through all thy spirit's mystery.
Go forth, and tread unharmed the blaze
Of stars where through thou camest in old days;
Pierce without fear each vast
Whose hugeness crushed thee not within the past.
A hand strikes off the chains of Time,
A hand swings back the door of years;
Now fall earth's bonds of gladness and of tears,
And opens the strait dream to space sublime."
How Oft, When Watching Stars.
by Thomas Moore

Oft, when the watching stars grow pale,
And round me sleeps the moonlight scene,
To hear a flute through yonder vale
I from my casement lean.
"Come, come, my love!" each note then seems to say,
"Oh, come, my love! the night wears fast away!"
Never to mortal ear
Could words, tho' warm they be,
Speak Passion's language half so clear
As do those notes to me!

Then quick my own light lute I seek,
And strike the chords with loudest swell;
And, tho' they naught to others speak,
He knows their language well.
"I come, my love!" each note then seems to say,
"I come, my love!–thine, thine till break of day."
Oh, weak the power of words,
The hues of painting dim
Compared to what those simple chords
Then say and paint to him!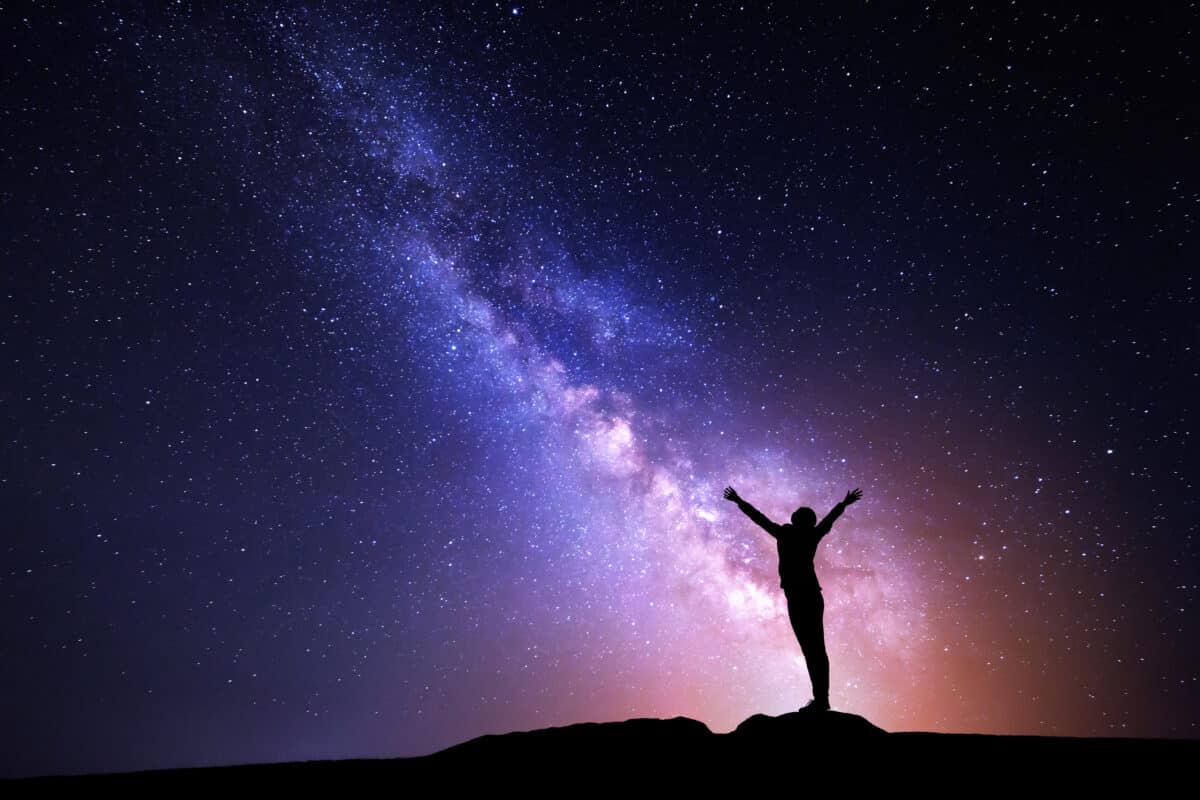 Hymn To The North Star.
by William Cullen Bryant

The sad and solemn night
Hath yet her multitude of cheerful fires;
The glorious host of light
Walk the dark hemisphere till she retires;
All through her silent watches, gliding slow,
Her constellations come, and climb the heavens, and go.

Day, too, hath many a star
To grace his gorgeous reign, as bright as they:
Through the blue fields afar,
Unseen, they follow in his flaming way:
Many a bright lingerer, as the eve grows dim,
Tells what a radiant troop arose and set with him.

And thou dost see them rise,
Star of the Pole! and thou dost see them set.
Alone, in thy cold skies,
Thou keep'st thy old unmoving station yet,
Nor join'st the dances of that glittering train,
Nor dipp'st thy virgin orb in the blue western main.

There, at morn's rosy birth,
Thou lookest meekly through the kindling air,
And eve, that round the earth
Chases the day, beholds thee watching there;
There noontide finds thee, and the hour that calls
The shapes of polar flame to scale heaven's azure walls.

Alike, beneath thine eye,
The deeds of darkness and of light are done;
High towards the star-lit sky
Towns blaze, the smoke of battle blots the sun,
The night-storm on a thousand hills is loud,
And the strong wind of day doth mingle sea and cloud.

On thy unaltering blaze
The half-wrecked mariner, his compass lost,
Fixes his steady gaze,
And steers, undoubting, to the friendly coast;
And they who stray in perilous wastes, by night,
Are glad when thou dost shine to guide their footsteps right.

And, therefore, bards of old,
Sages, and hermits of the solemn wood,
Did in thy beams behold
A beauteous type of that unchanging good,
That bright eternal beacon, by whose ray
The voyager of time should shape his heedful way.
Finis
by Clark Ashton Smith

It seemed that from the west
The live red flame of sunset,
Eating the dead blue sky
And cold insensate peaks,
Was loosened slowly, and fell.
Above it, a few red stars
Burned down like low candle-flames
Into the gaunt black sockets
Of the chill insensible mountains.
But in the ascendant skies
(Cloudless, like some vast corpse
Unfeatured, cerementless)
Succeeded nor star nor planet.
It may have been that black,
Pulseless, dead stars arose
And crossed as of old the heavens.
But came no living orb,
Nor comet seeming the ghost,
Homeless, of an outcast world,
Seeking its former place
That is no more nor shall be
In all the Cosmos again.
Null, blank, and meaningless
As a burnt scroll that blackens
With the passing of the fire,
Lay the dead infinite sky.[100]
Lo! in the halls of Time,
I thought, the torches are out—
The revelry of the gods,
Or lamentation of demons
For which their flames were lit,
Over and quiet at last
With the closing peace of night,
Whose dumb, dead, passionless skies
Enfold the living world
As the sea a sinking pebble.
The Return of Hyperion
by Clark Ashton Smith

The dungeon-clefts of Tartarus
Are just beyond yon mountain-girdle,
Whose mass is bound around the bulk
Of the dark, unstirred, unmoving East.
Alike on the mountains and the plain,
The night is as some terrific dream,
That closes the soul in a crypt of dread
Apart from touch or sense of earth,
As in the space of Eternity.
What light unseen perturbs the darkness?
Behold! it stirs and fluctuates
Between the mountains and the stars
That are set as guards above the prison
Of the captive Titan-god. I know
That in the deeps beneath, Hyperion
Divides the pillared vault of dark,
And stands a space upon its ruin.
Then light is laid upon the peaks,
As the hand of one who climbs beyond;
And, lo! the Sun! The sentinel stars
Are dead with overpotent flame,
And in their place Hyperion stands.
The night is loosened from the land,
As a dream from the mind of the dreamer.
A great wind blows across the dawn,
Like the wind of the motion of the world.
The Sky Is An Immortal Tent Built By The Sons Of Los
by William Blake

The sky is an immortal tent built by the Sons of Los:
And every space that a man views around his dwelling-place
Standing on his own roof or in his garden on a mount
Of twenty-five cubits in height, such space is his universe:
And on its verge the sun rises and sets, the clouds bow
To meet the flat earth and the sea in such an order'd space:
The starry heavens reach no further, but here bend and set
On all sides, and the two Poles turn on their valves of gold:
And if he moves his dwelling-place, his heavens also move
Where'er he goes, and all his neighbourhood bewail his loss.
Such are the spaces called Earth and such its dimension.
As to that false appearance which appears to the reasoner
As of a globe rolling through voidness, it is a delusion of Ulro.
The microscope knows not of this nor the telescope: they alter
The ratio of the spectator's organs, but leave objects untouch'd.
For every space larger than a red globule of Man's blood
Is visionary, and is created by the Hammer of Los;
And every space smaller than a globule of Man's blood opens
Into Eternity of which this vegetable Earth is but a shadow.
The red globule is the unwearied sun by Los created
To measure time and space to mortal men every morning
The Star
by Isaac Rieman Baxley

Because my seas are wide, and I
Whirl through a Planet-painted sky,
Because I dare to come and go
Through endlessness, and overflow
Of passion's still unfigured glow;
Because the eyes of men shall be
But where I take them carefully ,
The fate of men be fixed , and cast
Wherever path of mine is passed ,
All-helpless tenants of my day
Fade as my figure shrinks away;
Because I dance , and swim , and be
What all men cling to passionately
Upbraiding in their jealousy;
Because I bind them in my keep,
And hear them wail, and see them weep,
And still with heartless vigor run
My race immortal with the Sun,
What challenger shall rise and say
The Earth is fretful on her way?

I laugh when comes the little cry
Of trouble-mad mortality:
What! shall I bear thee, and invest
My body for thy joy and zest;
My beauty braid, and lips declare
For thee the lullabies of air;
My potions mix, for thee distil
Elixirs the starred spaces fill;
Shall I with tireless footsteps turn
Round the vast plains where planets burn,
Draw past the brilliant gazing globes
Of intense Suns my clouds and robes;
Sustain thee when the unknown gales
Drive into Heavenly climes and vales
Shall I do this, and then dare be
Rebellious to my Sovereignty?

Go then; forsake my wayward will;
If thou'rt a conqueror, go—fulfil
In some far Planet's starry eyes
The madness of thy destinies.
The Stars In Their Courses
by John Frederick Freeman

And now, while the dark vast earth shakes and rocks
In this wild dream-like snare of mortal shocks,
How look (I muse) those cold and solitary stars
On these magnificent, cruel wars?–
Venus, that brushes with her shining lips
(Surely!) the wakeful edge of the world and mocks
With hers its all ungentle wantonness?–
Or the large moon (pricked by the spars of ships
Creeping and creeping in their restlessness),
The moon pouring strange light on things more strange,
Looks she unheedfully on seas and lands
Trembling with change and fear of counterchange?

O, not earth trembles, but the stars, the stars!
The sky is shaken and the cool air is quivering.
I cannot look up to the crowded height
And see the fair stars trembling in their light,
For thinking of the starlike spirits of men
Crowding the earth and with great passion quivering:–
Stars quenched in anger and hate, stars sick with pity.
I cannot look up to the naked skies
Because a sorrow on dark midnight lies,
Death, on the living world of sense;
Because on my own land a shadow lies
That may not rise;
Because from bare grey hillside and rich city
Streams of uncomprehending sadness pour,
Thwarting the eager spirit's pure intelligence …
How look (I muse) those cold and solitary stars
On these magnificent, cruel wars?

Stars trembled in broad heaven, faint with pity.
An hour to dawn I looked. Beside the trees
Wet mist shaped other trees that branching rose,
Covering the woods and putting out the stars.
There was no murmur on the seas,
No wind blew–only the wandering air that grows
With dawn, then murmurs, sighs,
And dies.
The mist climbed slowly, putting out the stars,
And the earth trembled when the stars were gone;
And moving strangely everywhere upon
The trembling earth, thickened the watery mist.

And for a time the holy things are veiled.
England's wise thoughts are swords; her quiet hours
Are trodden underfoot like wayside flowers,
And every English heart is England's wholly.
In starless night
A serious passion streams the heaven with light.
A common beating is in the air–
The heart of England throbbing everywhere.
And all her roads are nerves of noble thought,
And all her people's brain is but her brain;
And all her history, less her shame,
Is part of her requickened consciousness.
Her courage rises clean again.

Even in victory there hides defeat;
The spirit's murdered though the body survives,
Except the cause for which, a people strives
Burn with no covetous, foul heat.
Fights she against herself who infamously draws
The sword against man's secret spiritual laws.
But thou, England, because a bitter heel
Hath sought to bruise the brain, the sensitive will,
The conscience of the world,
For this, England, art risen, and shalt fight
Purely through long profoundest night,
Making their quarrel thine who are grieved like thee;
And (if to thee the stars yield victory)
Tempering their hate of the great foe that hurled
Vainly her strength against the conscience of the world.

I looked again, or dreamed I looked, and saw
The stars again and all their peace again.
The moving mist had gone, and shining still
The moon went high and pale above the hill.
Not now those lights were trembling in the vast
Ways of the nervy heaven, nor trembled earth:
Profound and calm they gazed as the soft-shod hours passed.
And with less fear (not with less awe,
Remembering, England, all the blood and pain)
How look, I cried, you stern and solitary stars
On these disastrous wars!
From "In Early Spring"
by Alice Meynell

The poet mused upon the dusky height,
Between two stars towards night,
His purpose in his heart. I watched, a space,
The meaning of his face:
There was the secret, fled from earth and skies,
Hid in his grey young eyes.
My heart and all the Summer wait his choice,
And wonder for his voice.
Who shall foretell his songs, and who aspire
But to divine his lyre?
Sweet earth, we know thy dimmest mysteries,
But he is lord of his.
Creation
by George William Russell

As one by one the veils took flight,
The day withdrew, the stars came up:
The spirit issued dark and bright,
Filling thy beauty like a cup.

Sacred thy laughter on the air,
Holy thy lightest word that fell,
Proud the innumerable hair
That waved at the enchanter's spell.

Oh Master of the Beautiful,
Creating us from hour to hour,
Give me this vision to the full
To see in lightest things thy power!

This vision give, no heaven afar,
No throne, and yet I will rejoice,
Knowing beneath my feet a star,
Thy word in every wandering voice.
Day
by George William Russell

In day from some titanic past it seems
As if a thread divine of memory runs;
Born ere the Mighty One began his dreams,
Or yet were stars and suns.
But here an iron will has fixed the bars;
Forgetfulness falls on earth's myriad races:
No image of the proud and morning stars
Looks at us from their faces.
Yet yearning still to reach to those dim heights,
Each dream remembered is a burning-glass,
Where through to darkness from the Light of Lights
Its rays in splendour pass.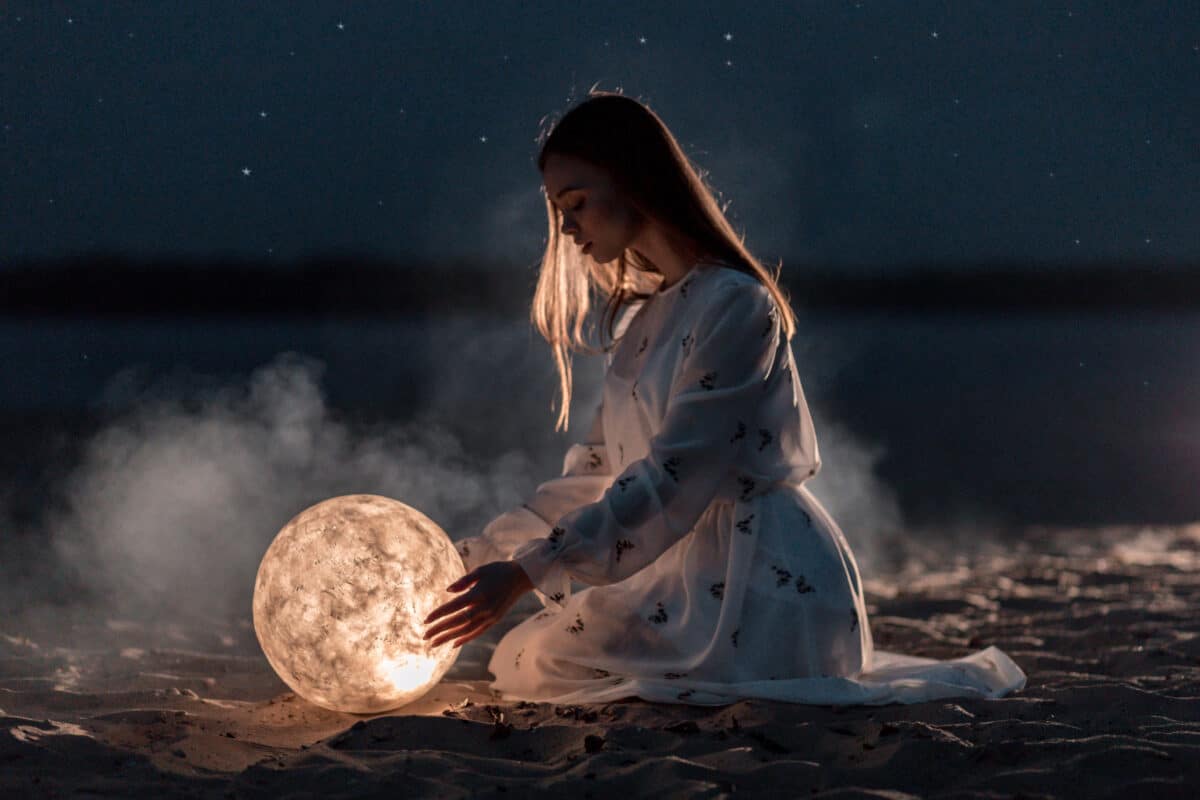 From "Songs of the Dust"
by Gladys Cromwell

There are twisted roots that grow
Even from a fragile white anemone.
But a star has no roots; to and fro
It floats in the light of the sky, like a water-lily,
And fades on the blue flood of day.
A star has no roots to hold it,
No living lonely entity to lose.
Floods of dim radiance fold it;
Night and day their silent aura transfuse;
But no change a star can bruise.
A star is adrift and free.
When day comes, it floats into space and complies;
Like a spirit quietly,
Like a spirit, amazed in a wider paradise
At mortal tears and sighs.
Famous Poems About Stars
Star of Ethiopia
by Lucian B. Watkins

Out in the Night thou art the sun
Toward which thy soul-charmed children run,
The faith-high height whereon they see
The glory of their Day To Be—
The peace at last when all is done.

The night is dark but, one by one,
Thy signals, ever and anon,
Smile beacon answers to their plea,
Out in the Night.

Ah, Life! thy storms these cannot shun;
Give them a hope to rest upon,
A dream to dream eternally,
The strength of men who would be free
And win the battle race begun,
Out in the Night!
Winter Stars
by Sara Teasdale

I went out at night alone;
The young blood flowing beyond the sea
Seemed to have drenched my spirit's wings,
I bore my sorrow heavily.
But when I lifted up my head
From shadows shaken on the snow,
I saw Orion in the east
Burn steadily as long ago.
From windows in my father's house,
Dreaming my dreams on winter nights,
I watched Orion as a girl
Above another city's lights.
Years go, dreams go, and youth goes too,
The world's heart breaks beneath its wars,
All things are changed, save in the east
The faithful beauty of the stars.
A Flower's Song
by Abram Joseph Ryan

Star! Star, why dost thou shine
Each night upon my brow?
Why dost thou make me dream the dreams
That I am dreaming now?

Star! Star, thy home is high —
I am of humble birth;
Thy feet walk shining o'er the sky,
Mine, only on the earth.

Star! Star, why make me dream?
My dreams are all untrue;
And why is sorrow dark for me
And heaven bright for you?

Star! Star, oh, hide thy ray,
And take it off my face;
Within my lowly home I stay,
Thou, in thy lofty place.

Star! Star, and still I dream,
Along thy light afar
I seem to soar until I seem
To be, like you, a star.
From Hesperus: A Legend Of The Stars.
by Charles Sangster

PRELUDE.

The Stars are heaven's ministers;
Right royally they teach
God's glory and omnipotence,
In wondrous lowly speech.
All eloquent with music as
The tremblings of a lyre,
To him that hath an ear to hear
They speak in words of fire.

Not to learned sagas only
Their whisperings come down;
The monarch is not glorified
Because he wears a crown.
The humblest soldier in the camp
Can win the smile of Mars,
And 'tis the lowliest spirits hold
Communion with the stars.

Thoughts too refined for utterance,
Ethereal as the air,
Crowd through the brain's dim labyrinths,
And leave their impress there;

As far along the gleaming void
Man's tender glances roll,
Wonder usurps the throne of speech,
But vivifies the soul.

Oh, heaven-cradled mysteries,
What sacred paths ye've trod –
Bright, jewelled scintillations from
The chariot-wheels of God!
When in the spirit He rode forth,
With vast creative aim,
These were His footprints left behind,
To magnify His name!
Star-Magic
by Richard Butler Glaenzer

Though your beauty be a flower
Of unimagined loveliness,
It cannot lure me tonight;
For I am all spirit.
As in the billowy oleander
Full-bloomed,
Each blossom is all but lost
In the next—
One flame in a glow
Of green-veined rhodonite;
So is heaven a crystal magnificence
Of stars,
Powdered lightly with blue.
For this one night
My spirit has turned honey-moth,
And has made of the stars
Its flowers.
So all uncountable are the stars
That heaven shimmers as a web,
Bursting with light
From beyond,
A light exquisite,
Immeasurable!
For this one night
My spirit has dared, and been caught
In the web of the stars.
Though your beauty were a net
Of unimagined power,
It could not hold me tonight;
For I am all spirit.
Hesperus
by Ronald Ross

Ah whither dost thou float, sweet silent star,
In yonder floods of evening's dying light?
Before the fanning wings of rising night,
Methinks thy silvery bark is driven far
To some lone isle or calmly havened shore,
Where the lorn eye of man can follow thee no more.

How many a one hath watched thee even as I,
And unto thee and thy receding ray
Poured forth his thoughts with many a treasured sigh
Too sweet and strange for the remorseless day;
But thou hast gone and left unto their sight
Too great a host of stars, and yet too black a night.

E'en as I gaze upon thee, thy bright form
Doth sail away among the cloudy isles
Around whose shores the sea of sunlight smiles.
On thee may break no black and boisterous storm
To turn the tenour of thy calm career.
As thou wert long ago so now thou dost appear.

Art thou a tear left by the exiled day
Upon the dusky cheek of drowsy night?
Or dost thou as a lark carol alway
Full in the liquid glow of heavenly light?
Or, bent on discord and angelic wars,
As some bright spirit tread before the trooping stars?

The disenchanted vapours hide thee fast;
The watery twilight fades and night comes on;
One lingering moment more and thou art gone,
Lost in the rising sea of clouds that cast
Their inundations o'er the darkening air;
And wild the night wind wails the lightless world's despair.
A Thought Of The Stars.
by Mary Gardiner Horsford

I remember once, when a careless child,
I played on the mossy lea;
The stars looked forth in the shadowy west,
And I stole to my mother's knee,

With a handful of stemless violets, wet
With the drops of gathering dew,
And asked of the wonderful points of light
That shone in the distant blue.

She told me of numberless worlds, that rolled
Through the measureless depths above,
Created by infinite might and power,
Supported by infinite love.

She told of a faith that she called divine,
Of a fairer and happier home;
Of hope unsullied by grief or fear,
And a loftier life to come.

She told of seraphs, on wings of light,
That floated from star to star,
And were sometimes sent on a mission high
To a blighted orb afar.

And with childish sense, I forgot the worlds,
She had pointed out on high,
And deemed each wonderful beam of light
The glance of an angel's eye.

And when she knelt with her babes in prayer, –
I know each petition now, –
I saw the gleam of those wings of light
Lie beautiful on her brow.

Years passed, and in earliest youth I knelt
By my mother's dying bed;
The lips were mute that had spoken love,
And the eye's bright glance had fled.

And when I turned from that silent room
Where the latest word was spoken,
The shadow of death o'er my spirit lay,
And I thought that my heart was broken

I sought the hush of the midnight air,
And wept till the founts were dry;
The earth was clad in a wintry garb,
But the star host filled the sky.

And then I remembered the faith divine
And the loftier life to come,
And felt the shadow of Death depart
From my childhood's sacred home.

And often now when my heart is faint
With earth and its wearying care,
When my soul is sick with a feverish thirst
And burdened with contrite prayer,

I hasten forth to the starry gems,
That circle the brow of night,
And track with them the eloquent depths
Of the boundless Infinite.

They whisper low of a holier life
And a faith sublime and high;
And again I fancy each golden beam
The glance of a seraph's eye,

As in days of yore, when a careless child,
I stole to my mother's knee,
And asked of the wonderful points of light
That shone o'er the deep, blue sea.
A Child's First Impression Of A Star.
by Nathaniel Parker Willis

She had been told that God made all the stars
That twinkled up in heaven, and now she stood
Watching the coming of the twilight on,
As if it were a new and perfect world,
And this were its first eve. How beautiful
Must be the work of nature to a child
In its first fresh impression! Laura stood
By the low window, with the silken lash
Of her soft eye upraised, and her sweet mouth
Half parted with the new and strange delight
Of beauty that she could not comprehend,
And had not seen before. The purple folds
Of the low sunset clouds, and the blue sky
That look'd so still and delicate above,
Fill'd her young heart with gladness, and the eve
Stole on with its deep shadows, and she still
Stood looking at the west with that half smile,
As if a pleasant thought were at her heart.
Presently, in the edge of the last tint
Of sunset, where the blue was melted in
To the faint golden mellowness, a star
Stood suddenly. A laugh of wild delight
Burst from her lips, and putting up her hands,
Her simple thought broke forth expressively –
"Father! dear Father! God has made a star!
The Star's Song
by Abram Joseph Ryan

Flower! Flower, why repine?
God knows each creature's place;
He hides within me when I shine,
And your leaves hide His face.

And you are near as I to Him,
And you reveal as much
Of that eternal soundless hymn
Man's words may never touch.

God sings to man through all my rays
That wreathe the brow of night,
And walks with me thro' all my ways —
The everlasting light.

Flower! Flower, why repine?
He chose on lowly earth,
And not in heaven where I shine,
His Bethlehem and birth.

Flower! Flower, I see Him pass
Each hour of night and day,
Down to an altar and a Mass
Go thou! and fade away.

Fade away upon His shrine!
Thy light is brighter far
Than all the light wherewith I shine
In heaven, as a star.
Hesperus
by Arthur Thomas Quiller-Couch

Down in the street the last late hansoms go
Still westward, but with backward eyes of red
The harlot shuffles to her lonely bed;
The tall policeman pauses but to throw
A flash into the empty portico;
Then he too passes, and his lonely tread
Links all the long-drawn gas-lights on a thread
And ties them to one planet swinging low.

O Hesperus! O happy star! to bend
O'er Helen's bosom in the tranc'd west–
To watch the hours heave by upon her breast
And at her parted lip for dreams attend:
If dawn defraud thee, how shall I be deem'd.
Who house within that bosom, and am dreamed?
The Stars Are Mansions Built By Nature's Hand
by William Wordsworth

The stars are mansions built by Nature's hand,
And, haply, there the spirits of the blest
Dwell, clothed in radiance, their immortal vest;
Huge Ocean shows, within his yellow strand,
A habitation marvelously planned,
For life to occupy in love and rest;
All that we see is dome, or vault, or nest,
Or fortress, reared at Nature's sage command.
Glad thought for every season! but the Spring
Gave it while cares were weighing on my heart,
'Mid song of birds, and insects murmuring;
And while the youthful year's prolific art
Of bud, leaf, blade, and flower, was fashioning
Abodes where self-disturbance hath no part.
Stars
by Alfred Joyce Kilmer (Joyce)

Bright stars, yellow stars, flashing through the air,
Are you errant strands of Lady Mary's hair?
As she slits the cloudy veil and bends down through,
Do you fall across her cheeks and over heaven too?

Gay stars, little stars, you are little eyes,
Eyes of baby angels playing in the skies.
Now and then a winged child turns his merry face
Down toward the spinning world — what a funny place!

Jesus Christ came from the Cross (Christ receive my soul!)
In each perfect hand and foot there was a bloody hole.
Four great iron spikes there were, red and never dry,
Michael plucked them from the Cross and set them in the sky.

Christ's Troop, Mary's Guard, God's own men,
Draw your swords and strike at Hell and strike again.
Every steel-born spark that flies where God's battles are,
Flashes past the face of God, and is a star.
Stars
by John Frederick Freeman

The naked stars, deep beyond deep,
Burn purely through the nerv'd night.
Over the narrow sleep
Of men tired of light;

Deep within deep, as clouds behind
Huge grey clouds hidden gleaming rise,
Untroubled by sharp wind
In cold desert skies.

Cold deserts now with infinite host
Of gathered spears at watch o'er small
Armies of men lost
In glooms funereal.

O bitter light, all-threatening stars,
O tired ghosts of men that sleep
After stern mortal wars
'Neath skies chill and steep.

These mortal hills, this flickering sea,
This shadowy and thoughtful night,
Throb with infinity,
Burn with immortal light.
Stars.
by Emily Bronte

Ah! why, because the dazzling sun
Restored our Earth to joy,
Have you departed, every one,
And left a desert sky?

All through the night, your glorious eyes
Were gazing down in mine,
And, with a full heart's thankful sighs,
I blessed that watch divine.

I was at peace, and drank your beams
As they were life to me;
And revelled in my changeful dreams,
Like petrel on the sea.

Thought followed thought, star followed star,
Through boundless regions, on;
While one sweet influence, near and far,
Thrilled through, and proved us one!

Why did the morning dawn to break
So great, so pure, a spell;
And scorch with fire the tranquil cheek,
Where your cool radiance fell?

Blood-red, he rose, and, arrow-straight,
His fierce beams struck my brow;
The soul of nature sprang, elate,
But mine sank sad and low!

My lids closed down, yet through their veil
I saw him, blazing, still,
And steep in gold the misty dale,
And flash upon the hill.

I turned me to the pillow, then,
To call back night, and see
Your worlds of solemn light, again,
Throb with my heart, and me!

It would not do–the pillow glowed,
And glowed both roof and floor;
And birds sang loudly in the wood,
And fresh winds shook the door;

The curtains waved, the wakened flies
Were murmuring round my room,
Imprisoned there, till I should rise,
And give them leave to roam.

Oh, stars, and dreams, and gentle night;
Oh, night and stars, return!
And hide me from the hostile light
That does not warm, but burn;

That drains the blood of suffering men;
Drinks tears, instead of dew;
Let me sleep through his blinding reign,
And only wake with you!
The Evening Star.
by Eliza Paul Kirkbride Gurney

Hail, pensile gem, that thus can softly gild
The starry coronal of quiet eve!
What frost-work fabrics man shall vainly build
Ere thou art doomed thy heavenly post to leave!

Bright star! thou seem'st to me a blest retreat,
The wearied pilgrim's paradise of rest;
I love to think long-parted friends shall meet,
Blissful reunion! in thy tranquil breast.

I saw thee shine when life with me was young,
And fresh as fleet-winged time's infantile hour,
When Hope her treacherous chaplet 'round me flung,
And daily twined a new-created flower.

I saw thee shine while yet the sacred smile
Of home and kindred round my path would play,
But Time, who loves our fairest joys to spoil,
Destined this hour of bloom to swift decay.

The buds, that then were wreathed around my heart,
Now breathe their hallowed sweetness there no more;
'Twas thine to see them one by one depart,
And yet thou shinest brightly as before.

So, when this bosom, that 'mid all its woes
Has longed thy little port of rest to win,
In the calm grave shall find at last repose,
Thou'lt beam as fair as though I ne'er had been.
Stars
by Sara Teasdale

Alone in the night
On a dark hill
With pines around me
Spicy and still,

And a heaven full of stars
Over my head,
White and topaz
And misty red;

Myriads with beating
Hearts of fire
That aeons
Cannot vex or tire;

Up the dome of heaven
Like a great hill,
I watch them marching
Stately and still,
And I know that I
Am honored to be
Witness
Of so much majesty.
The Jolly Company
by Rupert Brooke

The stars, a jolly company,
I envied, straying late and lonely;
And cried upon their revelry:
"O white companionship! You only
In love, in faith unbroken dwell,
Friends radiant and inseparable!"
Light-heart and glad they seemed to me
And merry comrades (even so
God out of Heaven may laugh to see
The happy crowds; and never know
That in his lone obscure distress
Each walketh in a wilderness).
But I, remembering, pitied well
And loved them, who, with lonely light,
In empty infinite spaces dwell,
Disconsolate. For, all the night,
I heard the thin gnat-voices cry,
Star to faint star, across the sky.
The Starlight Night
by Gerard Manley Hopkins

Look at the stars! look, look up at the skies!
O look at all the fire-folk sitting in the air!
The bright boroughs, the circle-citadels there!
Down in dim woods the diamond delves! the elves'-eyes!
The grey lawns cold where gold, where quickgold lies!
Wind-beat whitebeam! airy abeles set on a flare!
Flake-doves sent floating forth at a farmyard scare! –
Ah well! it is all a purchase, all is a prize.

Buy then! bid then! – What? – Prayer, patience, alms, vows.
Look, look: a May-mess, like on orchard boughs!
Look! March-bloom, like on mealed-with-yellow sallows!
These are indeed the barn; withindoors house
The shocks. This piece-bright paling shuts the spouse
Christ home, Christ and his mother and all his hallows.
Starlight Recollections.
by George Pope Morris

'Twas night. Near the murmuring Saone,
We met with no witnesses by,
But such as resplendently shone
In the blue-tinted vault of the sky:
Your head on my bosom was laid,
As you said you would ever be mine;
And I promised to love, dearest maid,
And worship alone at your shrine.

Your love on my heart gently fell
As the dew on the flowers at eve,
Whose blossoms with gratitude swell,
A blessing to give and receive:
And I knew by the glow on your cheek,
And the rapture you could not control,
No power had language to speak
The faith or content of your soul.

I love you as none ever loved–
As the steel to the star I am true;
And I, dearest maiden, have proved
That none ever loved me but you.
Till memory loses her power,
Or the sands of existence have run,
I'll remember the star-lighted hour
That mingled two hearts into one.
Starlight
by Laurence Hope (Adela Florence Cory Nicolson)

O beautiful Stars, when you see me go
Hither and thither, in search of love,
Do you think me faithless, who gleam and glow
Serene and fixed in the blue above?
O Stars, so golden, it is not so.

But there is a garden I dare not see,
There is a place where I fear to go,
Since the charm and glory of life to me
The brown earth covered there, long ago.
O Stars, you saw it, you know, you know.

Hither and thither I wandering go,
With aimless haste and wearying fret;
In a search for pleasure and love? Not so,
Seeking desperately to forget.
You see so many, O Stars, you know.
The Star To Its Light
by George Parsons Lathrop

"Go," said the star to its light:
"Follow your fathomless flight!
Into the dreams of space
Carry the joy of my face.
Go," said the star to its light:
"Tell me the tale of your flight."

As the mandate rang
The heavens through,
Quick the ray sprang:
Unheard it flew,
Sped by the touch of an unseen spur.
It crumbled the dusk of the deep
That folds the worlds in sleep,
And shot through night with noiseless stir.

Then came the day;
And all that swift array
Of diamond-sparkles died.
And lo! the far star cried:
"My light has lost its way!"
Ages on ages passed:
The light returned, at last.

"What have you seen,
What have you heard –
O ray serene,
O flame-winged bird
I loosed on endless air?
Why do you look so faint and white?" –
Said the star to its light.

"O star," said the tremulous ray,
"Grief and struggle I found.
Horror impeded my way.
Many a star and sun
I passed and touched, on my round.
Many a life undone
I lit with a tender gleam:
I shone in the lover's eyes,
And soothed the maiden's dream.
But alas for the stifling mist of lies!
Alas, for the wrath of the battle-field
Where my glance was mixed with blood!
And woe for the hearts by hate congealed,
And the crime that rolls like a flood!
Too vast is the world for me;
Too vast for the sparkling dew
Of a force like yours to renew.
Hopeless the world's immensity!
The suns go on without end:
The universe holds no friend:
And so I come back to you."

"Go," said the star to its light:
"You have not told me aright.
This you have taught: I am one
In a million of million others –
Stars, or planets, or men; –
And all of these are my brothers.
Carry that message, and then
My guerdon of praise you have won!
Say that I serve in my place:
Say I will hide my own face
Ere the sorrows of others I shun.
So, then, my trust you'll requite.
Go!" – said the star to its light.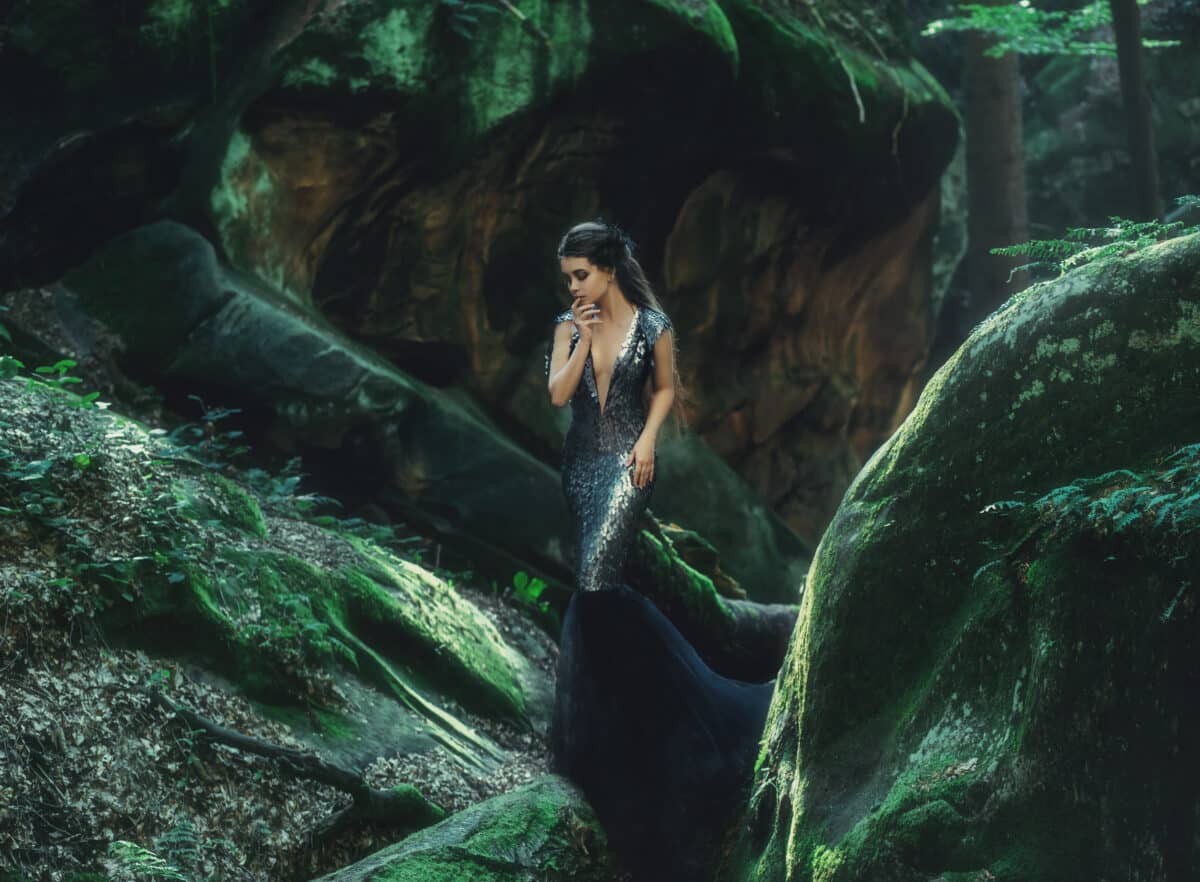 The Philosopher And The Stars
by Matthew Arnold

A long pause, during which EMPEDOCLES remains motionless, plunged in thought. The night deepens. He moves forward and gazes round him, and proceeds:

And you, ye stars,
Who slowly begin to marshal,
As of old, in the fields of heaven,
Your distant, melancholy lines!
Have you, too, survived yourselves?
Are you, too, what I fear to become?
You, too, once lived!
You too moved joyfully
Among august companions
In an older world, peopled by Gods,
In a mightier order,
The radiant, rejoicing, intelligent Sons of Heaven
But now, you kindle
Your lonely, cold-shining lights,
Unwilling lingerers
In the heavenly wilderness,
For a younger, ignoble world;
And renew, by necessity,
Night after night your courses,
In echoing unnear'd silence,
Above a race you know not.
Uncaring and undelighted.
Without friend and without home;
Weary like us, though not
Weary with our weariness.
Star-Talk
by Robert von Ranke Graves

'Are you awake, Gemelli,
This frosty night?'
'We'll be awake till reveill',
Which is Sunrise,' say the Gemelli,
'It's no good trying to go to sleep:
If there's wine to be got we'll drink it deep,
But rest is hopeless tonight,
But rest is hopeless tonight.'

'Are you cold too, poor Pleiads,
This frosty night?'
'Yes, and so are the Hyads:
See us cuddle and hug,' say the Pleiads,
'All six in a ring: it keeps us warm:
We huddle together like birds in a storm:
It's bitter weather tonight,
It's bitter weather tonight.'

'What do you hunt, Orion,
This starry night?'
'The Ram, the Bull and the Lion,
And the Great Bear,' says Orion,
'With my starry quiver and beautiful belt
I am trying to find a good thick pelt
To warm my shoulders tonight,
To warm my shoulders tonight.'

'Did you hear that, Great She-bear,
This frosty night?'
'Yes, he's talking of stripping me bare
Of my own big fur,' says the She-bear,
I'm afraid of the man and his terrible arrow:
The thought of it chills my bones to the marrow,
And the frost so cruel tonight!
And the frost so cruel tonight!

'How is your trade, Aquarius,
This frosty night?'
'Complaints is many and various
And my feet are cold,' says Aquarius,
'There's Venus objects to Dolphin-scales,
And Mars to Crab-spawn found in my pails,
And the pump has frozen tonight,
And the pump has frozen tonight.'
The Old Pole Star
by Edith Wharton

Before the clepsydra had bound the days
Man tethered Change to his fixed star, and said:
"The elder races, that long since are dead,
Marched by that light; it swerves not from its base
Though all the worlds about it wax and fade."

When Egypt saw it, fast in reeling spheres,
Her Pyramids shaft-centred on its ray
She reared and said: "Long as this star holds sway
In uninvaded ether, shall the years
Revere my monuments—" and went her way.

The Pyramids abide; but through the shaft
That held the polar pivot, eye to eye,
Look now—blank nothingness! As though Change laughed
At man's presumption and his puny craft,
The star has slipped its leash and roams the sky.

Yet could the immemorial piles be swung
A skyey hair's-breadth from their rooted base,
Back to the central anchorage of space,
Ah, then again, as when the race was young,
Should they behold the beacon of the race!

Of old, men said: "The Truth is there: we rear
Our faith full-centred on it. It was known
Thus of the elders who foreran us here,
Mapped out its circuit in the shifting sphere,
And found it, 'mid mutation, fixed alone."

Change laughs again, again the sky is cold,
And down that fissure now no star-beam glides.
Yet they whose sweep of vision grows not old
Still at the central point of space behold
Another pole-star: for the Truth abides.
The Star-Song
by Robert Herrick

A Carol To The King Sung At Whitehall.

The Flourish of Music; then followed the Song.

Tell us, thou clear and heav'nly tongue,
Where is the Babe but lately sprung;
Lies he the lily-banks among?
Or say, if this new Birth of our's
Sleeps, laid within some ark of flow'rs,
Spangled with dew-light? Thou canst clear
All doubts, and manifest the where.
Declare to us, bright star, if we shall seek
Him in the morning's blushing cheek;
Or search the beds of spices through,
To find him out?

Star.
No, this ye need not do;
But only come and see Him rest
A Princely Babe in's mother's breast.

Chor.
He's seen, He's seen! Why then around,
Let's kiss the sweet, and holy ground;
And all rejoice that we have found
A King before conception crown'd.
Come then, come then, and let us bring
Unto our pretty Twelfth-tide King,
Each one his several offering!

Chor.
And when night comes, we'll give Him wassailing;
And that His treble honours may be seen,
We'll choose Him King, and make His mother Queen.
The Magi to the Star
by Mary Hannay Foott

I. Thanksgiving.

Star, on thy Heaven-returning way,
Our message of thanksgiving bear;
To Him who answered with thy ray
The priestless Gentiles' trembling prayer.

When songs of revel shook the roof,
God, Thou didst cheer the joyless course,
Where we, like Vashti, walked aloof,
Braving the world's unjust divorce.

How rate we now all griefs and scorn
That filled our youth with bitterness!
We had not known the Christ is born
But that we sought for One to bless!

II. Prayer.

Fence Thou Thy Child, O Merciful,
When hate shall cavil at His worth;
When underlings like Haman rule
Hold Thou the golden sceptre forth.

When envy round Thy Precious One
Its tongues of scorching flame hath curled,
Unwasted let His virtue run
From the sore furnace of the world

To fill a new Colossus-mould.
When tireless unbelief hath sent;
Thy truest Image to the cold
Pure mountain-tops of banishment,

Give then, O God, Thy light, to break
Through all earth's valleys cramped and dim,
That after-times may see, and take
Their heroes' measurement from Him!

III. Farewell.

A new horizon's dim blue ring
Around our watch-fire shall be cast,
New stars replace the vanishing,
To-morrow's homeward travel past.

Word-bringer, now thine embassy
Is closed, thou stayest not to fill
A lowlier office. Thou shalt be
Soon 'mid the angels, shining still!

One priceless pearl of upper sea,
One matchless gem of heaven's rich mine;
Within the place once held by thee
God send no after-light to shine!

Yet, foremost of the host of gold,
Long-followed, thou wast never sent,
A glimpse of what the Heavens enfold,
To darken earth with discontent!

Star of the Promised! Streaming on
Through Time's long night, though thou must set,
Thy light shall spread, when thou art gone,
O'er sunless lands we see not yet!
The North Star Whispers to the Blacksmith's Son
by Vachel Lindsay

The North Star whispers: "You are one
Of those whose course no chance can change.
You blunder, but are not undone,
Your spirit-task is fixed and strange.

"When here you walk, a bloodless shade,
A singer all men else forget.
Your chants of hammer, forge and spade
Will move the prairie-village yet.

"That young, stiff-necked, reviling town
Beholds your fancies on her walls,
And paints them out or tears them down,
Or bars them from her feasting-halls.

"Yet shall the fragments still remain;
Yet shall remain some watch-tower strong
That ivy-vines will not disdain,
Haunted and trembling with your song.

"Your flambeau in the dusk shall burn,
Flame high in storms, flame white and clear;
Your ghost in gleaming robes return
And burn a deathless incense here."
The Light Of Stars.
by William Henry Giles Kingston

The night is come, but not too soon;
And sinking silently,
All silently, the little moon
Drops down behind the sky.

There is no light in earth or heaven
But the cold light of stars;
And the first watch of night is given
To the red planet Mars.

Is it the tender star of love?
The star of love and dreams?
O no! from that blue tent above,
A hero's armor gleams.

And earnest thoughts within me rise,
When I behold afar,
Suspended in the evening skies,
The shield of that red star.

O star of strength! I see thee stand
And smile upon my pain;
Thou beckonest with thy mailed hand,
And I am strong again.

Within my breast there is no light
But the cold light of stars;
I give the first watch of the night
To the red planet Mars.

The star of the unconquered will,
He rises in my breast,
Serene, and resolute, and still,
And calm, and self-possessed.

And thou, too, whosoe'er thou art,
That readest this brief psalm,
As one by one thy hopes depart,
Be resolute and calm.

O fear not in a world like this,
And thou shalt know erelong,
Know how sublime a thing it is
To suffer and be strong
The Star of Youth.
by Fannie Isabelle Sherrick

The sun sinks down in the crimson west,
Oh, a beautiful sun is he;
With his purple robes and his crown of gold
And his feet dipped in the sea.

Along the shore where the sea-weeds lie
Like threads of her tangled hair,
Naomi stands in the amber glow
Of the mystical sunset air.

Her hair is brown, with a yellow tinge
That rivals the gold of the west;
Her eyes are dark with the velvety glow
That darkens the pansy's breast.

A star shines out in the purple east,
Oh, a beautiful star is he!
With his home in the wonderful azure skies,
And his throne in the deep blue sea.

There are bars of gold in the crimson west
And jewels on every bar;
Yet Naomi's soul is beyond the sea,
And her eyes are fixed on the star.

O star that shines in the dusky east,
Be thou the star of my youth,
And guide my soul through the shadows of earth
To the shining gates of truth.

There are years that melt in the seas of life
Like drops in the ocean of time;
And the joys they bring are as soon forgot
As the words of a careless rhyme.

Be thou the light that shall guide me far
From the years that vanish as rain,
And lead my soul to the feet of God,
Even through years of pain.
The Star Of The West.
by Samuel Griswold Goodrich

I.

The cannon is mute and the sword in its sheath
Uncrimsoned the banner floats joyous and fair:
Yet beauty is twining an evergreen wreath,
And the voice of the minstrel is heard on the air.
Are these for the glory encircling a crown
A phantom evoked but by tyranny's breath?
Are these for the conqueror's vaunted renown
All ghastly with gore, and all tainted with death?
Bright Star of the West broad Land of the Free,
The wreath and the anthem are woven for thee!

II.

When Tyranny came, his fierce lions aloft
Told the instinct that burned in his cohorts of mail
But our eagles swooped down, and the battle-field oft,
Was the grave of the foeman, stern, ghastly and pale.
The cloud of the strife rolled darkly away
And the carnage-fed wolves slunk back to their den
While Peace shone around like the god of the day,

And shed her blest light on the children of men.
Bright Star of the West broad Land of the Free!
The wreath and the anthem are woven for thee!

III.

Thus Liberty dawned from the midnight of years;
And here rose her altar. Oh kneel at her shrine!
Her blessings unnumbered ye children of tears,
Whatever be thy Fatherland lo they are thine!
In faith and in joy, let us cherish the light,
That comes like the sunshine all warm from above,
For thus shall the Demons that sprung from the night
Of the Past fade away in the noontide of love.
Bright Star of the West broad Land of the Free,
The wreath and the anthem are woven for thee!

IV.

Stern Seer of the future, thy curtain unroll,
And show to long ages our empire of peace
Where man never bent to the despot's control,
And the spirit of liberty never shall cease.
Our Stars and our Stripes 'mid battle's loud thunder,
Were bound by our sires in the wedlock of love
Oh! ne'er shall the spirit of strife put asunder,
The UNION thus hallowed by spirits above.
Bright Star of the West broad Land of the Free,
The wreath and the anthem are woven for thee!
Lament Of The Stars
by Clark Ashton Smith

One tone is mute within the starry singing,
The unison fulfilled, complete before;
One chord within the music sounds no more,
And from the stir of flames forever winging
The pinions of our sister, motionless
In pits of indefinable duress,
Are fallen beyond all recovery
By exultation of the flying dance,
Or rhythms holding as with sleep or trance
The maze of stars that only death may free –
Flung through the void's expanse.

In gulfs depressed nor in the gulfs exalted
Shall shade nor lightening of her flame be found;
In space that litten orbits gird around,
Nor in the bottomless abyss unvaulted
Of unenvironed, all-outlying night.
Allotted gyre nor lawless comet-flight
Shall find, and with its venturous ray return
From gloom of undiscoverable scope,
One ray of her to gladden into hope
The doubtful eyes denied that truthward yearn,
The faltering feet that grope.

Beyond restrainless boundary-nights surpassing
All luminous horizons limited,
The substance and the light of her have fed
Ruin and silence of the night's amassing:
Abandoned worlds forever morningless;
Suns without worlds, in frory beamlessness
Girt for the longer gyre funereal;
Inviolate silence, earless, unawaking
That once was sound, and level calm unbreaking
Where motion's many ways in oneness fall
Of sleep beyond forsaking.

Circled with limitation unexceeded
Our eyes behold exterior mysteries
And gods unascertainable as these –
Shadows and shapes irresolubly heeded;
Phantoms that tower, and substance scarcely known.
Our sister knows all mysteries one alone,
One shape, one shadow, crowding out the skies;
Whose eyeless head and lipless face debar
All others nameless or familiar,
Filling with night all former lips and eyes
Of god, and ghost, and star:

For her all shapes have fed the shape of night;
All darker forms, and dubious forms, or pallid,
Are met and reconciled where none is valid.
But unto us solution nor respite
Of mystery's multiform incessancy
From unexplored or system-trodden sky
Shall come; but as a load importunate,
Enigma past and mystery foreseen
Weigh mightily upon us, and between
Our sorrow deepens, and our songs abate
In cadences of threne.

A gloom that gathers silence looms more closely,
And quiet centering darkness at its heart;
But from the certitude of night depart
Uncertain god nor eidolon less ghostly;
But stronger grown with strength obtained from light
That failed, and power lent by the stronger night,
Perplex us with new mystery, and doubt
If these our flames, that deathward toss and fall
Be festal lights or lights funereal
For mightier gods within the gulfs without,
Phantoms more cryptical.

New shadows from the wings of Time unfolding
Across the depth and eminence of years,
Fall deeplier with the broadening gloom of fears.
Prophetic-eyed, with planet-hosts beholding
The night take form upon the face of suns,
We see (thus grief's vaticination runs –
Presageful sorrow for our sister slain)
A night wherein all sorrow shall be past,
One with night's single mystery at last;
Nor vocal sun nor singing world remain
As Time's elegiast
Star Of The East
by Eugene Field

Star of the East, that long ago
Brought wise men on their way
Where, angels singing to and fro,
The Child of Bethlehem lay–
Above that Syrian hill afar
Thou shinest out to-night, O Star!

Star of the East, the night were drear
But for the tender grace
That with thy glory comes to cheer
Earth's loneliest, darkest place;
For by that charity we see
Where there is hope for all and me.

Star of the East! show us the way
In wisdom undefiled
To seek that manger out and lay
Our gifts before the child–
To bring our hearts and offer them
Unto our King in Bethlehem!
The Star Of Bethlehem
by John Greenleaf Whittier

Where Time the measure of his hours
By changeful bud and blossom keeps,
And, like a young bride crowned with flowers,
Fair Shiraz in her garden sleeps;

Where, to her poet's turban stone,
The Spring her gift of flowers imparts,
Less sweet than those his thoughts have sown
In the warm soil of Persian hearts:

There sat the stranger, where the shade
Of scattered date-trees thinly lay,
While in the hot clear heaven delayed
The long and still and weary day.

Strange trees and fruits above him hung,
Strange odors filled the sultry air,
Strange birds upon the branches swung,
Strange insect voices murmured there.

And strange bright blossoms shone around,
Turned sunward from the shadowy bowers,
As if the Gheber's soul had found
A fitting home in Iran's flowers.

Whate'er he saw, whate'er he heard,
Awakened feelings new and sad,
No Christian garb, nor Christian word,
Nor church with Sabbath-bell chimes glad,

But Moslem graves, with turban stones,
And mosque-spires gleaming white, in view,
And graybeard Mollahs in low tones
Chanting their Koran service through.

The flowers which smiled on either hand,
Like tempting fiends, were such as they
Which once, o'er all that Eastern land,
As gifts on demon altars lay.

As if the burning eye of Baal
The servant of his Conqueror knew,
From skies which knew no cloudy veil,
The Sun's hot glances smote him through.

"Ah me!" the lonely stranger said,
"The hope which led my footsteps on,
And light from heaven around them shed,
O'er weary wave and waste, is gone!

"Where are the harvest fields all white,
For Truth to thrust her sickle in?
Where flock the souls, like doves in flight,
From the dark hiding-place of sin?

"A silent-horror broods o'er all,
The burden of a hateful spell,
The very flowers around recall
The hoary magi's rites of hell!

"And what am I, o'er such a land
The banner of the Cross to bear?
Dear Lord, uphold me with Thy hand,
Thy strength with human weakness share!"

He ceased; for at his very feet
In mild rebuke a floweret smiled;
How thrilled his sinking heart to greet
The Star-flower of the Virgin's child!

Sown by some wandering Frank, it drew
Its life from alien air and earth,
And told to Paynim sun and dew
The story of the Saviour's birth.

From scorching beams, in kindly mood,
The Persian plants its beauty screened,
And on its pagan sisterhood,
In love, the Christian floweret leaned.

With tears of joy the wanderer felt
The darkness of his long despair
Before that hallowed symbol melt,
Which God's dear love had nurtured there.

From Nature's face, that simple flower
The lines of sin and sadness swept;
And Magian pile and Paynim bower
In peace like that of Eden slept.

Each Moslem tomb, and cypress old,
Looked holy through the sunset air;
And, angel-like, the Muezzin told
From tower and mosque the hour of prayer.

With cheerful steps, the morrow's dawn
From Shiraz saw the stranger part;
The Star-flower of the Virgin-Born
Still blooming in his hopeful heart
The Star And The Water-Lily
by Oliver Wendell Holmes

The sun stepped down from his golden throne.
And lay in the silent sea,
And the Lily had folded her satin leaves,
For a sleepy thing was she;
What is the Lily dreaming of?
Why crisp the waters blue?
See, see, she is lifting her varnished lid!
Her white leaves are glistening through!

The Rose is cooling his burning cheek
In the lap of the breathless tide; –
The Lily hath sisters fresh and fair,
That would lie by the Rose's side;
He would love her better than all the rest,
And he would be fond and true; –
But the Lily unfolded her weary lids,
And looked at the sky so blue.

Remember, remember, thou silly one,
How fast will thy summer glide,
And wilt thou wither a virgin pale,
Or flourish a blooming bride?
Oh, the Rose is old, and thorny, and cold,
"And he lives on earth," said she;
"But the Star is fair and he lives in the air,
And he shall my bridegroom be."

But what if the stormy cloud should come,
And ruffle the silver sea?
Would he turn his eye from the distant sky,
To smile on a thing like thee?
Oh no, fair Lily, he will not send
One ray from his far-off throne;
The winds shall blow and the waves shall flow,
And thou wilt be left alone.

There is not a leaf on the mountain-top,
Nor a drop of evening dew,
Nor a golden sand on the sparkling shore,
Nor a pearl in the waters blue,
That he has not cheered with his fickle smile,
And warmed with his faithless beam, –
And will he be true to a pallid flower,
That floats on the quiet stream?

Alas for the Lily! she would not heed,
But turned to the skies afar,
And bared her breast to the trembling ray
That shot from the rising star;
The cloud came over the darkened sky,
And over the waters wide
She looked in vain through the beating rain,
And sank in the stormy tide.
The Star
by Paul Bewsher

I stood, one azure dusk, in old Auxerre
Before the grey Cathedral's towering height,
And in the Eastern darkness, very fair
I saw a little star that twinkled bright;
How small it looked beside the mighty pile,
Whose stone was rosy with the Western glow –
A little star – I pondered for a while,
And then the solemn truth began to know.

That tiny star was some enormous sphere,
The great cathedral was an atomy –
So often when grey trouble looms so near
That God shines in our minds but distantly, –
If we but thought, our grief would seem so small
That we would see that God's great love was all.
To a Star Seen at Twilight
by John Rollin Ridge

Hail solitary star!
That shinest from thy far blue height,
And overlookest Earth
And Heaven, companionless in light!
The rays around thy brow
Are an eternal wreath for thee;
Yet thou'rt not proud, like man,
Though thy broad mirror is the sea,
And thy calm home eternity!

Shine on, night-bosomed star!
And through its realms thy soul's eye dart,
And count each age of light,
For their eternal wheel thou art.
Thou dost roll into the past days,
Years, and ages too,
And naught thy giant progress stays.

I love to gaze upon
Thy speaking face, thy calm, fair brow,
And feel my spirit dark
And deep, grow bright and pure as thou.
Like thee it stands alone:
Like thee its native home is night,
But there the likeness ends,—
It beams not with thy steady light.
Its upward path is high,
But not so high as thine—thou'rt far
Above the reach of clouds,
Of storms, of wreck, oh lofty star!
I would all men might look
Upon thy pure sublimity,
And in their bosoms drink
Thy lovliness and light like me;
For who in all the world
Could gaze upon thee thus, and feel
Aught in his nature base,
Or mean, or low, around him steal!

Shine on companionless
As now thou seem'st. Thou art the throne
Of thy own spirit, star!
And mighty things must be alone.
Alone the ocean heaves,
Or calms his bosom into sleep;
Alone each mountain stands
Upon its basis broad and deep;
Alone through heaven the comets sweep,
Those burning worlds which God has thrown
Upon the universe in wrath,
As if he hated them—their path
No stars, no suns may follow, none—
'T is great, 't is great to be alone!
Other Stars.
by Juliana Horatia Ewing

The night is dark, and yet it is not quite:
Those stars are hid that other orbs may shine;
Twin stars, whose rays illuminate the night,
And cheer her gloom, but only deepen mine;
For these fair stars are not what they do seem,
But vanish'd eyes remember'd in a dream.

The night is dark, and yet it brings no rest;
Those eager eyes gaze on and banish sleep;
Though flaming Mars has lower'd his crimson crest,
And weary Venus pales into the deep,
These two with tender shining mock my woe
From out the distant heaven of long ago.

The night is dark, and yet how bright they gleam!
Oh! empty vision of a vanish'd light!
Sweet eyes! must you for ever be a dream
Deep in my heart, and distant from my sight?
For could you shine as once you shone before,
The stars might hide their rays for evermore!
The Star
by Sara Teasdale

A white star born in the evening glow
Looked to the round green world below,
And saw a pool in a wooded place
That held like a jewel her mirrored face.
She said to the pool: "Oh, wondrous deep,
I love you, I give you my light to keep.
Oh, more profound than the moving sea
That never has shown myself to me!
Oh, fathomless as the sky is far,
Hold forever your tremulous star!"
But out of the woods as night grew cool
A brown pig came to the little pool;
It grunted and splashed and waded in
And the deepest place but reached its chin.
The water gurgled with tender glee
And the mud churned up in it turbidly.
The star grew pale and hid her face
In a bit of floating cloud like lace.
O Star Of France
by Walt Whitman

O star of France!
The brightness of thy hope and strength and fame,
Like some proud ship that led the fleet so long,
Beseems to-day a wreck, driven by the gale – a mastless hulk;
And 'mid its teeming, madden'd, half-drown'd crowds,
Nor helm nor helmsman.

Dim, smitten star!
Orb not of France alone – pale symbol of my soul, its dearest hopes,
The struggle and the daring – rage divine for liberty,
Of aspirations toward the far ideal – enthusiast's dreams of brotherhood,
Of terror to the tyrant and the priest.

Star crucified! by traitors sold!
Star panting o'er a land of death – heroic land!
Strange, passionate, mocking, frivolous land.

Miserable! yet for thy errors, vanities, sins, I will not now rebuke thee;
Thy unexampled woes and pangs have quell'd them all,
And left thee sacred.

In that amid thy many faults, thou ever aimedest highly,
In that thou wouldst not really sell thyself, however great the price,
In that thou surely wakedst weeping from thy drugg'd sleep,
In that alone, among thy sisters, thou, Giantess, didst rend the ones that shamed thee,
In that thou couldst not, wouldst not, wear the usual chains,
This cross, thy livid face, thy pierced hands and feet,
The spear thrust in thy side.

O star! O ship of France, beat back and baffled long!
Bear up, O smitten orb! O ship, continue on!

Sure, as the ship of all, the Earth itself,
Product of deathly fire and turbulent chaos,
Forth from its spasms of fury and its poisons,
Issuing at last in perfect power and beauty,
Onward, beneath the sun, following its course,
So thee, O ship of France!

Finish'd the days, the clouds dispell'd,
The travail o'er, the long-sought extrication,
When lo! reborn, high o'er the European world,
(In gladness, answering thence, as face afar to face, reflecting ours, Columbia,)
Again thy star, O France – fair, lustrous star,
In heavenly peace, clearer, more bright than ever,
Shall beam immortal.
From "Songs from an Evil Wood"
by Lord Dunsany

I

There is no wrath in the stars,
They do not rage in the sky;
I look from the evil wood
And find myself wondering why.
Why do they not scream out
And grapple star against star,
Seeking for blood in the wood
As all things round me are?
They do not glare like the sky
Or flash like the deeps of the wood;
But they shine softly on
In their sacred solitude.
To their high, happy haunts
Silence from us has flown,
She whom we loved of old
And know it now she is gone.
When will she come again,
Though for one second only?
She whom we loved is gone
And the whole world is lonely.