Here are my favorite poems about heartbreak categorized:
Most famous poems about heartbreak
Poems about being broken inside
Poems about heartbreak and moving on
So if you want the best poems about heartbreak, then you're in the right place.
Let's jump right in!
Shattering Poems About Heartbreak
Prepare to embark on a journey through the realms of shattered love and the pursuit of healing, where emotions run wild and words find solace in poetry.
From the exhilarating highs of passion to the crushing lows of heartache, these verses will take you on a rollercoaster ride through the labyrinth of love's trials and tribulations.
Within these lines, you'll encounter the haunting echoes of lost love, and the bitter sting of betrayal—all masterfully crafted by the pens of poets who've bared their souls to capture the essence of heartbreak.
Whether you've personally weathered love's tempestuous storms or simply wish to immerse yourself in the turbulent seas of the heart, this collection promises to resonate, inspire, and perhaps even heal.
Get your hearts and souls ready to feel the shattering pain with our curated collection.
Let's get right to it!
My #1 Favorite Poem About Heartbreak
"Time Does Not Bring Relief" by Edna St. Vincent Millay
Time does not bring relief; you all have lied
Who told me time would ease me of my pain!
I miss him in the weeping of the rain;
I want him at the shrinking of the tide;
The old snows melt from every mountain-side,
And last year's leaves are smoke in every lane;
But last year's bitter loving must remain
Heaped on my heart, and my old thoughts abide.
There are a hundred places where I fear
To go – so with his memory they brim.
And entering with relief some quiet place
Where never fell his foot or shone his face
I say, 'There is no memory of him here!'
And so stand stricken, so remembering him.
Famous Poems About Heartbreak
"Ashes of Life" by Edna St. Vincent Millay
Love has gone and left me and the days are all alike;
Eat I must, and sleep I will,—and would that night were here!
But ah!—to lie awake and hear the slow hours strike!
Would that it were day again!—with twilight near!
Love has gone and left me and I don't know what to do;
This or that or what you will is all the same to me;
But all the things that I begin I leave before I'm through,—
There's little use in anything as far as I can see.
Love has gone and left me,—and the neighbors knock and borrow,
And life goes on forever like the gnawing of a mouse,—
And to-morrow and to-morrow and to-morrow and to-morrow
There's this little street and this little house.
"Blighted Love" by Luís de Camões, trans. by Lord Strangford
Flowers are fresh, and bushes green,
Cheerily the linnets sing;
Winds are soft, and skies serene;
Time, however, soon shall throw
Winter's snow
O'er the buxom breast of Spring!
Hope, that buds in lover's heart,
Lives not through the scorn of years;
Time makes love itself depart;
Time and scorn congeal the mind,—
Looks unkind
Freeze affection's warmest tears.
Time shall make the bushes green;
Time dissolve the winter snow;
Winds be soft, and skies serene;
Linnets sing their wonted strain:
But again
Blighted love shall never blow!
"The Nevermore" by Dante Gabriel Rossetti
Look in my face; my name is Might-have-been;
I am also called No-more, Too-late, Farewell;
Unto thine ear I hold the dead-sea shell
Cast up thy Life's foam-fretted feet between;
Unto thine eyes the glass where that is seen
Which had Life's form and Love's, but by my spell
Is now a shaken shadow intolerable,
Of ultimate things unuttered the frail screen.
Mark me, how still I am! But should there dart
One moment through my soul the soft surprise
Of that winged Peace which lulls the breath of sighs,—
Then shalt thou see me smile, and turn apart
Thy visage to mine ambush at thy heart
Sleepless with cold commemorative eyes.
"Proud of My Broken Heart" by Emily Dickinson
Proud of my broken heart, since thou didst break it.
Proud of the pain, I did not feel ? till thee.
Proud of my night, since thou, with moons, dos't shake it.
Not to partake thy passion, -my humility
"Has Summer Come Without the Rose?" by Arthur William Edgar O'Shaughnessy
Has summer come without the rose,
Or left the bird behind?
Is the blue changed above thee,
O world! or am I blind?
Will you change every flower that grows,
Or only change this spot,
Where she who said, I love thee,
Now says, I love thee not?
The skies seemed true above thee,
The rose true on the tree;
The bird seemed true the summer through,
But all proved false to me.
World, is there one good thing in you,
Life, love, or death—or what?
Since lips that sang, I love thee,
Have said, I love thee not?
I think the sun's kiss will scarce fall
Into one flower's gold cup;
I think the bird will miss me,
And give the summer up.
O sweet place, desolate in tall
Wild grass, have you forgot
How her lips loved to kiss me,
Now that they kiss me not?
Be false or fair above me;
Come back with any face,
Summer!—do I care what you do?
You cannot change one place,—
The grass, the leaves, the earth, the dew,
The grave I make the spot,—
Here, where she used to love me,
Here, where she loves me not.
"Sunshine After Cloud" by Josephine D. Heard
Come, "Will," let's be good friends again,
Our wrongs let's be forgetting,
For words bring only useless pain,
So wherefore then be fretting.
Let's lay aside imagined wrongs,
And ne'er give way to grieving,
Life should be filled with joyous songs,
No time left for deceiving.
I'll try and not give way to wrath,
Nor be so often crying;
There must some thorns be in our path,
Let's move them now by trying.
How, like a foolish pair were we,
To fume about a letter;
Time is so precious, you and me;
Must spend ours doing better.
"Yesterday and To-morrow" by Paul Laurence Dunbar
Yesterday I held your hand,
Reverently I pressed it,
And its gentle yieldingness
From my soul I blessed it.
But to-day I sit alone,
Sad and sore repining;
Must our gold forever know
Flames for the refining?
Yesterday I walked with you,
Could a day be sweeter?
Life was all a lyric song
Set to tricksy meter.
Ah, to-day is like a dirge,—
Place my arms around you,
Let me feel the same dear joy
As when first I found you.
Let me once retrace my steps,
From these roads unpleasant,
Let my heart and mind and soul
All ignore the present.
Yesterday the iron seared
And to-day means sorrow.
Pause, my soul, arise, arise,
Look where gleams the morrow.
"Ae Fond Kiss" by Robert Burns
Ae fond kiss, and then we sever;
Ae fareweel, and then forever!
Deep in heart-wrung tears I'll pledge thee,
Warring sighs and groans I'll wage thee.
Who shall say that Fortune grieves him,
While the star of hope she leaves him?
Me, nae cheerfu' twinkle lights me;
Dark despair around benights me.
I'll ne'er blame my partial fancy,
Naething could resist my Nancy;
But to see her was to love her;
Love but her, and love forever.
Had we never lov'd sae kindly,
Had we never lov'd sae blindly,
Never met—or never parted—
We had ne'er been broken-hearted.
Fare thee weel, thou first and fairest!
Fare thee weel, thou best and dearest!
Thine be ilka joy and treasure,
Peace. enjoyment, love, and pleasure!
Ae fond kiss, and then we sever;
Ae fareweel, alas, forever!
Deep in heart-wrung tears I'll pledge thee,
Warring sighs and groans I'll wage thee!
"Forget Me Not" by Ann Plato
When in the morning's misty hour,
When the sun beams gently o'er each flower;
When thou dost cease to smile benign,
And think each heart responds with thine,
When seeking rest among divine,
Forget me not.
When the last rays of twilight fall,
And thou art pacing yonder hall;
When mists are gathering on the hill,
Nor sound is heard save mountain rill,
When all around bids peace be still,
Forget me not.
When the first star with brilliance bright,
Gleams lonely o'er the arch of night;
When the bright moon dispels the gloom,
And various are the stars that bloom,
And brighten as the sun at noon,
Forget me not.
When solemn sighs the hollow wind,
And deepen'd thought enraps the mind;
If e'er thou doest in mournful tone,
E'er sigh because thou feel alone,
Or wrapt in melancholy prone,
Forget me not.
When bird does wait thy absence long,
Nor tend unto its morning song;
While thou art searching stoic page,
Or listening to an ancient sage,
Whose spirit curbs a mournful rage,
Forget me not.
Then when in silence thou doest walk,
Nor being round with whom to talk;
When thou art on the mighty deep,
And do in quiet action sleep;
If we no more on earth do meet,
Forget me not.
When brightness round thee long shall bloom,
And knelt remembering those in gloom;
And when in deep oblivion's shade,
This breathless, mouldering form is laid,
And thy terrestrial body staid,
Forget me not.
"Should sorrow cloud thy coming years,
And bathe thy happiness in tears,
Remember, though we're doom'd to part,
There lives one fond and faithful heart,
That will forget thee not."
"After Love" by Sara Teasdale
There is no magic any more,
We meet as other people do,
You work no miracle for me
Nor I for you.
You were the wind and I the sea—
There is no splendor any more,
I have grown listless as the pool
Beside the shore.
But though the pool is safe from storm
And from the tide has found surcease,
It grows more bitter than the sea,
For all its peace.
"What Lips My Lips Have Kissed, and Where, and Why" by Edna St. Vincent Millay
What lips my lips have kissed, and where, and why,
I have forgotten, and what arms have lain
Under my head till morning; but the rain
Is full of ghosts tonight, that tap and sigh
Upon the glass and listen for reply,
And in my heart there stirs a quiet pain
For unremembered lads that not again
Will turn to me at midnight with a cry.
Thus in the winter stands the lonely tree,
Nor knows what birds have vanished one by one,
Yet knows its boughs more silent than before:
I cannot say what loves have come and gone,
I only know that summer sang in me
A little while, that in me sings no more.
"He Would Not Stay for Me, and Who Can Wonder" by A. E. Housman
He would not stay for me, and who can wonder?
He would not stay for me to stand and gaze.
I shook his hand, and tore my heart in sunder,
And went with half my life about my ways.
"Adieu!" by John Clare
"Adieu, my love, adieu!
Be constant and be true
As the daisies gemmed with dew,
Bonny maid."
The cows their thirst were slaking,
Trees the playful winds were shaking;
Sweet songs the birds were making
In the shade.
The moss upon the tree
Was as green as green could be,
The clover on the lea
Ruddy glowed;
Leaves were silver with the dew,
Where the tall sowthistles grew,
And I bade the maid adieu
On the road.
Then I took myself to sea,
While the little chiming bee
Sung his ballad on the lea,
Humming sweet;
And the red-winged butterfly
Was sailing through the sky,
Skimming up and bouncing by
Near my feet.
I left the little birds,
And sweet lowing of the herds,
And couldn't find out words,
Do you see,
To say to them good bye,
Where the yellow cups do lie;
So heaving a deep sigh,
Took to sea.
"Daisy" by Francis Thompson
Where the thistle lifts a purple crown
Six foot out of the turf,
And the harebell shakes on the windy hill—
O the breath of the distant surf!—
The hills look over on the South,
And southward dreams the sea;
And, with the sea-breeze hand in hand,
Came innocence and she.
Where 'mid the gorse the raspberry
Red for the gatherer springs,
Two children did we stray and talk
Wise, idle, childish things.
She listened with big-lipped surprise,
Breast-deep mid flower and spine:
Her skin was like a grape, whose veins
Run snow instead of wine.
She knew not those sweet words she spake,
Nor knew her own sweet way;
But there 's never a bird, so sweet a song
Thronged in whose throat that day!
Oh, there were flowers in Storrington
On the turf and on the sprays;
But the sweetest flower on Sussex hills
Was the Daisy-flower that day!
Her beauty smoothed earth's furrowed face!
She gave me tokens three:—
A look, a word of her winsome mouth,
And a wild raspberry.
A berry red, a guileless look,
A still word,—strings of sand!
And yet they made my wild, wild heart
Fly down to her little hand.
For standing artless as the air,
And candid as the skies,
She took the berries with her hand,
And the love with her sweet eyes.
The fairest things have fleetest end:
Their scent survives their close,
But the rose's scent is bitterness
To him that loved the rose!
She looked a little wistfully,
Then went her sunshine way:—
The sea's eye had a mist on it,
And the leaves fell from the day.
She went her unremembering way,
She went and left in me
The pang of all the partings gone,
And partings yet to be.
She left me marvelling why my soul
Was sad that she was glad;
At all the sadness in the sweet,
The sweetness in the sad.
Still, still I seemed to see her, still
Look up with soft replies,
And take the berries with her hand,
And the love with her lovely eyes.
Nothing begins, and nothing ends,
That is not paid with moan;
For we are born in others' pain,
And perish in our own.
"O, Call Not Me To Justify the Wrong" by William Shakespeare
O, call not me to justify the wrong
That thy unkindness lays upon my heart;
Wound me not with thine eye but with thy tongue;
Use power with power, and slay me not by art.
Tell me thou lov'st elsewhere; but in my sight,
Dear heart, forbear to glance thine eye aside;
What need'st thou wound with cunning when thy might
Is more than my o'erpressed defense can bide?
Let me excuse thee: ah, my love well knows
Her pretty looks have been mine enemies;
And therefore from my face she turns my foes,
That they elsewhere might dart their injuries—
Yet do not so; but since I am near slain,
Kill me outright with looks and rid my pain.
"The Kiss" by Sara Teasdale
I hoped that he would love me,
And he has kissed my mouth,
But I am like a stricken bird
That cannot reach the south.
For though I know he loves me,
To-night my heart is sad;
His kiss was not so wonderful
As all the dreams I had.
"Woman's Inconstancy" by Sir Robert Ayton
I loved thee once, I 'll love no more,
Thine be the grief as is the blame;
Thou art not what thou wast before,
What reason I should be the same?
He that can love unloved again,
Hath better store of love than brain:
God sends me love my debts to pay,
While unthrifts fool their love away.
Nothing could have my love o'erthrown,
If thou hadst still continued mine;
Yea, if thou hadst remained thy own,
I might perchance have yet been thine.
But thou thy freedom didst recall,
That if thou might elsewhere inthrall;
And then how could I but disdain
A captive's captive to remain?
When new desires had conquered thee,
And changed the object of thy will,
It had been lethargy in me,
Not constancy, to love thee still.
Yea, it had been a sin to go
And prostitute affection so,
Since we are taught no prayers to say
To such as must to others pray.
Yet do thou glory in thy choice,
Thy choice of his good fortune boast;
I 'll neither grieve nor yet rejoice,
To see him gain what I have lost;
The height of my disdain shall be,
To laugh at him, to blush for thee;
To love thee still, but go no more
A begging to a beggar's door.
"Parted" by Sophie M. (almon) Hensley
My spirit holds you, Dear,
Though worlds away," –
This to their absent ones
Many can say.
"Thoughts, fancies, hopes, desires,
All must be yours;
Sweetest my memories still
Of our past hours."
I can say more than this
Now, lover mine, –
Here can I feel your kiss
Warmer than wine,
Feel your arms folding me,
Know that quick breath
That aye my soul would stir
Even in death.
'Tis not a memory, Love,
Thoughts of the past,
Fleeting remembrances
Which may not last, –
But, as I shut my eyes
Know I the sign
That you are here, yourself,
Bodily, mine. –
So, Love, I cannot say
"My spirit flies
Over the widening space,
Under dull skies,
To where your spirit is," –
Though I may know
Seas part us, earth divides,
It is not so
Here to me, now, for you
Lean on my heart.
Who says that you and I
Ever can part? –
"Lady, Lady" by Anne Spencer
Lady, Lady, I saw your face,
Dark as night withholding a star . . .
The chisel fell, or it might have been
You had borne so long the yoke of men.
Lady, Lady, I saw your hands,
Twisted, awry, like crumpled roots,
Bleached poor white in a sudsy tub,
Wrinkled and drawn from your rub-a-dub.
Lady, Lady, I saw your heart,
And altared there in its darksome place
Were the tongues of flame the ancients knew,
Where the good God sits to spangle through.
"The Wound" by Thomas Hardy
I climbed to the crest,
And, fog-festooned,
The sun lay west
Like a crimson wound:
Like that wound of mine
Of which none knew,
For I'd given no sign
That it pierced me through.
"Porphyria's Lover" by Robert Browning
The rain set early in to-night,
The sullen wind was soon awake,
It tore the elm-tops down for spite,
And did its worst to vex the lake:
I listened with heart fit to break.
When glided in Porphyria; straight
She shut the cold out and the storm,
And kneeled and made the cheerless grate
Blaze up, and all the cottage warm;
Which done, she rose, and from her form
Withdrew the dripping cloak and shawl,
And laid her soiled gloves by, untied
Her hat and let the damp hair fall,
And, last, she sat down by my side
And called me. When no voice replied,
She put my arm about her waist,
And made her smooth white shoulder bare,
And all her yellow hair displaced,
And, stooping, made my cheek lie there,
And spread, o'er all, her yellow hair,
Murmuring how she loved me — she
Too weak, for all her heart's endeavour,
To set its struggling passion free
From pride, and vainer ties dissever,
And give herself to me for ever.
But passion sometimes would prevail,
Nor could to-night's gay feast restrain
A sudden thought of one so pale
For love of her, and all in vain:
So, she was come through wind and rain.
Be sure I looked up at her eyes
Happy and proud; at last I knew
Porphyria worshipped me; surprise
Made my heart swell, and still it grew
While I debated what to do.
That moment she was mine, mine, fair,
Perfectly pure and good: I found
A thing to do, and all her hair
In one long yellow string I wound
Three times her little throat around,
And strangled her. No pain felt she;
I am quite sure she felt no pain.
As a shut bud that holds a bee,
I warily oped her lids: again
Laughed the blue eyes without a stain.
And I untightened next the tress
About her neck; her cheek once more
Blushed bright beneath my burning kiss:
I propped her head up as before,
Only, this time my shoulder bore
Her head, which droops upon it still:
The smiling rosy little head,
So glad it has its utmost will,
That all it scorned at once is fled,
And I, its love, am gained instead!
Porphyria's love: she guessed not how
Her darling one wish would be heard.
And thus we sit together now,
And all night long we have not stirred,
And yet God has not said a word!
"The Weary Blues" by Langston Hughes
Droning a drowsy syncopated tune,
Rocking back and forth to a mellow croon,
I heard a Negro play.
Down on Lenox Avenue the other night
By the pale dull pallor of an old gas light
He did a lazy sway . . .
He did a lazy sway . . .
To the tune o' those Weary Blues.
With his ebony hands on each ivory key
He made that poor piano moan with melody.
O Blues!
Swaying to and fro on his rickety stool
He played that sad raggy tune like a musical fool.
Sweet Blues!
Coming from a black man's soul.
O Blues!
In a deep song voice with a melancholy tone
I heard that Negro sing, that old piano moan—
"Ain't got nobody in all this world,
Ain't got nobody but ma self.
I's gwine to quit ma frownin'
And put ma troubles on the shelf."
Thump, thump, thump, went his foot on the floor.
He played a few chords then he sang some more—
"I got the Weary Blues
And I can't be satisfied.
Got the Weary Blues
And can't be satisfied—
I ain't happy no mo'
And I wish that I had died."
And far into the night he crooned that tune.
The stars went out and so did the moon.
The singer stopped playing and went to bed
While the Weary Blues echoed through his head.
He slept like a rock or a man that's dead.
"The Parting" by Jean Blewett
One summer's morning I heard a lark
Singing to heaven, a sweet-throated bird;
One winter's night I was glad in the dark
Because of the wondrous song I had heard.
The joy of life, I have heard you say,
Is my love, my laughter, my smiles and tears;
When I have gone on the long, strange way,
Let these stay with you through all the years –
These be the lark's song. What is love worth
That cannot crowd, in the time that's given
To two like us on this gray old earth,
Such bliss as will last till we reach heaven?
Dear one, think oft of the full, glad years,
And, thinking of them, forget to weep.
Whisper: "Remembrance holds no tears!"
And kiss my mouth when I fall on sleep.
"To Love Impuissant" by Edna St. Vincent Millay
Love, though for this you riddle me with darts,
And drag me at your chariot till I die—
Oh, heavy prince! oh, panderer of hearts!—
Yet hear me tell how in their throats they lie
Who shout you mighty: thick about my hair,
Day in, day out, your ominous arrows purr,
Who still am free, unto no querulous care
A fool, and in no temple worshipper.
I, that have bared me to your quiver's fire,
Lifted my face into its puny rain,
Do wreathe your Impotent to Evoke Desire
As you are Powerless to Elicit Pain!
(Now will the god, for blasphemy so brave,
Punish me, surely, with the shaft I crave!)
"What Do I Care" by Sara Teasdale
What do I care, in the dreams and the languor of spring,
That my songs do not show me at all?
For they are a fragrance, and I am a flint and a fire,
I am an answer, they are only a call.
But what do I care, for love will be over so soon,
Let my heart have its say and my mind stand idly by,
For my mind is proud and strong enough to be silent,
It is my heart that makes my songs, not I.
"Passer Mortuus Est" by Edna St. Vincent Millay
Death devours all lovely things;
Lesbia with her sparrow
Shares the darkness,—presently
Every bed is narrow
Unremembered as old rain
Dries the sheer libation,
And the little petulant hand
Is an annotation.
After all, my erstwhile dear,
My no longer cherished,
Need we say it was not love,
Now that love is perished?
"Oh, Think of Me!" by George Pope Morris
Oh, think of me, my own beloved,
Whatever cares beset thee!
And when thou hast the falsehood proved,
Of those with smiles who met thee–
While o'er the sea, think, love, of me,
Who never can forget thee;
Let memory trace the trysting-place,
Where I with tears regret thee.
Bright as you star, within my mind,
A hand unseen hath set thee;
There hath thine image been enshrined,
Since first, dear love, I met thee;
So in thy breast I fain would rest,
If, haply, fate would let me–
And live or die, so thou wert nigh,
To love or to regret me!
"Parting" by George William Russell
As from our dream we died away
Far off I felt the outer things;
Your wind-blown tresses round me play,
Your bosom's gentle murmurings.
And far away our faces met
As on the verge of the vast spheres;
And in the night our cheeks were wet,
I could not say with dew or tears.
As one within the Mother's heart
In that hushed dream upon the height
We lived, and then we rose to part,
Because her ways are infinite.
"When Love Has Changed to Kindliness" by Rupert Brooke
When love has changed to kindliness—
Oh, love, our hungry lips, that press
So tight that Time's an old god's dream
Nodding in heaven, and whisper stuff
Seven million years were not enough
To think on after, make it seem
Less than the breath of children playing,
A blasphemy scarce worth the saying,
A sorry jest, "When love has grown
To kindliness—to kindliness!"…
And yet—the best that either's known
Will change, and wither, and be less,
At last, than comfort, or its own
Remembrance. And when some caress
Tendered in habit (once a flame
All heaven sang out to) wakes the shame
Unworded, in the steady eyes
We'll have,—that day, what shall we do?
Being so noble, kill the two
Who've reached their second-best? Being wise,
Break cleanly off, and get away.
Follow down other windier skies
New lures, alone? Or shall we stay,
Since this is all we've known, content
In the lean twilight of such day,
And not remember, not lament?
That time when all is over, and
Hand never flinches, brushing hand;
And blood lies quiet, for all you're near;
And it's but spoken words we hear,
Where trumpets sang; when the mere skies
Are stranger and nobler than your eyes;
And flesh is flesh, was flame before;
And infinite hungers leap no more
In the chance swaying of your dress;
And love has changed to kindliness.
"Witch-Wife" by Edna St. Vincent Millay
She is neither pink nor pale,
And she never will be all mine;
She learned her hands in a fairy-tale,
And her mouth on a valentine.
She has more hair than she needs;
In the sun 'tis a woe to me!
And her voice is a string of colored beads,
Or steps leading into the sea.
She loves me all that she can,
And her ways to my ways resign;
But she was not made for any man,
And she never will be all mine.
Poems About Being Broken Inside
"Love is a Flame" by George Marion McClellan
Love is a flame that burns with sacred fire,
And fills the being up with sweet desire;
Yet, once the altar feels love's fiery breath,
The heart must be a crucible till death.
Say love is life; and say it not amiss,
That love is but a synonym for bliss.
Say what you will of love—in what refrain,
But knows the heart, 'tis but a word for pain.
"The Broken Heart" by Samuel Griswold Goodrich
Oh think not with love's soft token,
Or music my heart to thrill
For its strings its strings are broken,
And the chords would fain be still!
Oh think not to waken the measure
Of joy on a ruined lute
Think not to waken pleasure,
Where grief sits mourning and mute.
The pearls that gleam in the billow,
But darken the gloom of the deep
And laughter plants the pillow
With thorns, where sorrow would sleep.
The gems that gleam on the finger
Of her who is sleeping and cold,
But wring the hearts that linger.
And dream of the love they told.
My bosom is but a grave,
My breast a voiceless choir
Speak not to the echoless cave,
Touch not the broken lyre!
"Lost Love" by Robert Von Ranke Graves
His eyes are quickened so with grief,
He can watch a grass or leaf
Every instant grow; he can
Clearly through a flint wall see,
Or watch the startled spirit flee
From the throat of a dead man.
Across two counties he can hear,
And catch your words before you speak.
The woodlouse or the maggot's weak
Clamour rings in his sad ear;
And noise so slight it would surpass
Credence: drinking sound of grass,
Worm-talk, clashing jaws of moth
Chumbling holes in cloth:
The groan of ants who undertake
Gigantic loads for honour's sake,
Their sinews creak, their breath comes thin:
Whir of spiders when they spin,
And minute whispering, mumbling, sighs
Of idle grubs and flies.
This man is quickened so with grief,
He wanders god-like or like thief
Inside and out, below, above,
Without relief seeking lost love.
"Broken-Hearted" by Rose Hawthorne Lathrop
"Cross my hands upon my breast,"
Read her last behest.
"Turn my cheek upon the pillow,
As resting from life's stormy billow
With sleep's fine zest!"
"Cross my hands upon my breast,"
Read her last behest,
"That the patient bones may lie
In form of thanks eternally,
Grimly expressed!"
We clasped her hands upon her breast:
Oh mockery at misery's hest!
We hid in flowers her body's grief, –
Counting by many a rose and leaf
Her days unblessed!
"She Loved Him" by George Pope Morris
She loved him–but she heeded not–
Her heart had only room for pride:
All other feelings were forgot,
When she became another's bride.
As from a dream she then awoke,
To realize her lonely state,
And own it was the vow she broke
That made her drear and desolate!
She loved him–but the sland'rer came,
With words of hate that all believed;
A stain thus rested on his name–
But he was wronged and she deceived;
Ah! rash the act that gave her hand,
That drove her lover from her side–
Who hied him to a distant land,
Where, battling for a name, he died!
She loved him–and his memory now
Was treasured from the world apart:
The calm of thought was on her brow,
The seeds of death were in her heart.
For all the world that thing forlorn
I would not, could not be, and live–
That casket with its jewel gone,
A bride who has no heart to give!
"The End" by D. H. Lawrence
If I could have put you in my heart,
If but I could have wrapped you in myself,
How glad I should have been!
And now the chart
Of memory unrolls again to me
The course of our journey here, here where we part.
And of, that you had never, never been
Some of your selves, my love, that some
Of your several faces I had never seen!
And still they come before me, and they go,
And I cry aloud in the moments that intervene.
And oh, my love, as I rock for you to-night,
And have not any longer and hope
To heal the suffering, or to make requite
For all your life of asking and despair,
I own that some of me is dead to-night.
"O Nightingale My Heart" by Robert Malise Bowyer Nichols
O Nightingale my heart
How sad thou art!
How heavy is thy wing,
Desperately whirrë d that thy throat may fling
Song to the tingling silences remote!
Thine eye whose ruddy spark
Burned fiery of late,
How dead and dark!
Why so soon didst thou sing,
And with such turbulence of love and hate?
Learn that there is no singing yet can bring
The expected dawn more near;
And thou art spent already, though the night
Scarce has begun;
What voice, what eyes wilt thou have for the light
When the light shall appear,
And O what wings to bear thee t'ward the Sun?
"Why Is The Rose So Pale" by Heinrich Heine
Oh Dearest, canst thou tell me why
The Rose should be so pale?
And why the azure Violet
Should wither in the vale?
And why the Lark should, in the cloud,
So sorrowfully sing?
And why from loveliest balsam-buds
A scent of death should spring?
And why the Sun upon the mead
So chillingly should frown?
And why the Earth should, like a grave,
Be mouldering and brown?
And why is it that I, myself,
So languishing should be?
And why is it, my Heart-of-Hearts,
That thou forsakest me?
"Partnership In Fame" by Robert Fuller Murray
Love, when the present is become the past,
And dust has covered all that now is new,
When many a fame has faded out of view,
And many a later fame is fading fast –
If then these songs of mine might hope to last,
Which sing most sweetly when they sing of you,
Though queen and empress wore oblivion's hue,
Your loveliness would not be overcast.
Now, while the present stays with you and me,
In love's copartnery our hearts combine,
Life's loss and gain in equal shares to take.
Partners in fame our memories then would be:
Your name remembered for my songs; and mine
Still unforgotten for your sweetness' sake.
"The Sea of Glass" by Ezra Pound
I looked and saw a sea
roofed over with rainbows,
In the midst of each
two lovers met and departed;
Then the sky was full of faces
with gold glories behind them.
"Unloved" by Rose Hawthorne Lathrop
Paler than the water's white
Stood the maiden in the shade,
And more silent than the night
Were her lips together laid;
Eyes she hid so long and still
By lids wet with unshed tears,
Hands she loosely clasped at will,
Though her heart was full of fears.
Never, never, never more
May her soul with joy be moved;
Silent, silent, silent, – for
He was silent whom she loved.
"If You Should Go" by Countee Cullen
Love, leave me like the light,
The gently passing day;
We would not know, but for the night,
When it has slipped away.
So many hopes have fled,
Have left me but the name
Of what they were. When love is dead,
Go thou, beloved, the same.
Go quietly; a dream
When done, should leave no trace
That it has lived, except a gleam
Across the dreamer's face.
"The Dream Of Love" by George Pope Morris
I've had the heart-ache many times,
At the mere mention of a name
I've never woven in my rhymes,
Though from it inspiration came.
It is in truth a holy thing,
Life-cherished from the world apart–
A dove that never tries its wing,
But broods and nestles in the heart.
That name of melody recalls
Her gentle look and winning ways
Whose portrait hangs on memory's walls,
In the fond light of other days.
In the dream-land of Poetry,
Reclining in its leafy bowers,
Her bright eyes in the stars I see,
And her sweet semblance in the flowers.
Her artless dalliance and grace–
The joy that lighted up her brow–
The sweet expression of her face–
Her form–it stands before me now!
And I can fancy that I hear
The woodland songs she used to sing,
Which stole to my attending ear,
Like the first harbingers of spring.
The beauty of the earth was hers,
And hers the purity of heaven;
Alone, of all her worshippers,
To me her maiden vows were given.
They little know the human heart,
Who think such love with time expires;
Once kindled, it will ne'er depart,
But burn through life with all its fires.
We parted–doomed no more to meet–
The blow fell with a stunning power–
And yet my pulse will strangely beat
At the remembrance of that hour!
But time and change their healing brought,
And years have passed in seeming glee,
But still alone of her I've thought
Who's now a memory to me.
There may be many who will deem
This strain a wayward, youthful folly,
To be derided as a dream
Born of the poet's melancholy.
The wealth of worlds, if it were mine,
With all that follows in its train,
I would with gratitude resign,
To dream that dream of love again.
"Tasting the Earth" by James Oppenheim
In a dark hour, tasting the Earth.
As I lay on my couch in the muffled night, and the rain lashed at my window,
And my forsaken heart would give me no rest, no pause and no peace,
Though I turned my face far from the wailing of my bereavement…
Then I said: I will eat of this sorrow to its last shred,
I will take it unto me utterly,
I will see if I be not strong enough to contain it…
What do I fear? Discomfort?
How can it hurt me, this bitterness?
The miracle, then!
Turning toward it, and giving up to it,
I found it deeper than my own self…
O dark great mother-globe so close beneath me…
It was she with her inexhaustable grief,
Ages of blood-drenched jungles, and the smoking of craters, and the roar of tempests,
And moan of the forsaken seas,
It was she with the hills beginning to walk in the shapes of the dark-hearted animals,
It was she risen, dashing away tears and praying to dumb skies, in the pomp-crumbling tragedy of man…
It was she, container of all griefs, and the buried dust of broken hearts,
Cry of the christs and the lovers and the child-stripped mothers,
And ambition gone down to defeat, and the battle overborne,
And the dreams that have no waking…
My heart became her ancient heart:
On the food of the strong I fed, on dark strange life itself:
Wisdom-giving and sombre with the unremitting love of ages…
There was dank soil in my mouth,
And bitter sea on my lips,
In a dark hour, tasting the Earth.
"Summer Morn in New Hampshire" by Claude McKay
All yesterday it poured, and all night long
I could not sleep; the rain unceasing beat
Upon the shingled roof like a weird song,
Upon the grass like running children's feet.
And down the mountains by the dark cloud kissed,
Like a strange shape in filmy veiling dressed,
Slid slowly, silently, the wraith-like mist,
And nestled soft against the earth's wet breast.
But lo, there was a miracle at dawn!
The still air stirred at touch of the faint breeze,
The sun a sheet of gold bequeathed the lawn,
The songsters twittered in the rustling trees.
And all things were transfigured in the day,
But me whom radiant beauty could not move;
For you, more wonderful, were far away,
And I was blind with hunger for your love.
"Love in Fantastique Triumph Satt" by Aphra Behn
Love in Fantastique Triumph satt
Whilst Bleeding Hearts a round him flow'd,
For whom fresh paines he did Create,
And strange Tyranick power he show'd;
From thy Bright Eyes he took his fire,
Which round about, in sport he hurl'd;
But 'twas from mine he took desire,
Enough to undo the Amorous World.
From me he took his sighs and tears,
From thee his Pride and Crueltie;
From me his Languishments and Feares,
And every Killing Dart from thee;
Thus thou and I, the God have arm'd,
And sett him up a Deity;
But my poor heart alone is harm'd,
Whilst thine the Victor is, and free.
"The Barrier" by Claude McKay
I must not gaze at them although
Your eyes are dawning day;
I must not watch you as you go
Your sun-illumined way;
I hear but I must never heed
The fascinating note,
Which, fluting like a river reed,
Comes from your trembling throat;
I must not see upon your face
Love's softly glowing spark;
For there's the barrier of race,
You're fair and I am dark.
"Ashes of Roses" by Elaine Goodale Eastman
Soft on the sunset sky
Bright daylight closes,
Leaving, when light doth die,
Pale hues that mingling lie,—
Ashes of roses.
When love's warm sun is set,
Love's brightness closes;
Eyes with hot tears are wet,
In hearts there linger yet
Ashes of roses.
"Whoever You Are Holding Me Now in Hand" by Walt Whitman
Whoever you are holding me now in hand,
Without one thing all will be useless,
I give you fair warning before you attempt me further,
I am not what you supposed, but far different.
Who is he that would become my follower?
Who would sign himself a candidate for my affections?
The way is suspicious, the result uncertain, perhaps destructive,
You would have to give up all else, I alone would expect to be your sole and exclusive standard,
Your novitiate would even then be long and exhausting,
The whole past theory of your life and all conformity to the lives around you would have to be abandon'd,
Therefore release me now before troubling yourself any further, let go your hand from my shoulders,
Put me down, and depart on your way.
Or else by stealth in some wood for trial,
Or back of a rock in the open air,
(For in any roof'd room of a house I emerge not, nor in company,
And in libraries I lie as one dumb, a gawk, or unborn, or dead,)
But just possibly with you on a high hill, first watching lest any person for miles around approach unawares,
Or possibly with you sailing at sea, or on the beach of the sea or some quiet island,
Here to put your lips upon mine I permit you,
With the comrade's long-dwelling kiss or the new husband's kiss,
For I am the new husband and I am the comrade.
Or if you will, thrusting me beneath your clothing,
Where I may feel the throbs of your heart or rest upon your hip,
Carry me when you go forth over land or sea;
For thus merely touching you is enough, is best,
And thus touching you, would I silently sleep and be carried eternally.
But these leaves conning you con at peril,
For these leaves and me you will not understand,
They will elude you at first and still more afterward, I will certainly elude you,
Even while you should think you had unquestionably caught me, behold!
Already you see I have escaped from you.
For it is not for what I have put into it that I have written this book,
Nor is it by reading it you will acquire it,
Nor do those know me best who admire me and vauntingly praise me,
Nor will the candidates for my love (unless at most a very few,) prove victorious,
Nor will my poems do good only, they will do just as much evil, perhaps more,
For all is useless without that which you may guess at many times and not hit, that which I hinted at;
Therefore release me and depart on your way.
"Alas, So All Things Now Do Hold Their Peace" by Henry Howard
Alas, so all things now do hold their peace,
Heaven and earth disturbèd in no thing;
The beasts, the air, the birds their song do cease;
The nightes car the stars about doth bring.
Calm is the sea, the waves work less and less.
So am not I, whom love, alas, doth wring,
Bringing before my face the great increase
Of my desires, whereat I weep and sing
In joy and woe, as in a doubtful ease.
For my sweet thoughts sometime do pleasure bring,
But by and by the cause of my disease
Gives me a pang that inwardly doth sting,
When that I think what grief it is again
To live and lack the thing should rid my pain.
"The Heart Breaking" by Abraham Cowley
It gave a piteous groan, and so it broke;
In vain it something would have spoke:
The love within too strong for 't was,
Like poison put into a Venice-glass.
I thought that this some remedy might prove;
But oh, the mighty serpent Love,
Cut by this chance in pieces small,
In all still liv'd, and still it stung in all.
And now, alas! each little broken part
Feels the whole pain of all my heart;
And every smallest corner still
Lives with that torment which the whole did kill.
Even so rude armies, when the field they quit,
And into several quarters get;
Each troop does spoil and ruin more
Than all join'd in one body did before.
How many Loves reign in my bosom now!
How many loves, yet all of you!
Thus have I chang'd with evil fate
My Monarch-love into a Tyrant-state.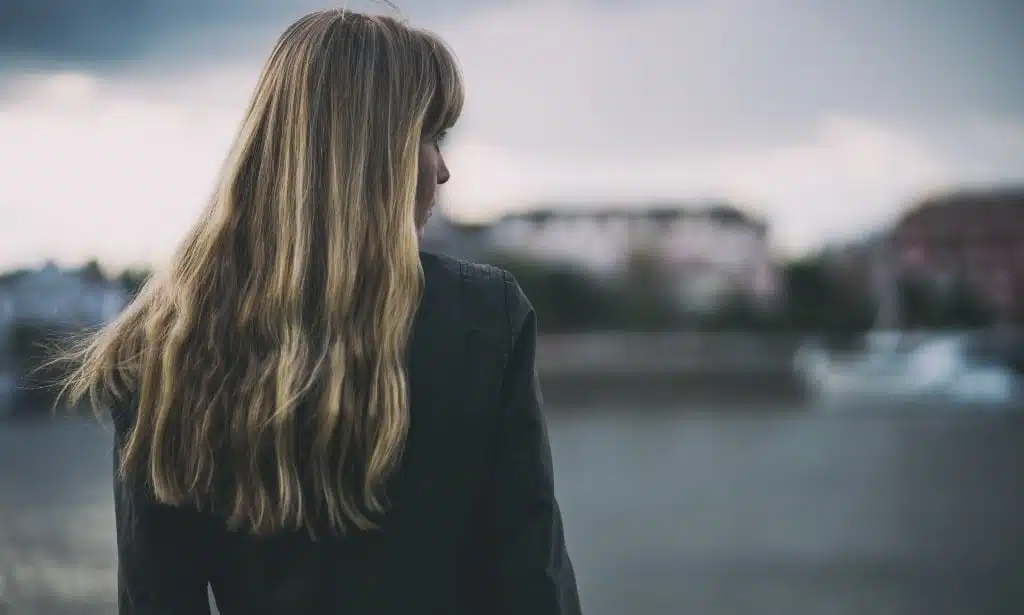 "I Do Not Love Thee" by Caroline Elizabeth Sarah Norton
I do not love thee!—no! I do not love thee!
And yet when thou art absent I am sad;
And envy even the bright blue sky above thee,
Whose quiet stars may see thee and be glad.
I do not love thee!—yet, I know not why,
Whate'er thou dost seems still well done, to me:
And often in my solitude I sigh
That those I do love are not more like thee!
I do not love thee!—yet, when thou art gone,
I hate the sound (though those who speak be dear)
Which breaks the lingering echo of the tone
Thy voice of music leaves upon my ear.
I do not love thee!—yet thy speaking eyes,
With their deep, bright, and most expressive blue,
Between me and the midnight heaven arise,
Oftener than any eyes I ever knew.
I know I do not love thee! yet, alas!
Others will scarcely trust my candid heart;
And oft I catch them smiling as they pass,
Because they see me gazing where thou art.
"Sometimes With One I Love" by Walt Whitman
Sometimes with one I love I fill myself with rage for fear I effuse unreturn'd love,
But now I think there is no unreturn'd love, the pay is certain one way or another,
(I loved a certain person ardently and my love was not return'd,
Yet out of that I have written these songs.)
"I Love Thee Still" by George Pope Morris
I never have been false to thee!—
The heart I gave thee still is thine;
Though thou hast been untrue to me,
And I no more may call thee mine!
I 've loved, as woman ever loves,
With constant soul in good or ill:
Thou 'st proved as man too often proves,
A rover—but I love thee still!
Yet think not that my spirit stoops
To bind thee captive in my train!—
Love's not a flower at sunset droops,
But smiles when comes her god again!
Thy words, which fall unheeded now,
Could once my heart-strings madly thrill!
Lovely golden chain and burning vow
Are broken—but I love thee still!
Once what a heaven of bliss was ours,
When love dispelled the clouds of care,
And time went by with birds and flowers,
While song and incense filled the air!
The past is mine—the present thine—
Should thoughts of me thy future fill,
Think what a destiny is mine,
To lose—but love thee, false one, still!
"Love's Secret" by William Blake
Never seek to tell thy love,
Love that never told can be;
For the gentle wind doth move
Silently, invisibly.
I told my love, I told my love,
I told her all my heart,
Trembling, cold, in ghastly fears.
Ah! she did depart!
Soon after she was gone from me,
A traveller came by,
Silently, invisibly:
He took her with a sigh.
"A Parting" by W. M. MacKeracher
Has the last farewell been spoken?
Have I ta'en the parting token
From thy lips so sweet?
Has their last soft word been spoken
Till again we meet?
Why is not thy hand extended?
Is my maiden queen offended?
Or does she forget?
No! my queen is not offended,
She is kindly yet.
For her eye is softly beaming,
And with tenderness is teeming,
Gentle as the dove's:
With a holy light is beaming –
Dare I call it love's?
But the time is fast advancing;
From the heaven of its glancing
I must rend my heart:
Treacherous Time is fast advancing,
And I must depart.
Ah! the pain the parting brings me!
As a serpent's fang it stings me,
Leaves me almost dead:
Ah! the faintness that it brings me
With the future fled!
'Tis a darkened night of sorrow,
Waiting for the light of morrow;
Thus it seems to me:
'Tis a night of pain and sorrow
While I want for thee.
Two long weeks of weary waiting,
All my happiness belating;
When will they be o'er?
Two long weeks of woful waiting
E'er I see thee more.
"The Deserted Bride" by George Pope Morris
"Love me!–No.–He never loved me!"
Else he'd sooner die than stain
One so fond as he has proved me
With the hollow world's disdain.
False one, go–my doom is spoken,
And the spell that bound me broken.
Wed him!–Never.–He has lost me!–
Tears!–Well, let them flow!–His bride?
No.–The struggle life may cost me!
But he'll find that I have pride!
Love is not an idle flower,
Blooms and dies the self-same hour.
Title, land, and broad dominion,
With himself to me he gave;
Stooped to earth his spirit's pinion,
And became my willing slave!
Knelt and prayed until he won me–
Looks he coldly upon me?
Ingrate!–Never sure was maiden
Deeply wronged as I. With grief
My true breast is overladen–
Tears afford me no relief–
Every nerve is strained and aching,
And my very heart is breaking!
Love I him?–Thus scorned and slighted–
Thrown, like worthless weed, apart–
Hopes and feelings seared and blighted–
Love him?–Yes, with all my heart!
With a passion superhuman–
Constancy, "thy name is woman."
Love, nor time, nor mood, can fashion–
Love?–Idolatry's the word
To speak the broadest, deepest passion,
Ever woman's heart hath stirred!
Vain to still the mind's desires,
Which consume like hidden fires!
Wrecked and wretched, lost and lonely,
Crushed by grief's oppressive weight
With a prayer for Clifford only,
I resign me to my fate.
Chains that bind the soul I've proven
Strong as they were iron woven.
Deep the wo that fast is sending
From my cheek its healthful bloom;
Sad my thoughts as willows bending
O'er the borders of the tomb!
Without Clifford, not a blessing
In the world is worth possessing.
Wealth!–a straw within the balance
Opposed to love, 'twill strike the beam:
Kindred, friendship, beauty, talents?–
All to love as nothing seem;
Weigh love against all else together,
And solid gold against a feather.
Hope is flown–away disguises
Naught but death relief can give–
For the love he little prizes
Can not cease, and Julia live!
Soon my thread of life will sever–
Clifford, fare thee well–for ever!
"Never Give All the Heart" by W. B. Yeats
Never give all the heart, for love
Will hardly seem worth thinking of
To passionate women if it seem
Certain, and they never dream
That it fades out from kiss to kiss;
For everything that's lovely is
But a brief, dreamy, kind delight.
O never give the heart outright,
For they, for all smooth lips can say,
Have given their hearts up to the play.
And who could play it well enough
If deaf and dumb and blind with love?
He that made this knows all the cost,
For he gave all his heart and lost.
"Anna, Thy Charms" by Robert Burns
Anna, thy charms my bosom fire,
And waste my soul with care;
But ah! how bootless to admire,
When fated to despair!
Yet in thy presence, lovely Fair,
To hope may be forgiven;
For sure 'twere impious to despair
So much in sight of heaven.
"Au Revoir" by George Pope Morris
Love left one day his leafy bower,
And roamed in sportive vein,
Where Vanity had built a tower,
For Fashion's sparkling train.
The mistress to see he requested,
Of one who attended the door:
"Not home," said the page, who suggested
That he'd leave his card.–"Au Revoir."
Love next came to a lowly bower:
A maid who knew no guile,
Unlike the lady of the tower,
Received him with a smile.
Since then the cot beams with his brightness
Though often at Vanity's door
Love calls, merely out of politeness,
And just leaves his card.–"Au Revoir."
Poems About Heartbreak And Moving On
"Lightning" by Witter Bynner
There is a solitude in seeing you,
Followed by your company when you are gone.
You are like heaven's veils of lightning.
I cannot see till afterward
How beautiful you are.
There is a blindness in seeing you,
Followed by the sight of you when you are gone.
"To His Coy Love" by Michael Drayton
I pray thee, leave, love me no more,
Call home the heart you gave me!
I but in vain that saint adore
That can but will not save me.
These poor half-kisses kill me quite—
Was ever man thus servèd?
Amidst an ocean of delight
For pleasure to be starvèd?
Show me no more those snowy breasts
With azure riverets branchèd,
Where, whilst mine eye with plenty feasts,
Yet is my thirst not stanchèd;
O Tantalus, thy pains ne'er tell!
By me thou art prevented:
'Tis nothing to be plagued in Hell,
But thus in Heaven tormented.
Clip me no more in those dear arms,
Nor thy life's comfort call me,
O these are but too powerful charms,
And do but more enthral me!
But see how patient I am grown
In all this coil about thee:
Come, nice thing, let my heart alone,
I cannot live without thee!
"Ebb" by Edna St. Vincent Millay
I know what my heart is like
Since your love died:
It is like a hollow ledge
Holding a little pool
Left there by the tide,
A little tepid pool,
Drying inward from the edge.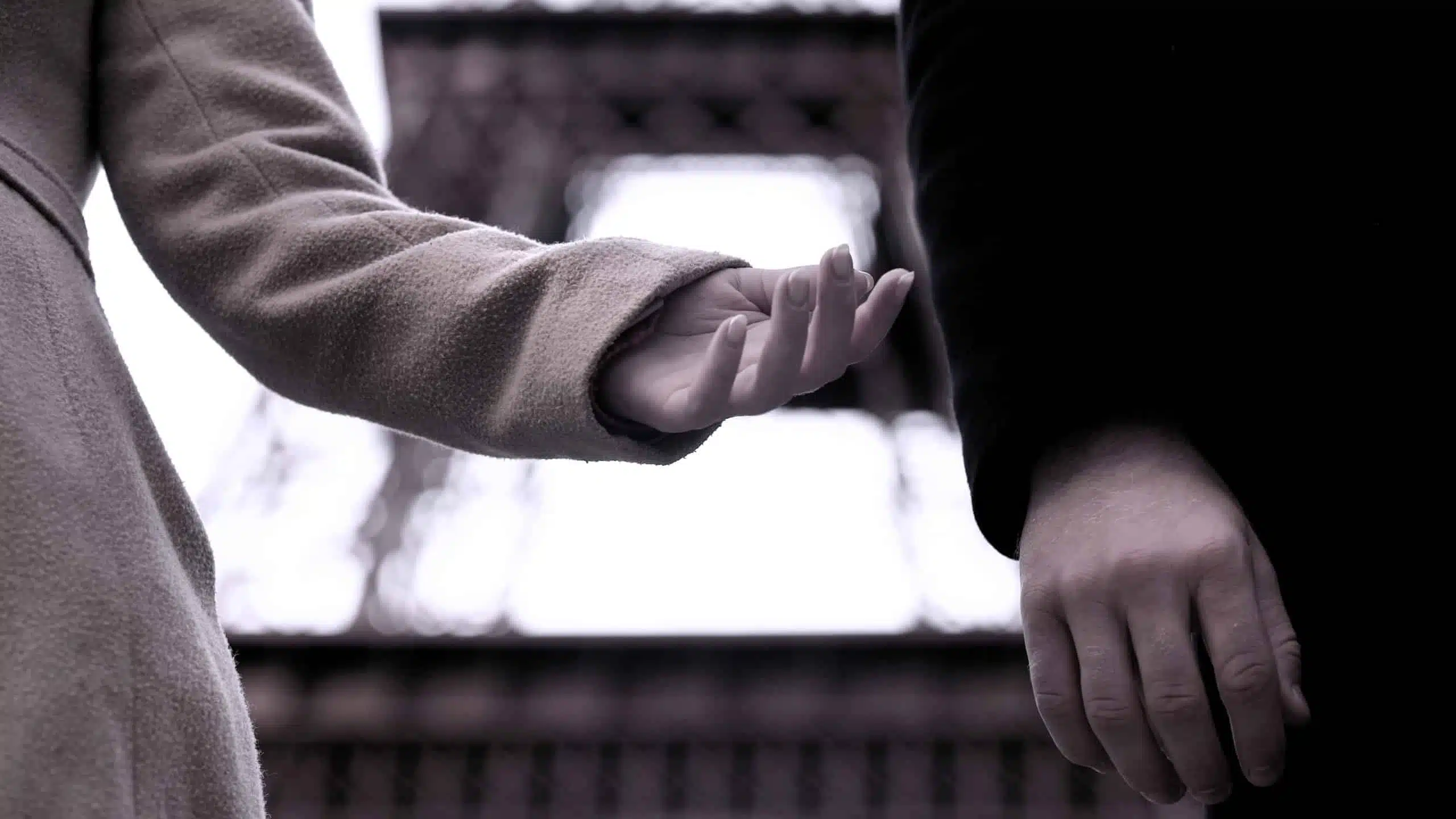 "When We Two Parted" by George Gordon Byron
When we two parted
In silence and tears,
Half broken-hearted
To sever for years,
Pale grew thy cheek and cold,
Colder thy kiss;
Truly that hour foretold
Sorrow to this.
The dew of the morning
Sunk chill on my brow—
It felt like the warning
Of what I feel now.
Thy vows are all broken,
And light is thy fame;
I hear thy name spoken,
And share in its shame.
They name thee before me,
A knell to mine ear;
A shudder comes o'er me—
Why wert thou so dear?
They know not I knew thee,
Who knew thee too well—
Long, long shall I rue thee,
Too deeply to tell.
In secret we met—
In silence I grieve,
That thy heart could forget,
Thy spirit deceive.
If I should meet thee
After long years,
How should I greet thee?—
With silence and tears.
"Heart Yearnings" by George Marion McClellan
Oh! for the welcome breath of country air,
With Summer skies and flowers,
To shout and feel once more the halcyon
Of gayer boyhood hours.
I think the sight of fields and shady lanes
Would ease my heart of pains.
To cool once more my thirst, where bubbled up
The waters of a spring,
Where I have seen the golden daffodils
And lillies flourishing,
My fevered heart would more than half forget
Its sighs, and vain regret.
Far, far away, from early scenes am I;
And, too, my youth has fled;
For me a stranger's land, a stranger's sky,
That arches overhead.
For scenes and joys that now have passed me by,
I can but give a sigh.
"Louise Smith" by Edgar Lee Masters
Herbert broke our engagement of eight years
When Annabelle returned to the village
From the Seminary, ah me!
If I had let my love for him alone
It might have grown into a beautiful sorrow –
Who knows? – filling my life with healing fragrance.
But I tortured it, I poisoned it,
I blinded its eyes, and it became hatred –
Deadly ivy instead of clematis.
And my soul fell from its support,
Its tendrils tangled in decay.
Do not let the will play gardener to your soul
Unless you are sure
It is wiser than your soul's nature.
"When All Is Done" by Paul Laurence Dunbar
When all is done, and my last word is said,
And ye who loved me murmur, "He is dead,"
Let no one weep, for fear that I should know,
And sorrow too that ye should sorrow so.
When all is done and in the oozing clay,
Ye lay this cast-off hull of mine away,
Pray not for me, for, after long despair,
The quiet of the grave will be a prayer.
For I have suffered loss and grievous pain,
The hurts of hatred and the world's disdain,
And wounds so deep that love, well-tried and pure,
Had not the pow'r to ease them or to cure.
When all is done, say not my day is o'er,
And that thro' night I seek a dimmer shore:
Say rather that my morn has just begun,–
I greet the dawn and not a setting sun,
When all is done.
"(from) Diverse Worlds, Time and Eternity" by Christina Rossetti
The half moon shows a face of plaintive sweetness
Ready and poised to wax or wane;
A fire of pale desire in incompleteness,
Tending to pleasure or to pain:—
Lo, while we gaze she rolleth on in fleetness
To perfect loss or perfect gain.
Half bitterness we know, we know half sweetness;
This world is all on wax, on wane:
When shall completeness round time's incompleteness,
Fulfilling joy, fulfilling pain?—
Lo, while we ask, life rolleth on in fleetness
To finished loss or finished gain.
"Willow Poem" by William Carlos Williams
It is a willow when summer is over,
a willow by the river
from which no leaf has fallen nor
bitten by the sun
turned orange or crimson.
The leaves cling and grow paler,
swing and grow paler
over the swirling waters of the river
as if loath to let go,
they are so cool, so drunk with
the swirl of the wind and of the river—
oblivious to winter,
the last to let go and fall
into the water and on the ground.
"We Parted in Silence" by Louisa Macartney Crawford
We parted in silence, we parted by night,
On the banks of that lonely river;
Where the fragrant limes their boughs unite,
We met—and we parted forever!
The night-bird sung, and the stars above
Told many a touching story,
Of friends long passed to the kingdom of love,
Where the soul wears its mantle of glory.
We parted in silence,—our cheeks were wet
With the tears that were past controlling;
We vowed we would never, no, never forget,
And those vows at the time were consoling;
But those lips that echoed the sounds of mine
Are as cold as that lonely river;
And that eye, that beautiful spirit's shrine,
Has shrouded its fires forever.
And now on the midnight sky I look,
And my heart grows full of weeping;
Each star is to me a sealèd book,
Some tale of that loved one keeping.
We parted in silence,—we parted in tears,
On the banks of that lonely river:
But the odor and bloom of those bygone years
Shall hang o'er its waters forever.
"A Fixed Idea" by Amy Lowell
What torture lurks within a single thought
When grown too constant; and however kind,
However welcome still, the weary mind
Aches with its presence. Dull remembrance taught
Remembers on unceasingly; unsought
The old delight is with us but to find
That all recurring joy is pain refined,
Become a habit, and we struggle, caught.
You lie upon my heart as on a nest,
Folded in peace, for you can never know
How crushed I am with having you at rest
Heavy upon my life. I love you so
You bind my freedom from its rightful quest.
In mercy lift your drooping wings and go.
"The Parting" by Maurice Henry Hewlett
Breathless was she and would not have us part:
"Adieu, my Saint," I said, "'tis come to this."
But she leaned to me, one hand at her heart,
And all her soul sighed trembling in a kiss.
"Since There's No Help, Come Let Us Kiss and Part" by Michael Drayton
Since there's no help, come let us kiss and part.
Nay, I have done, you get no more of me;
And I am glad, yea glad with all my heart,
That thus so cleanly I myself can free.
Shake hands for ever, cancel all our vows,
And when we meet at any time again,
Be it not seen in either of our brows
That we one jot of former love retain.
Now at the last gasp of Love's latest breath,
When, his pulse failing, Passion speechless lies;
When Faith is kneeling by his bed of death,
And Innocence is closing up his eyes—
Now, if thou wouldst, when all have given him over,
From death to life thou might'st him yet recover!
"Swing High and Swing Low" by Eugene Field
Swing high and swing low
While the breezes they blow –
It's off for a sailor thy father would go;
And it's here in the harbor, in sight of the sea,
He hath left his wee babe with my song and with me:
"Swing high and swing low
While the breezes they blow!"
Swing high and swing low
While the breezes they blow –
It's oh for the waiting as weary days go!
And it's oh for the heartache that smiteth me when
I sing my song over and over again:
"Swing high and swing low
While the breezes they blow!"
"Swing high and swing low " –
The sea singeth so,
And it waileth anon in its ebb and its flow;
And a sleeper sleeps on to that song of the sea
Nor recketh he ever of mine or of me!
"Swing high and swing low
While the breezes they blow –
'T was off for a sailor thy father would go!"
"Adam's Curse" by William Butler Yeats
We sat together at one summer's end,
That beautiful mild woman, your close friend,
And you and I, and talked of poetry.
I said, 'A line will take us hours maybe;
Yet if it does not seem a moment's thought,
Our stitching and unstitching has been naught.
Better go down upon your marrow-bones
And scrub a kitchen pavement, or break stones
Like an old pauper, in all kinds of weather;
For to articulate sweet sounds together
Is to work harder than all these, and yet
Be thought an idler by the noisy set
Of bankers, schoolmasters, and clergymen
The martyrs call the world.
And thereupon
That beautiful mild woman for whose sake
There's many a one shall find out all heartache
On finding that her voice is sweet and low
Replied: 'To be born woman is to know–
Although they do not talk of it at school–
That we must labour to be beautiful.
I said, 'It's certain there is no fine thing
Since Adam's fall but needs much labouring.
There have been lovers who thought love should be
So much compounded of high courtesy
That they would sigh and quote with learned looks
Precedents out of beautiful old books;
Yet now it seems an idle trade enough.
We sat grown quiet at the name of love;
We saw the last embers of daylight die,
And in the trembling blue-green of the sky
A moon, worn as if it had been a shell
Washed by time's waters as they rose and fell
About the stars and broke in days and years.
I had a thought for no one's but your ears:
That you were beautiful, and that I strove
To love you in the old high way of love;
That it had all seemed happy, and yet we'd grown
As weary-hearted as that hollow moon.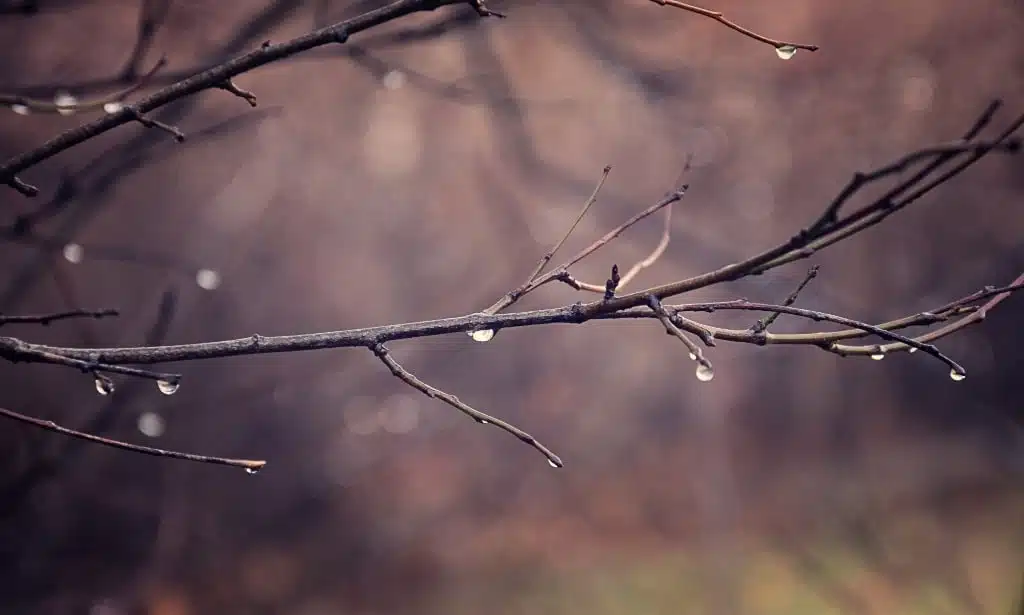 "Like The Touch Of Rain" by Edward Thomas
Like the touch of rain she was
On a man's flesh and hair and eyes
When the joy of walking thus
Has taken him by surprise:
With the love of the storm he burns,
He sings, he laughs, well I know how,
But forgets when he returns
As I shall not forget her 'Go now'.
Those two words shut a door
Between me and the blessed rain
That was never shut before
And will not open again.
"From The Flats" by Sidney Lanier
What heartache — ne'er a hill!
Inexorable, vapid, vague and chill
The drear sand-levels drain my spirit low.
With one poor word they tell me all they know;
Whereat their stupid tongues, to tease my pain,
Do drawl it o'er again and o'er again.
They hurt my heart with griefs I cannot name:
Always the same, the same.
Nature hath no surprise,
No ambuscade of beauty 'gainst mine eyes
From brake or lurking dell or deep defile;
No humors, frolic forms — this mile, that mile;
No rich reserves or happy-valley hopes
Beyond the bend of roads, the distant slopes.
Her fancy fails, her wild is all run tame:
Ever the same, the same.
Oh might I through these tears
But glimpse some hill my Georgia high uprears,
Where white the quartz and pink the pebble shine,
The hickory heavenward strives, the muscadine
Swings o'er the slope, the oak's far-falling shade
Darkens the dogwood in the bottom glade,
And down the hollow from a ferny nook
Bright leaps a living brook!
"Whoso List to Hunt, I Know where is an Hind" by Sir Thomas Wyatt
Whoso list to hunt, I know where is an hind,
But as for me, hélas, I may no more.
The vain travail hath wearied me so sore,
I am of them that farthest cometh behind.
Yet may I by no means my wearied mind
Draw from the deer, but as she fleeth afore
Fainting I follow. I leave off therefore,
Sithens in a net I seek to hold the wind.
Who list her hunt, I put him out of doubt,
As well as I may spend his time in vain.
And graven with diamonds in letters plain
There is written, her fair neck round about:
Noli me tangere, for Caesar's I am,
And wild for to hold, though I seem tame.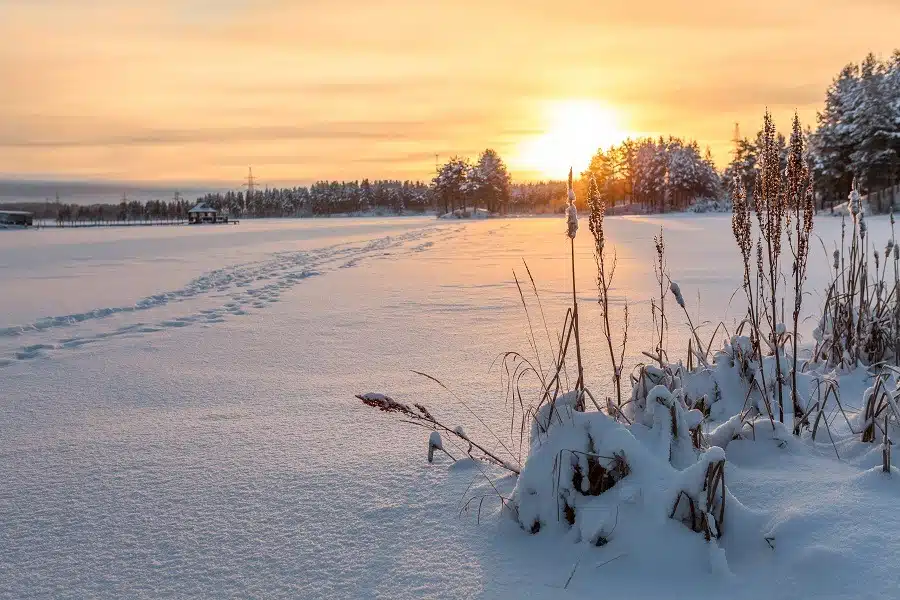 "A Winter's Tale" by D.H. Lawrence
Yesterday the fields were only grey with scattered snow,
And now the longest grass-leaves hardly emerge;
Yet her deep footsteps mark the snow, and go
On towards the pines at the hills' white verge.
I cannot see her, since the mist's white scarf
Obscures the dark wood and the dull orange sky;
But she's waiting, I know, impatient and cold, half
Sobs struggling into her frosty sigh.
Why does she come so promptly, when she must know
That she's only the nearer to the inevitable farewell;
The hill is steep, on the snow my steps are slow –
Why does she come, when she knows what I have to tell?
"Bei Hennef" by D. H. Lawrence
The little river twittering in the twilight,
The wan, wondering look of the pale sky,
This is almost bliss.
And everything shut up and gone to sleep,
All the troubles and anxieties and pain
Gone under the twilight.
Only the twilight now, and the soft "Sh!" of the river
That will last forever.
And at last I know my love for you is here,
I can see it all, it is whole like the twilight,
It is large, so large, I could not see it before
Because of the little lights and flickers and interruptions,
Troubles, anxieties, and pains.
You are the call and I am the answer,
You are the wish, and I the fulfillment,
You are the night, and I the day.
What else—it is perfect enough,
It is perfectly complete,
You and I.
Strange, how we suffer in spite of this!
"The Things We Dare Not Tell" by Henry Lawson
The fields are fair in autumn yet, and the sun's still shining there,
But we bow our heads and we brood and fret, because of the masks we wear;
Or we nod and smile the social while, and we say we're doing well,
But we break our hearts, oh, we break our hearts! for the things we must not tell.
There's the old love wronged ere the new was won, there's the light of long ago;
There's the cruel lie that we suffer for, and the public must not know.
So we go through life with a ghastly mask, and we're doing fairly well,
While they break our hearts, oh, they kill our hearts! do the things we must not tell.
We see but pride in a selfish breast, while a heart is breaking there;
Oh, the world would be such a kindly world if all men's hearts lay bare!
We live and share the living lie, we are doing very well,
While they eat our hearts as the years go by, do the things we dare not tell.
We bow us down to a dusty shrine, or a temple in the East,
Or we stand and drink to the world-old creed, with the coffins at the feast;
We fight it down, and we live it down, or we bear it bravely well,
But the best men die of a broken heart for the things they cannot tell.
"Irish Love Song" by Margaret Widdemer
Well, if the thing is over, better it is for me,
The lad was ever a rover, loving and laughing free,
Far too clever a lover not to be having still
A lass in the town and a lass by the road and a lass by the farther hill —
Love on the field and love on the path and love in the woody glen —
(Lad, will I never see you, never your face again?)
Ay, if the thing is ending, now I'll be getting rest,
Saying my prayers and bending down to be stilled and blest,
Never the days are sending hope till my heart is sore
For a laugh on the path and a voice by the gate and a step
on the shieling floor —
Grief on my ways and grief on my work and grief till the evening's dim —
(Lord, will I never hear it, never a sound of him?)
Sure if it's done forever, better for me that's wise,
Never the hurt, and never tears in my aching eyes,
No more the trouble ever to hide from my asking folk
Beat of my heart at click o' the latch, and throb if his name is spoke;
Never the need to hide the sighs and the flushing thoughts and the fret,
And after awhile my heart will hush and my hungering hands forget .
Peace on my ways, and peace in my step, and maybe my heart grown light —
(Mary, helper of heartbreak, send him to me to-night!)
"Dana" by George William Russell
I am the tender voice calling "Away,"
Whispering between the beatings of the heart,
And inaccessible in dewy eyes
I dwell, and all unkissed on lovely lips,
Lingering between white breasts inviolate,
And fleeting ever from the passionate touch,
I shine afar, till men may not divine
Whether it is the stars or the beloved
They follow with rapt spirit.
And I weave
My spells at evening, folding with dim caress,
Aerial arms and twilight dropping hair,
The lonely wanderer by wood or shore,
Till, filled with some deep tenderness, he yields,
Feeling in dreams for the dear mother heart
He knew, ere he forsook the starry way,
And clings there, pillowed far above the smoke
And the dim murmur from the duns of men.
I can enchant the trees and rocks, and fill
The dumb brown lips of earth with mystery,
Make them reveal or hide the god.
I breathe
A deeper pity than all love, myself
Mother of all, but without hands to heal:
Too vast and vague, they know me not.
But yet,
I am the heartbreak over fallen things,
The sudden gentleness that stays the blow,
And I am in the kiss that foemen give
Pausing in battle, and in the tears that fall
Over the vanquished foe, and in the highest,
Among the Danaan gods, I am the last
Council of mercy in their hearts where they
Mete justice from a thousand starry thrones.
"A Channel Passage" by Rupert Brooke
The damned ship lurched and slithered.
Quiet and quick
My cold gorge rose; the long sea rolled; I knew
I must think hard of something, or be sick;
And could think hard of only one thing — YOU!
You, you alone could hold my fancy ever!
And with you memories come, sharp pain, and dole.
Now there's a choice — heartache or tortured liver!
A sea-sick body, or a you-sick soul!
Do I forget you? Retchings twist and tie me,
Old meat, good meals, brown gobbets, up I throw.
Do I remember? Acrid return and slimy,
The sobs and slobber of a last years woe.
And still the sick ship rolls.
'Tis hard, I tell ye,
To choose 'twixt love and nausea, heart and belly.
"My Heart and I" by Elizabeth Barrett Browning
I.
Enough! we're tired, my heart and I.
We sit beside the headstone thus,
And wish that name were carved for us.
The moss reprints more tenderly
The hard types of the mason's knife,
As heaven's sweet life renews earth's life
With which we're tired, my heart and I.
II.
You see we're tired, my heart and I.
We dealt with books, we trusted men,
And in our own blood drenched the pen,
As if such colours could not fly.
We walked too straight for fortune's end,
We loved too true to keep a friend ;
At last we're tired, my heart and I.
III.
How tired we feel, my heart and I !
We seem of no use in the world ;
Our fancies hang grey and uncurled
About men's eyes indifferently ;
Our voice which thrilled you so, will let
You sleep; our tears are only wet :
What do we here, my heart and I ?
IV.
So tired, so tired, my heart and I !
It was not thus in that old time
When Ralph sat with me 'neath the lime
To watch the sunset from the sky.
Dear love, you're looking tired,' he said;
I, smiling at him, shook my head :
'Tis now we're tired, my heart and I.
V.
So tired, so tired, my heart and I !
Though now none takes me on his arm
To fold me close and kiss me warm
Till each quick breath end in a sigh
Of happy languor. Now, alone,
We lean upon this graveyard stone,
Uncheered, unkissed, my heart and I.
VI.
Tired out we are, my heart and I.
Suppose the world brought diadems
To tempt us, crusted with loose gems
Of powers and pleasures ? Let it try.
We scarcely care to look at even
A pretty child, or God's blue heaven,
We feel so tired, my heart and I.
VII.
Yet who complains ? My heart and I ?
In this abundant earth no doubt
Is little room for things worn out :
Disdain them, break them, throw them by
And if before the days grew rough
We once were loved, used, — well enough,
I think, we've fared, my heart and I.
"Last Week" by Andrew Barton Paterson
Oh, the new-chum went to the backblock run,
But he should have gone there last week.
He tramped ten miles with a loaded gun,
But of turkey of duck saw never a one,
For he should have been there last week,
They said,
There were flocks of 'em there last week.
He wended his way to a waterfall,
And he should have gone there last week.
He carried a camera, legs and all,
But the day was hot and the stream was small,
For he should have gone there last week,
They said,
They drowned a man there last week.
He went for a drive, and he made a start,
Which should have been made last week,
For the old horse died of a broken heart;
So he footed it home and he dragged the cart —
But the horse was all right last week,
They said,
He trotted a match last week.
So he asked all the bushies who came from afar
To visit the town last week
If the'd dine with him, and they said "Hurrah!"
But there wasn't a drop in the whisky jar —
You should have been here last week,
He said,
I drank it all up last week!
"A Golden Day" by Paul Laurence Dunbar
I found you and I lost you,
All on a gleaming day.
The day was filled with sunshine,
And the land was full of May.
A golden bird was singing
Its melody divine,
I found you and I loved you,
And all the world was mine.
I found you and I lost you,
All on a golden day,
But when I dream of you, dear,
It is always brimming May.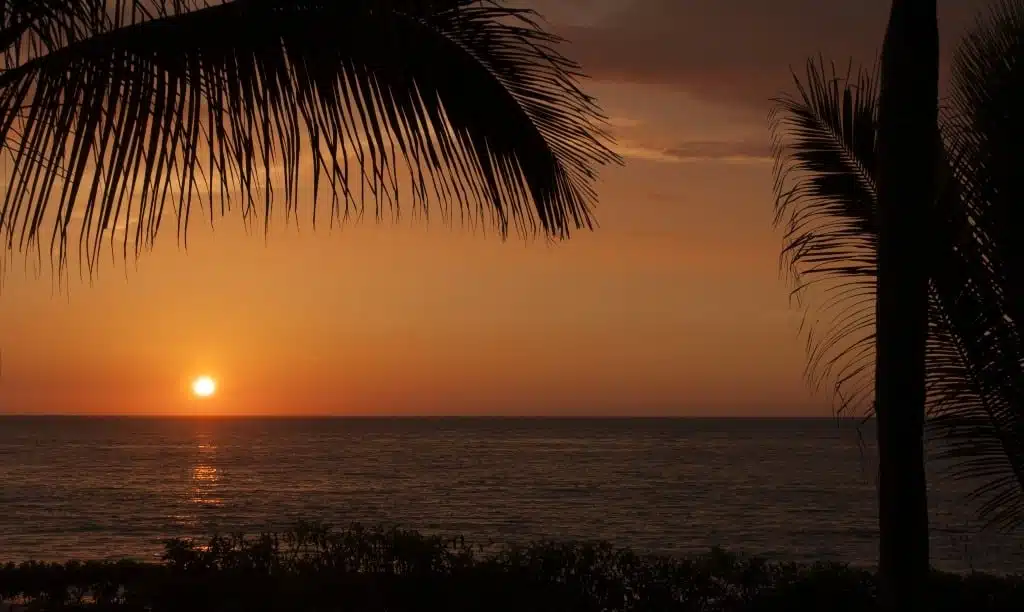 "A Memory" by Lola Ridge
I remember
The crackle of the palm trees
Over the mooned white roofs of the town…
The shining town…
And the tender fumbling of the surf
On the sulphur-yellow beaches
As we sat…a little apart…in the close-pressing night.
The moon hung above us like a golden mango,
And the moist air clung to our faces,
Warm and fragrant as the open mouth of a child
And we watched the out-flung sea
Rolling to the purple edge of the world,
Yet ever back upon itself…
As we…
Inadequate night…
And mooned white memory
Of a tropic sea…
How softly it comes up
Like an ungathered lily.
"The Difference" by Thomas Hardy
Sinking down by the gate I discern the thin moon,
And a blackbird tries over old airs in the pine,
But the moon is a sorry one, sad the bird's tune,
For this spot is unknown to that Heartmate of mine.
Did my Heartmate but haunt here at times such as now,
The song would be joyous and cheerful the moon;
But she will see never this gate, path, or bough,
Nor I find a joy in the scene or the tune.
"Her Voice" by Oscar Wilde
The wild bee reels from bough to bough
With his furry coat and his gauzy wing.
Now in a lily-cup, and now
Setting a jacinth bell a-swing,
In his wandering;
Sit closer love: it was here I trow
I made that vow,
Swore that two lives should be like one
As long as the sea-gull loved the sea,
As long as the sunflower sought the sun,—
It shall be, I said, for eternity
'Twixt you and me!
Dear friend, those times are over and done.
Love's web is spun.
Look upward where the poplar trees
Sway in the summer air,
Here n the valley never a breeze
Scatters the thistledown, but there
Great winds blow fair
From the mighty murmuring mystical seas,
And the wave-lashed leas.
Look upward where the white gull screams,
What does it see that we do not see?
Is that a star? or the lamp that gleams
On some outward voyaging argosy,—
Ah! can it be
We have lived our lives in a land of dreams!
How sad it seems.
Sweet, there is nothing left to say
But this, that love is never lost,
Keen winter stabs the breasts of May
Whose crimson roses burst his frost,
Ships tempest-tossed
Will find a harbor in some bay,
And so we may.
And there is nothing left to do
But to kiss once again, and part,
Nay, there is nothing we should rue,
I have my beauty,—you your Art,
Nay, do not start,
One world was not enough for two
Like me and you.
"The Heart Unseen" by Richard Le Gallienne
So many times the heart can break,
So many ways,
Yet beat along and beat along
So many days.
A fluttering thing we never see,
And only hear
When some stern doctor to our side
Presses his ear.
Strange hidden thing, that beats and beats
We know not why,
And makes us live, though we indeed
Would rather die.
Mysterious, fighting, loving thing,
So sad, so true –
I would my laughing eyes some day
Might look on you.
"The Broken Lute" by Theodosia Garrison
Good-bye, my song–I, who found words for sorrow,
Offer my joy to-day a useless lute.
In the deep night I sang me of the morrow;
The sun is on my face and I am mute.
Good-bye, my song, in you was all my yearning,
The prayer for this poor heart I wore so long.
Now love heaps roses where the wounds were burning;
What need have I for song?
Long since I sang of all one loves and misses;
How may I sing to-day who know no wrong?
My lips are all for laughter and for kisses.
Good-bye, my song.