Here are the 41 best handpicked poems about berries categorized:
Poems about brambles & berries
Poems about picking berries
Rhyming poems about berries
So if you want the best collection of poems about berries, then you're in the right place.
Let's jump right in!
Our Handpicked Poems About Berries
Indulge in the delectable world of berries as you explore a handpicked collection of exquisite poems that pay homage to their vibrant beauty and profound symbolism, all gathered conveniently in one place.
From verses that celebrate the lusciousness and succulence of these nature's gems to eloquent compositions that evoke their sweetness and nourishing qualities, this anthology captures the essence of berries in poetic perfection.
Join us on this poetic journey into the world of berries – a symphony of flavors, colors, and emotions awaits your discovery.
Let's go!
My Favorite Poem About Berries
The Cloudberry
by Muriel Stuart

Give me no coil of dæmon flowers—
Pale Messalines that faint and brood
Through the spent secret twilight hours
On their strange feasts of blood.
Give me wild things of moss and peat—
The gipsy flower that bravely goes,
The heather's little hard, brown feet,
And the black eyes of sloes.
But most of all the cloudberry
That offers in her clean, white cup
The melting snows—the cloudberry!
Where the great winds go up
To the hushed peak whose shadow fills
The air with silence calm and wide—
She lives, the Dian of the hills,
And the streams course beside.
Poems About Brambles & Berries
From "A Poet's Home"
by George Wither

In every row hath nature planted there
Some banquet for the hungry passenger.
For here the hazel-nut and filbert grows,
There bullice, and, a little farther, sloes.
On this hand standeth a fair weilding-tree,
On that large thickets of blackberries be.
The shrubby fields are raspice orchards there,
The new felled woods like strawberry gardens are,
And had the King of Rivers blessed those hills
With some small number of such pretty rills
As flow elsewhere, Arcadia had not seen
A sweeter plot of earth than this had been.
Enchantment
by Madison Julius Cawein

The deep seclusion of this forest path,—
O'er which the green boughs weave a canopy;
Along which bluet and anemone
Spread a dim carpet; where the Twilight hath
Her dark abode; and, sweet as aftermath,
Wood-fragrance roams,—has so enchanted me,
That yonder blossoming bramble seems to be
Some Sylvan resting, rosy from her bath:
Has so enspelled me with tradition's dreams,
That every foam-white stream that, twinkling, flows,
And every bird that flutters wings of tan,
Or warbles hidden, to my fancy seems
A Naiad dancing to a Faun who blows
Wild woodland music on the pipes of Pan.
The Bramble
by Robert Nicoll

Be the bramble in the berry,
Or be it in the flower, –
Or be it bare of leaf and bud
Waved by the winter shower;
That creeping bush that lowly is,
As lowly well can be,
It hath a charm—a history—
A tale that pleases me!

When black grew bramble-berries,
Some twenty years ago,
The dawning often saw us set
Where mountain waters flow;
And when the gruesome gloaming came
To keek into our creel,
It found a fouth o' spotted trout
Whilk we had tackled weel!

The bramble-berries were our food,
And water was our wine,
The linnet to the self-same bush
Came after us to dine.
As down the glen at e'en we gaed,
The lammies round us bleated,
And we, wi' blithesome hearts, their word
To ilka rock repeated!

And when awa' we used to gang
By fieldpaths green and lane,
The bramble flower'd beside our feet,
And mantled tree and stane;
And wi' the hedgerow, oak, and thorn,
Its branches twisted were,
That scarcely through the wall of leaves,
Could breathe the caller air!

Then be the bramble-berry black,
Or be it in the flower,
I love its humble lowliness ,
For sake o' days run ower :
And grow it in the woods sae green,
Or grow it on the brae,
I like to meet the bramble bush
Where'er my footsteps gae!
From "Grapes"
by D. H. Lawrence

So many fruits come from roses
From the rose of all roses
From the unfolded rose
Rose of all the world.

Admit that apples and strawberries and peaches and pears and blackberries
Are all Rosaceæ,
Issue of the explicit rose,
The open-countenanced, skyward-smiling rose.

What then of the vine?
Oh, what of the tendrilled vine?

Ours is the universe of the unfolded rose,
The explicit,
The candid revelation.
The Lily
by John Keats

Above his head
Four lily stalks did their white honours wed,
Tomakea coronal, and round him grew
All tendrils green, of every bloom and hue.
Together intertwined and trammell'd fresh:
The vine of glossy sprout-the ivy mesh,
Shading its Ethiop berries-and woodbine,
Of velvet leaves and bugle blooms divine
Convolvulus in streaked vases blush
The creeper mellowing for an autumn flush
And Virgin's Bower trailing airily,
With others of the sisterhood.
The Mistletoe
by Unknown

Hail, silvery, modest Mistletoe,
Wreath'd round winter's brow of snow,
Clinging so chastely, tenderly !
Hail, Holly, darkly, richly green,
Whose crimson berries blush between
Thy prickly foliage modestly :
Ye winter flowers bloom sweet and fair,
Though winter's garden else be bare
Ye vernal glistening emblems, meet
To twine a Christmas coronet.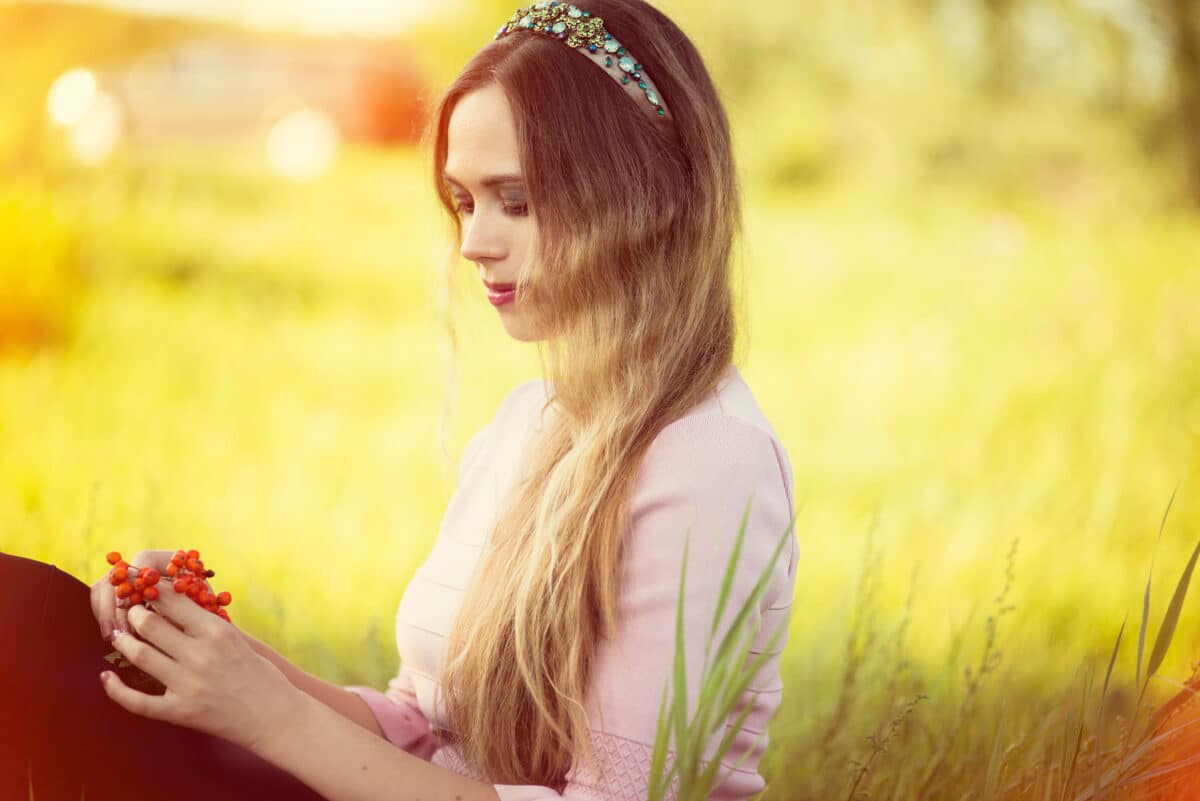 The Bramble-Flower
by Ebenezer Elliot

Thy fruit full well the school- boy knows,
Wild Bramble of the brake!
So put thou forth thy small white rose,
I love it for his sake.

Though woodbines flaunt, and roses glow
Through all the fragrant bowers,
Thou need'st not be ashamed to show
Thy satin-threaded flowers;

For dull the eye, the heart is dull,
That cannot feel how fair,
Amid all beauty beautiful,
Thy tender blossoms are.

How delicate thy gauzy frill!
How rich thy branchy stem!
How soft thy voice when woods are still,
And thou sing'st hymns to them,

While silent showers are falling slow,
And 'mid the general hush
Asweet air lifts the little bough,
Lone whispering through the bush!

The primrose to the grave is gone;
The hawthorn flower is dead;
The violet by the mossed grey stone
Hath laid her weary head;

But thou, wild Bramble, back dost bring,
In all their beauteous power,
The fresh green days of life's fair
And boyhood's blossom hour.

Scorned Bramble of the brake! once more
Thou bid'st me be a boy,
To gad with thee the woodlands o'er,
In freedom and in joy.
From "The Grasshopper"
by Madison Cawein

We hear you in the vines and berry-brambles,
Along the unkempt lanes, among the weeds,
Amid the shadeless meadows, gray with seeds,
And by the wood, round which the rail-fence rambles,
Sawing the sunlight with your sultry saw.
Or,—like to tomboy truants, at their play
With noisy mirth among the barn's deep straw,—
You sing away the careless summer-day.
O brier-like voice that clings in idleness
To Summer's drowsy dress.
From "The Stolen Child"
by W. B. Yeats

Where dips the rocky highland
Of Sleuth Wood in the lake,
There lies a leafy island
Where flapping herons wake
The drowsy water rats;
There we've hid our faery vats,
Full of berries,
And of reddest stolen cherries.
Come away, O human child!
To the waters and the wild
With a faery, hand in hand,
For the world's more full of weeping than you can understand.
The Log-Bridge
by Madison Julius Cawein

I
Last month, where the old log-bridge is laid
O'er the woodland creek, in the belts o' the shade,
To the right and the left, pink-packed, was made
A gloaming glory of scented tangle
By the bramble roses there—that wade,
High-heaped, from the banks—with many a braid
That, wilting, powdered the ruts, and swayed,
To the waters beneath, loose loops of spangle;
Where the breeze that blew and the beam that rayed
Were murmurous-soft with the bees awrangle.

II
This month—'tis August—the lane that leads
To the bramble-bridge runs waste with weeds,
That bloom bright saffron, or satin seeds
Of thistle-fleece blow at you, hazy:
Starry the lane with the thousand bredes
Of the yellow daisy, and bud-like beads
Of marigold eyes, around which speeds
The butterfly, sumptuous with mottle and lazy;
Whereunder the pewee picks and pleads,
On the sumach's tassel that dips to the daisy.

III
All golden the spot in the noon's gold shine,
Where the yellow-bird sits with eyes like wine
And swings and whistles; where, line on line,
In coils of warmth the sunbeams nestle;
Where cool by the pool (where the crawfish, fine
As a shadow's shadow, darts dim) to mine
The wet creek-clay with their peevish whine,
Come mason-hornets; and roll and wrestle
With balls of clay they carry, and twine
In hollow nests on the joists o' the trestle.

IV
Where the horsemint shoots through the grasses,—high
On the root-thick rivage that roofs,—a dry
Gray knob that bristles with pink, the sigh
Of crickets is heard; and the leaves' deep bosoms
Are pierced, at dusk, with a bird's quick cry,
A passing bird that twitters by:
And the frogs' grave antiphons rise and die;
And here, to drink, come the wild opossums:
And here, to-night, will you and I
Linger and lean while the great moon blossoms.
Drouth in Autumn
by Madison Julius Cawein

Gnarled acorn-oaks against a west
Of copper, cavernous with fire;
A wind of frost that gives no rest
To such lean leaves as haunt the brier,
And hide the cricket's vibrant wire.

Sere, shivering shocks, and stubble blurred
With bramble-blots of dull maroon;
And creekless hills whereon no herd
Finds pasture, and whereo'er the loon
Flies, haggard as the rainless moon.
From "The Path By the Creek"
by Madison Julius Cawein

Then when the night is still
Here sings the whippoorwill;
And stealthy sounds of crickets,
And winds that pass,
Whispering, through bramble thickets
Along the grass,
Faint with warm scents of hay,
Seem feet of dreams astray.

And where the water shines
Dark through tree-twisted vines,
Some water-spirit, dreaming,
Braids in her hair
A star's reflection; seeming
A jewel there;
While all the sweet night long
Ripples her quiet song….
From "July"
by Madison Julius Cawein

Now 'tis the time when, tall,
The long blue torches of the bellflower gleam
Among the trees; and, by the wooded stream,
In many a fragrant ball,
Blooms of the button-bush fall.

Let us go forth and seek
Woods where the wild plums redden and the beech
Plumps its stout burrs; and, swelling, just in reach,
The pawpaw, emerald-sleek,
Ripens along the creek.

Now 'tis the time when ways
Of glimmering green flaunt white the giant plumes
Of the black-cohosh; and through bramble glooms,—
A blur of orange rays,—
The butterfly-blossoms blaze.

Let us go forth and hear
The spiral music that the locusts beat,
And that small spray of sound, so grassy sweet,
Dear to a country ear,
The cricket's summer cheer.
The Forest Spring
by Madison Julius Cawein

Push back the brambles, berry-blue;
The hollowed spring is full in view:
Deep-tangled with luxuriant fern
Ripples its rock-embedded urn.

Not for the loneliness that keeps
The coigne wherein its crystal sleeps;
Not for wild butterflies that sway
Their pansy pinions all the day
Above its mirror; nor the bee,
Nor dragon-fly, that, passing, see
Themselves reflected in its spar;
Not for the one white liquid star
That twinkles in its firmament;
Nor moon-shot clouds, so slowly sent
Athwart it when the kindly night
Beads its long grasses with the light
Small jewels of the dimpled dew:
Not for the day's inverted blue,
Nor the quaint, dimly colored stones
That dance within it where it moans;
Not for all these I love to sit
In silence and to gaze in it.
But, lo! a nymph with merry eyes
Greets mine within its laughing skies;
A glimmering, shimmering nymph who plays
All the long fragrant summer days
With instant sights of bees and birds,
And talks with them in water-words;
And for whose nakedness the air
Weaves moony mists; and on whose hair,
Unfilleted, the night will set
That lone star as a coronet.
To L. H. B.
by Katherine Mansfield

Last night for the first time since you were dead
I walked with you, my brother, in a dream.
We were at home again beside the stream
Fringed with tall berry bushes, white and red.
"Don't touch them: they are poisonous," I said.
But your hand hovered, and I saw a beam
Of strange, bright laughter flying round your head
And as you stooped I saw the berries gleam.
"Don't you remember? We called them Dead Man's Bread!"
I woke and heard the wind moan and the roar
Of the dark water tumbling on the shore.
Where—where is the path of my dream for my eager feet?
By the remembered stream my brother stands
Waiting for me with berries in his hands …
"These are my body. Sister, take and eat."
A Bird Song
by Christina Rossetti

It's a year almost that I have not seen her:
Oh, last summer green things were greener,
Brambles fewer, the blue sky bluer.

It's surely summer, for there's a swallow:
Come one swallow, his mate will follow,
The bird race quicken and wheel and thicken.

Oh happy swallow whose mate will follow
O'er height, o'er hollow! I'd be a swallow,
To build this weather one nest together.
From "An Old-World Thicket"
by Christina Rossetti

Such mirth they made, such warblings and such chat
With tongue of music in a well-tuned beak,
They seemed to speak more wisdom than we speak,
To make our music flat
And all our subtlest reasonings wild or weak.

Their meat was nought but flowers like butterflies,
With berries coral-colored or like gold;
Their drink was only dew, which blossoms hold
Deep where the honey lies;
Their wings and tails were lit by sparkling eyes.
Sonnet 19
by Christina Rossetti

Here now is Winter. Winter, after all,
Is not so drear as was my boding dream
While Autumn gleamed its latest watery gleam
On sapless leafage too inert to fall.
Still leaves and berries clothe my garden wall
Where ivy thrives on scantiest sunny beam;
Still here a bud and there a blossom seem
Hopeful, and robin still is musical.
Leaves, flowers and fruit and one delightful song
Remain; these days are short, but now the nights
Intense and long, hang out their utmost lights;
Such starry nights are long, yet not too long;
Frost nips the weak, while strengthening still the strong
Against that day when Spring sets all to rights.
From "Goblin Market"
by Christina Rossetti

Morning and evening
Maids heard the goblins cry:
"Come buy our orchard fruits,
Come buy, come buy:
Apples and quinces,
Lemons and oranges,
Plump unpecked cherries,
Melons and raspberries,
Bloom-down-cheeked peaches,
Swart-headed mulberries,
Wild free-born cranberries,
Crab-apples, dewberries,
Pine-apples, blackberries,
Apricots, strawberries;–
All ripe together
In summer weather,–
Morns that pass by,
Fair eves that fly;
Come buy, come buy:
Our grapes fresh from the vine,
Pomegranates full and fine,
Dates and sharp bullaces,
Rare pears and greengages,
Damsons and bilberries,
Taste them and try:
Currants and gooseberries,
Bright-fire-like barberries,
Figs to fill your mouth,
Citrons from the South,
Sweet to tongue and sound to eye;
Come buy, come buy."
The Bramble
by John Harris

He who prays most feels mostly Nature's wonders,
The visions of the vale ;
Hears the Eternal in the rolling thunders,
Or in the breezy dale .

The slenderest sapling of the mighty prairie,
The oak , the towering pine,
The shining mosses, dew- cups of the fairy,
Are gilt with Love Divine.

And hence the common BRAMBLE of the thicket,
Which blossoms in the lane,
Or by the stile, or near the woodland wickét,
Will oft his gaze enchain.

There is no coppice- covert deep and tangled,
No glen, or glade of gloom,
No hedge, or height, with hardy heather spangled,
Where brambles do not bloom.

Its snowy flowers are emblems of the holy,
Beloved from childhood bright;
Yet oft esteemed not thus in garments lowly,
Though lovely as the light.

'Tis thus the wilds with melody are ringing,
The listening woods and ways;
And Bramble -blossoms are for ever singing
To their Creator's praise.
From "The Wild Rose"
by John Harris

But oftener do I seek their silent arches,
As some bright vision glows,
Cheered with the whisper of the solemn larches
And the red-rimmed WILD ROSE.

It shines among the filberts sun -surrouounded,
Smiles in the brambles drear,
Outpours its sweets where dryness long abounded ,
The beauty of the year.
From "At The Lane's End"
by Madison Julius Cawein

Where elder-bushes are sick with sun,
And wild raspberries branch big, blue veins
O'er the face of the rock where the old spring rains
Its sparkling splinters of molten spar
On the gravel bed where the tadpoles are,—
You will find the pales of a fallen fence,
And the tangled orchard and vineyard, dense
With the weedy neglect of thirty years.
Autumn
by Emily Elizabeth Dickinson

The morns are meeker than they were,
The nuts are getting brown;
The berry's cheek is plumper,
The rose is out of town.

The maple wears a gayer scarf,
The field a scarlet gown.
Lest I should be old-fashioned,
I'll put a trinket on.
From "The Gold That Grew By Shasta Town"
by Joaquin Miller

From Shasta town to Redding town
The ground is torn by miners, dead;
The manzanita, rank and red,
Drops dusty berries up and down
Their grass-grown trails. Their silent mines
Are wrapped in chapparal and vines ;
Yet one gray miner still sits down
'Twixt Redding and sweet Shasta town.
From "Midsummer Night's Dream"
by William Shakespeare

We, Hermia, like two artificial gods,
Created with our needles both one flower,
Both on one sampler, sitting on one cushion;
Both warbling of one song, both in one key;
As if our hands, our sides, voices, and minds,
Had been incorporate. So we grew together,
Like to a double cherry, seeming parted,
But yet an union in partition ,
Two lovely berries moulded on one stem ;
Or with two seeming bodies, but one heart.
Poems About Picking Berries
Berries
by Walter De La Mare

There was an old woman
Went blackberry picking
Along the hedges
From Weep to Wicking.
Half a pottle –
No more she had got,
When out steps a Fairy
From her green grot;
And says, "Well, Jill,
Would 'ee pick 'ee mo?"
And Jill, she curtseys,
And looks just so.
"Be off," says the Fairy,
"As quick as you can,
Over the meadows
To the little green lane,
That dips to the hayfields
Of Farmer Grimes:
I've berried those hedges
A score of times;
Bushel on bushel
I'll promise 'ee, Jill,
This side of supper
If 'ee pick with a will."
She glints very bright,
And speaks her fair;
Then lo, and behold!
She has faded in air.

Be sure old Goodie
She trots betimes
Over the meadows
To Farmer Grimes.
And never was queen
With jewellry rich
As those same hedges
From twig to ditch;
Like Dutchmen's coffers,
Fruit, thorn, and flower –
They shone like William
And Mary's bower.
And be sure Old Goodie
Went back to Weep,
So tired with her basket
She scarce could creep.
When she comes in the dusk
To her cottage door,
There's Towser wagging
As never before,
To see his Missus
So glad to be
Come from her fruit-picking
Back to he.
As soon as next morning
Dawn was grey,
The pot on the hob
Was simmering away;
And all in a stew
And a hugger-mugger
Towser and Jill
A-boiling of sugar,
And the dark clear fruit
That from Faerie came,
For syrup and jelly
And blackberry jam.

Twelve jolly gallipots
Jill put by;
And one little teeny one,
One inch high;
And that she's hidden
A good thumb deep,
Half way over
From Wicking to Weep.
Red Berries Of Briony
by William Wilsey Martin

Rich was the harvest he vow'd to reap,
When he planted his germ below;
"Love will give sheaves of, red gold to keep,
And its fruit will be sweet, I know."
But his golden sheaves
Are the wrinkled leaves
By the gusty autumn borne;
And his fruit, the red berries of briony
That cling round a wither'd thorn.

"Roses will throw me their blooms," she said,
When winter is white on the tree;
Love will bring clusters when leaves are dead
The vine's purple clusters to me."
But her rose-tree stands
With roseless hands,
In the cold bleak air forlorn;
And her clusters are berries of briony
That cling round a wither'd thorn.
To E.M.—A Ballad of Nursery Rhyme
by Robert Graves

Strawberries that in gardens grow
Are plump and juicy fine,
But sweeter far as wise men know
Spring from the woodland vine.

No need for bowl or silver spoon,
Sugar or spice or cream,
Has the wild berry plucked in June
Beside the trickling stream.

One such to melt at the tongue's root,
Confounding taste with scent,
Beats a full peck of garden fruit:
Which points my argument.

May sudden justice overtake
And snap the froward pen,
That old and palsied poets shake
Against the minds of men.

Blasphemers trusting to hold caught
In far-flung webs of ink,
The utmost ends of human thought
Till nothing's left to think.

But may the gift of heavenly peace
And glory for all time
Keep the boy Tom who tending geese
First made the nursery rhyme.

By the brookside one August day,
Using the sun for clock,
Tom whiled the languid hours away
Beside his scattering flock.

Carving with a sharp pointed stone
On a broad slab of slate
The famous lives of Jumping Joan,
Dan Fox and Greedy Kate.

Rhyming of wolves and bears and birds,
Spain, Scotland, Babylon,
That sister Kate might learn the words
To tell to toddling John.

But Kate who could not stay content
To learn her lesson pat
New beauty to the rough lines lent
By changing this or that.

And she herself set fresh things down
In corners of her slate,
Of lambs and lanes and London town.
God's blessing fall on Kate!

The baby loved the simple sound,
With jolly glee he shook,
And soon the lines grew smooth and round
Like pebbles in Tom's brook.

From mouth to mouth told and retold
By children sprawled at ease,
Before the fire in winter's cold,
in June, beneath tall trees.

Till though long lost are stone and slate,
Though the brook no more runs,
And dead long time are Tom, John, Kate,
Their sons and their sons' sons.

Yet as when Time with stealthy tread
Lays the rich garden waste
The woodland berry ripe and red
Fails not in scent or taste,

So these same rhymes shall still be told
To children yet unborn,
While false philosophy growing old
Fades and is killed by scorn.
From "The Mulberries"
by William Dean Howells

I.
On the Rialto Bridge we stand ;
The street ebbs under and makes no sound ;
But, with bargains shrieked on every hand ,
The noisy market rings around .

"Mulberries, fine Mulberries, here!"
A tuneful voice , and light, light measure ;
Though I hardly should count these mulberries dear,
If I paid three times the price for my pleasure.

Brown hands splashed with mulberry blood,
The basket wreathed with mulberry leaves
Hiding the berries beneath them; – good !
Let us take whatever the young rogue gives.

For you know , old freind , I haven't eaten
A mulberry since the ignorant joy
Of anything sweet in the mouth could sweeten
All this bitter world for a boy.
Rhyming Poems About Berries
The Arun
by Rowden

The shining berry, as the ruby bright,
Might please the taste and tempt the eager sight ;
Trust not this specious veil; beneath its guise,
Inhumid streams, afatal poison lies.
So vice allures with virtue's pleasing song,
And charms her victim with a siren's tongue.
Reflections
by Jessie F. O'Donnell

Within a sluggish pool I saw a bank
Reflected , where coarse weeds and nettles grew ,
And glowing poison-berries that I knew
Were deadly to the taste; while grasses rank
Leaned o'er the edge and of the waters drank .
But looking deeper, I beheld the blue
Of far-off heaven, and one stray bird that flew
Across the sky and to her nestlings sank .
So in the soul of man I saw gross weeds
Of evil that had flourished , mirrored fair,
But safe beyond the sins white wings of prayer,
And gleams of heavenly light in noble deeds.
O friends! look deep in every human soul,
And lo! God's image glorifies the whole .
From "Autumn"
by John Clare

The summer-flower has run to seed,
And yellow is the woodland bough;
And every leaf of bush and weed
Is tipt with autumn's pencil now.

And I do love the varied hue,
And I do love the browning plain;
And I do love each scene to view,
That's mark'd with beauties of her reign.

The woodbine-trees red berries bear,
That clustering hang upon the bower;
While, fondly lingering here and there,
Peeps out a dwindling sickly flower.

The trees' gay leaves are turned brown,
By every little wind undress'd;
And as they flap and whistle down,
We see the birds' deserted nest.

No thrush or blackbird meets the eye,
Or fills the ear with summer's strain;
They but dart out for worm and fly,
Then silent seek their rest again.

Beside the brook, in misty blue,
Bilberries glow on tendrils weak,
Where many a bare-foot splashes through,
The pulpy, juicy prize to seek:

For 'tis the rustic boy's delight,
Now autumn's sun so warmly gleams,
And these ripe berries tempt his sight,
To dabble in the shallow streams.

And oft his rambles we may trace,
Delv'd in the mud his printing feet,
And oft we meet a chubby face
All stained with the berries sweet.
From "Poison Berries"
by Elizabeth M. Stewart

And there, alas, some berries grew,
In scarlet hues arrayed.
Like currants ripe, to many a bush,
The tempting bunches hung,
And gracefully the large green leaves,
Round those clear berries clung.
Poor Rose, had she not oft been told ,
Beneath those berries gay,
Which grew so thickly in the wood,
A juice of poison lay.
But sweet and luscious to her lip ,
She found those berries red,
And on the fair deceitful fruit,
Abundantly she fed.
Alas, poor silly little girl,
Before she homeward came,
Her head swam round, her chest and throat,
Seemed parching as in flame!
Berrying
by Madison Julius Cawein

I.
My love went berrying
Where brooks were merrying
And wild wings ferrying
Heaven's amethyst;
The wildflowers blessed her,
My dearest Hester,
The winds caressed her,
The sunbeams kissed.

II.
I followed, carrying
Her basket; varying
Fond hopes of marrying
With hopes denied;
Both late and early
She deemed me surly,
And bowed her curly
Fair head and sighed:

III.
"The skies look lowery;
It will he showery;
No longer flowery
The way I find.
No use in going.
'T will soon be snowing
If you keep growing
Much more unkind."

IV.
Then looked up tearfully.
And I, all fearfully,
Replied, "My dear, fully
Will I explain:
I love you dearly,
But look not cheerly
Since all says clearly
I love in vain."

V.
Then smiled she airily;
And answered merrily
With words that – verily
Made me decide:
And drawing tow'rd her,
I there implored her –
I who adored her –
To be my bride.

VI.
O sweet simplicity
Of young rusticity,
Without duplicity,
Whom love made know,
That hearts in meter
Make earth completer;
And kisses, sweeter
Than – berries grow.
From "Daisy"
by Francis Thompson

Where the thistle lifts a purple crown
Six foot out of the turf,
And the harebell shakes on the windy hill—
O the breath of the distant surf!—

The hills look over on the South,
And southward dreams the sea;
And, with the sea-breeze hand in hand,
Came innocence and she.

Where 'mid the gorse the raspberry
Red for the gatherer springs,
Two children did we stray and talk
Wise, idle, childish things.

She listened with big-lipped surprise,
Breast-deep mid flower and spine:
Her skin was like a grape, whose veins
Run snow instead of wine.

She knew not those sweet words she spake.
Nor knew her own sweet way;
But there's never a bird, so sweet a song
Thronged in whose throat that day!

Oh, there were flowers in Storrington
On the turf and on the sprays;
But the sweetest flower on Sussex hills
Was the Daisy-flower that day!

Her beauty smoothed earth's furrowed face!
She gave me tokens three:—
A look, a word of her winsome mouth,
And a wild raspberry.

A berry red, a guileless look,
A still word,—strings of sand!
And yet they made my wild, wild heart
Fly down to her little hand.

For standing artless as the air,
And candid as the skies,
She took the berries with her hand,
And the love with her sweet eyes.

The fairest things have fleetest end:
Their scent survives their close,
But the rose's scent is bitterness
To him that loved the rose!

She looked a little wistfully,
Then went her sunshine way:—
The sea's eye had a mist on it,
And the leaves fell from the day.

She went her unremembering way,
She went and left in me
The pang of all the partings gone,
And partings yet to be.

She left me marvelling why my soul
Was sad that she was glad;
At all the sadness in the sweet,
The sweetness in the sad.

Still, still I seemed to see her, still
Look up with soft replies,
And take the berries with her hand,
And the love with her lovely eyes.

Nothing begins, and nothing ends,
That is not paid with moan;
For we are born in others' pain,
And perish in our own.
The Key-Note
by Christina Rossetti

Where are the songs I used to know,
Where are the notes I used to sing?
I have forgotten everything
I used to know so long ago;
Summer has followed after Spring;
Now Autumn is so shrunk and sere,
I scarcely think a sadder thing
Can be the Winter of my year.

Yet Robin sings through Winter's rest,
When bushes put their berries on;
While they their ruddy jewels don,
He sings out of a ruddy breast;
The hips and haws and ruddy breast
Make one spot warm where snowflakes lie
They break and cheer the unlovely rest
Of Winter's pause–and why not I?
From "Brandon's Both"
by Christina Rossetti

Milly has no mother; and sad beyond another
Is she whose blessed mother is vanished out of call:
Truly comfort beyond comfort is stored up in a mother
Who bears with all, and hopes through all, and loves us all.

Where peacocks nod and flaunt up and down the terrace,
Furling and unfurling their scores of sightless eyes,
To and fro among the leaves and buds and flowers and berries
Maiden Milly strolls and pauses, smiles and sighs.
From "WoodNotes I"
by Ralph Waldo Emerson

The moss upon the forest bark
Was pole-star when the night was dark;
The purple berries in the wood
Supplied me necessary food;
For Nature ever faithful is
To such as trust her faithfulness.
When the forest shall mislead me,
When the night and morning lie,
When sea and land refuse to feed me,
'T will be time enough to die;
Then will yet my mother yield
A pillow in her greenest field,
Nor the June flowers scorn to cover
The clay of their departed lover.'
From "The Christmas Holly"
by Eliza Cook

Then Holly! the Holly! oh, twine it with bay
Come give the Holly a song;
For it helps to drive stern winter away,
With his garments so sombre and long.
It peeps through the trees with its berries of red,
And its leaves of burnish'd green,
When the flowers and fruits have long been dead,
And not even the daisy is seen .
Then sing to the Holly, the Christmas Holly,
That bangs over peasant and king:
While we laugh and carouse 'neath its glittering boughs,
To the Christmas Holly we'll sing.
From "To A Cricket"
by Eliza Cook

Holly branches deck the walls
Of peasants' cots and barons' halls;
Scarlet berries peep between,
Twined with laurel, darkly green,
Close commingled, rudely bound;
Sacredly they wreath around.
Polished tankards grace the board;
Racks and cellars yield their hoard;